Report: FAU stadium name rights bought by private prison group
Boca Raton-based private prison corporation expected to be announced as stadium sponsor Tuesday.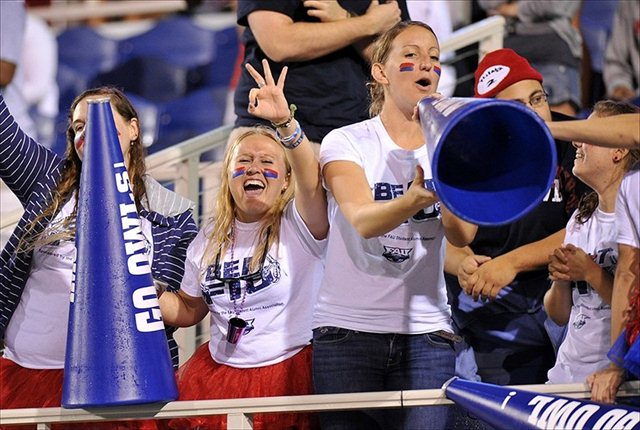 Will FAU fans cheer the school's new stadium naming rights agreement? (US Presswire)
The on-campus football stadium at Florida Atlantic finally has a title sponsor after first opening in 2011 -- and the identity of that sponsor might raise a few eyebrows.
According to a report from OwlAccess.com, FAU is expected to announce a "marketing deal" Tuesday with private correctional facilities management corporation the GEO Group, a deal that would include the naming rights to the stadium. The GEO Group is based out of Boca Raton -- the report notes that GEO's headquarters are "visible from I-95 across from FAU's campus" -- and GEO's CEO George Zoley is an FAU alum.
The school had been searching for a corporate naming rights sponsor for years; an architect for the project had been approved as far back as 2008. No doubt many in the FAU administration will be happy to finally have the search behind them after the hiccups in having the stadium built, and to secure a deal OwlAccess reported was "believed to be valued at around $5 million."
But that deal will no doubt bring an air of controversy as well. The GEO Group has a less-than-pristine reputation as a result of a long string of incidents and lawsuits that have resulted in millions paid out in fines and penalties. The company formerly operated the infamous Walnut Grove Youth Correctional Facility in Mississippi, where a U.S. Department of Justice investigation into abuses concluded that "due to the unconstitutional operation of WGYCF, youth were sexually preyed upon by staff and all too frequently suffered grievous harm, including death."
Of course, few college football fans (or possibly even FAU fans) will make any connection between the generic corporate name "The GEO Group" and private prisons at all, much less GEO's specific incidents. It's a local business with strong FAU ties offering the money. And $5 million -- or anything in that neighborhood -- isn't anything for a program like FAU's to sneeze at.
Still, GEO's past and reputation mean that this particular sponsorship simply is going to come with some unwelcome public-relations strings attached.
For more college football news, rumors and analysis, follow @EyeOnCFB on Twitter, subscribe to our RSS Feed, college football newsletter, and get the Eye On College Football Podcast from iTunes. You can follow Jerry Hinnen on Twitter here: @JerryHinnen.
The Nittany Lions want the Crimson Tide after dismantling the Wolverines

The Nittany Lions and Fighting Irish are storied programs but newbies as CFP contenders

Plus, people need to start paying attention to Matt Campbell and Iowa State
Barkley scored three touchdowns and made some big plays in Penn State's massive win

Projecting the many changes in the new AP Top 25 poll college football rankings after Week...

Keeping tabs on the biggest scores and highlights from Week 8 of the 2017 NCAA football se...