Report: Feds looking into Florida State, Jameis Winston investigation
The US Department of Education's Office for Civil Rights will reportedly investigate sexual assault cases at Florida State over the last three years.
• 1 min read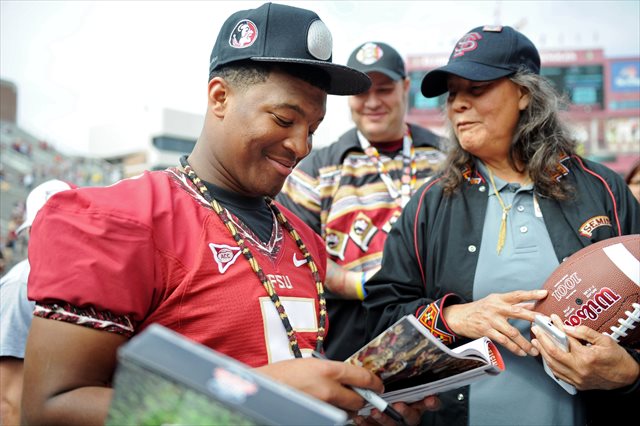 The U.S. Department of Education's Office for Civil Rights will investigate Florida State for its handling of the Jameis Winston rape allegations, according to USA Today. 
The report, citing a letter that confirmed the decision, says that Florida State is being investigated to see if the school violated Title IX laws; which require colleges and universities to investigate claims of sexual assault and "provide a timely and impartial grievance procedure to resolve those claims."
Florida authorities announced on Dec. 5 that Winston would not face criminal charges, but an OCR investigation will put the case back in the spotlight. The woman filed her complaint with OCR in early March, 16 months after she reported the incident.

In a campus setting, accused students are judged in disciplinary hearings under a much lower "preponderance of evidence" standard than in criminal courts. At FSU, and virtually every other school, a campus disciplinary body determines if an accused student is responsible or not responsible and administers punishments that can range from writing a paper to suspension or expulsion.

While developing those disciplinary procedures is left up to each school, OCR advises, "These procedures must apply to all students, including athletes. If a complaint of sexual violence involved a student athlete, the school must follow its standard procedures for resolving sexual violence complaints."
Fox Sports, citing an unnamed source, reported that the OCR will review all sexual assault cases involving Florida State students for the past three years.
Earlier Thursday, Deadspin reported that FSU officials met with Winston in late January to decide if he, or teammates Chris Casher and Ronald Darby, violated any of the school's conduct policies on Dec. 7, 2012, the night of the alleged rape. Casher and Darby have reportedly been charged with five violations of the school's honor code for their participation in the events of that evening, but Winston faces no further charges.   
Florida State has not responded officially to any of the aforementioned reports. The Seminoles are set to finish spring practice with the team's annual spring game on Saturday, April 12.
These Jayhawks got a tremendous surprise they weren't expecting

Jovon Durante announced on Twitter he's headed to FAU

From Week 1 through the title game, everything runs through Atlanta this season
A concert is a nice way to break up preseason camp

Mills was arguably Georgia Tech's most important player coming into the season

Hugh Freeze's phone records reportedly show another troubling pattern for Ole Miss