Report: Florida loses $840,000 on Sugar Bowl visit
Adding insult to injury, Florida revealed this week it lost nearly a million dollars on its 2013 Sugar Bowl loss to Louisville.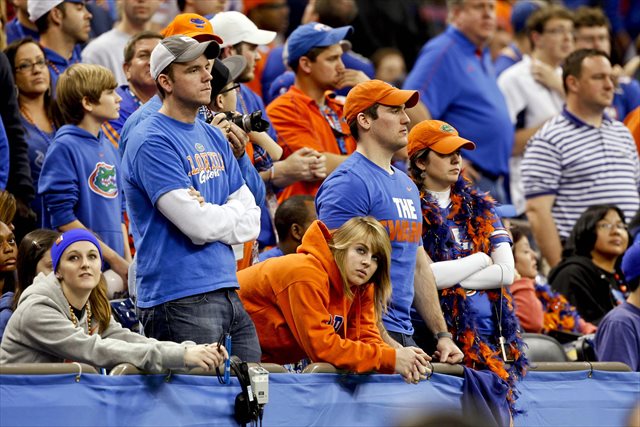 Getting invited to play in a bowl game does not guarantee that a school will not lose money when making an appearance. In fact, bowl appearances sometimes cost more than what they generate -- even BCS games that feature the sport's biggest names.
And it turns out even one of the best-run athletic departments in the country playing in its conference's most sought-after bowl destination isn't immune. The Gainesville Sun reported that at an annual budget meeting Wednesday, Florida revealed it lost $840,000 when it played in January's Sugar Bowl. The culprit: The Gators athletic department was unable to sell its allotment of 17,500 tickets. There was a sizable amount of unsold tickets.
The financial blow is insult to injury after former Florida defensive coordinator Charlie Strong and his Louisville Cardinals dominated the Gators 33-23.
But rewind to the days before that embarrassment, and it's hard to understand exactly why Florida came up so short on its sales efforts. Consider:
Florida has one of the largest and most devoted fan bases in the SEC, and all of FBS.
The Gators had just finished one of their best regular seasons in years, an 11-1 campaign under increasingly popular head coach Will Muschamp.
That campaign was capped by the Gators' signature victory of the year, a surging, decisive 37-26 win over 10-win rival Florida State -- one that seemed to send the team into the postseason with renewed momentum after a lackluster final weeks of the season.
The Sugar Bowl remains one of the most lucrative, most attractive, most historic games in college football's postseason lineup, and is still the ultimate destination for any SEC school that doesn't wind up in the BCS title game -- witness the game's selection as home of the new "Champions Bowl" matchup between the SEC and Big 12, starting next year.
They still play it in New Orleans, arguably the Southeast's top tourist destination and one within relatively easy driving distance from the Florida Panhandle.
And despite all that, so many Gators fans skipped the trip to the Sugar Bowl, which was outdrawn by the BBVA Compass Bowl in Birmingham, Ala., and only outdrew the New Orleans Bowl (played in the same building several weeks earlier) by less than 6,000 fans. (Bowl-hungry, Hugh Freeze-loving Ole Miss fans powered the BBVA Compass attendance, while the New Orleans Bowl hosted nearby UL-Lafayette. But still.)
There were some reasons to expect Florida fans to pass on the Sugar, too. Despite all the victories, the Gators were never an exciting offensive team, the Sugar Bowl was played on a week night, and despite the Strong connection, few Florida fans would call Louisville a marquee opponent. But given that we're talking about Florida in a Sugar Bowl, are those reasons so compelling to force a loss of $840,000?
That much is a surprise, which is why it's not a surprise to see Mike Slive angling for reductions in the numbers of tickets SEC schools guarantee to buy, or the Sugar Bowl welcome its role as the "Champions Bowl" in the 2014-2015 new-bowl-world order.
Until then, though, expect to see the same tales of financial woe around this time next year.
Cristobal's first game at Oregon ended the same way Chip Kelly's did

Conner Manning and the Panthers dominated the Hilltoppers in the Cure Bowl

You can only go to the well so often before it dries up
The Trojans beat LSU earlier in the year and now have their first 11-win season as a FBS t...

Saban has never been a fan of the early signing period and made it clear that hasn't chang...

Paul Tyson is a three-star quarterback prospect for the 2019 recruiting class