Report: Former Penn State assistant Mike McQueary says he was abused
'ESPN The Magazine' is reporting that Mike McQueary told Penn State players in November 2011 that he was sexually abused as a boy.
• 2 min read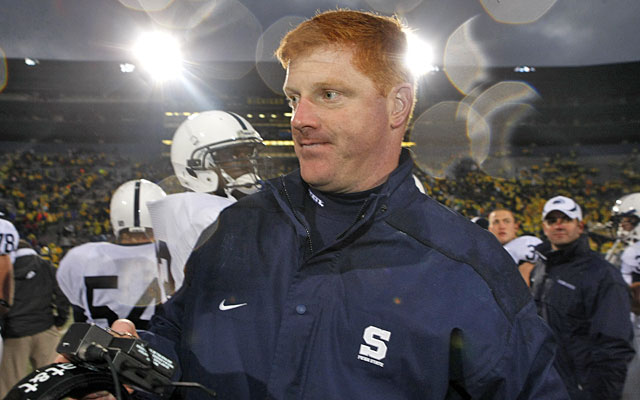 An upcoming profile of former Penn State assistant coach Mike McQueary reveals that he was sexually abused as a boy. 
Citing sources, ESPN is reporting that McQueary told Penn State players in November 2011 that he suffered abuse similar to that of Jerry Sandusky's victims. 
Mike McQueary confided to a dozen Nittany Lions players that he could relate to the helplessness of the young boy he had seen with Sandusky in a campus shower a decade earlier because he was abused as a boy, according to two players who attended the meeting and four others with knowledge of it. McQueary did not tell the players who had abused him or when or how long the abuse had occurred, the sources said.

McQueary's meeting with Penn State's receivers was held on Nov. 9, 2011, just three days after prosecutors revealed, in a 23-page presentment, that McQueary had seen Sandusky and a young boy engaged in "anal intercourse" in the Lasch Football Building on campus on Feb. 9, 2001.
McQueary declined to comment on the alleged revelation or any other matters in the ESPN profile. He did offer a statement of support for former coach Joe Paterno. 
"I love that man more than you can ever possibly say," McQueary told ESPN The Magazine. "He's an unbelievable man. He did unbelievable things. He handled this thing in the best way he could. Was it foolproof or perfect? No. But I didn't handle this in a foolproof or perfect way either. I am loyal to him to this day. I absolutely love him."
In addition to being a key witness in the conspiracy trial of three former Penn State administrators accused of covering up Jerry Sandusky's sexual abuse, McQueary is currently involved in litigation against Penn State for $4 million in expected lost wages after his coaching contract wasn't renewed. 
With several complicated legal matters ongoing, it is not surprising that McQueary and his family have declined to comment on any of the issues raised by the upcoming ESPN profile. 
According to ESPN, several former teammates say McQueary gambled while at Penn State; playing poker as well as betting on NFL and college football with a bookie. McQueary's grand jury testimony has also been called into question by one of the jurors from Sandusky's sex abuse case. 
For more details from the McQueary profile regarding gambling and questions about the details of his testimony. Like many witnesses in high-profile legal matters, McQueary's personal history has become a focal point in the proceedings and provided the latest development in the ongoing fallout from the Jerry Sandusky sex abuse scandal.
Schiano would have made $4.4 million in Year 1 with annual raises as part of a six-year de...

Dykes spent this season as an offensive analyst at TCU

The "Wyoming Wild Man" notched six tackles for loss as a junior in 2017
Zaycoven Henderson was charged with aggravated assault with a deadly weapon

Patterson is a former No. 1 recruit in the country

Baker Mayfield and two Sooner teammates made the first team