Report: Gee calls Big Ten expansion talks 'ongoing' in meeting
Ohio State president tells school's athletics council that the Big Ten might not be settled at 14 schools.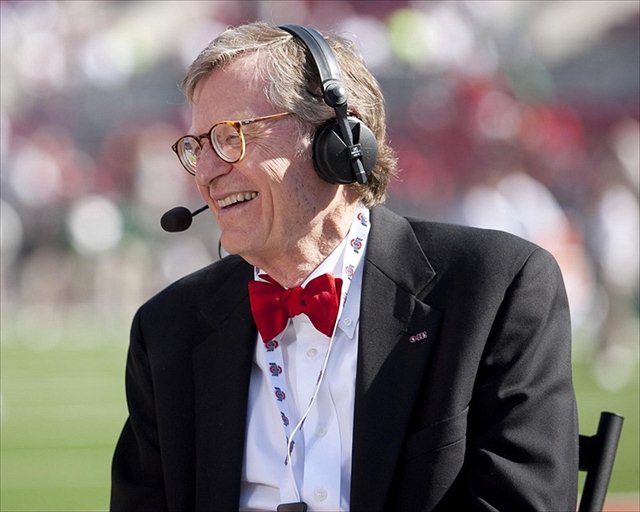 Could Gordon Gee have foreshadowed another Big Ten power play? (US Presswire)
Ohio State president Gordon Gee has made plenty of headlines in the past few seasons when talking to reporters. But this time, it's his remarks to the school's athletic council that might raise eyebrows when it comes to the future of the Big Ten.
According to the minutes of the council's December meeting obtained by the Columbus Dispatch, Gee told councillors that "there has been ongoing discussion" within the Big Ten about expanding beyond the conference's current 14 members. Gee reportedly stated that he "believes there is movement towards three or four super conferences that are made up of 16-20 teams."
And in perhaps the most interesting comment from the minutes, Gee told a student member of the council that the Big Ten had "opportunities" to either add more schools in the Midwest or "move further south in the (E)ast."
That last comment will only add further grist to the rumor mill contention that the Big Ten could be interested in adding Virginia or Georgia Tech to its Rutgers/Maryland East Coast collection. But it's also worth noting that Gee offered no reported timetable for such additions, and that the 16-team superconference could still be several years away. If the Big Ten is waiting on the SEC, Pac-12 or Big 12 to move to 16 teams, those three leagues would have to become far less content than they've seemed to be since their latest respective rounds of expansion. 
Still, no one saw the additions of the Terps or Scarlet Knights coming, moves that proved beyond a shadow of a doubt that Jim Delany and the Big Ten presidents are willing to do whatever they deem necessary in expansion -- and in growing their TV empire.
Gee's comments might prove to be much ado about nothing; expansion being something idly chatted about by league officials is something far different from it being imminent. But the comments could also prove to be a harbinger of another major shakeup before the end of the coming summer.
For more college football news, rumors and analysis, follow @EyeOnCFB on Twitter, subscribe to our RSS Feed, college football newsletter, and get the Eye On College Football Podcast from iTunes. You can follow Jerry Hinnen on Twitter here: @JerryHinnen.
SportsLine's computer model simulated every Week 12 game 10,000 times with surprising resu...

Though a marriage between the Vols and Gruden has been rumored for a while, it seems unlik...

Barrett Sallee is cashing on 67 percent of his best bets and gives 3 strong picks for Week...
The No. 16 Bulldogs will travel to Arkansas Saturday afternoon on CBS

The Owls are 7-3 overall and 6-0 in the Conference USA East division

Wisconsin has a chance to impress the College Football Playoff Selection Committee