Report: Golden's Miami staff used equipment manager for 'off-the-books' recruiting
Yahoo Sports! is reporting that Al Golden's staff used a former right hand man of Nevin Shapiro to circumvent NCAA rules.
• 3 min read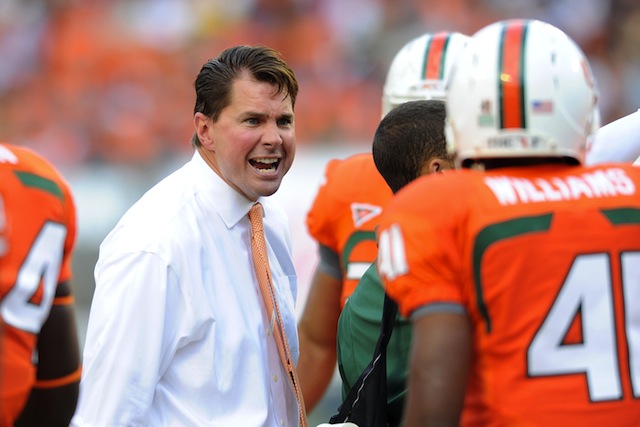 Miami's ongoing NCAA investigation could include potential violations from Al Golden's staff, according to a Yahoo! Sports report.

After breaking open the Nevin Shapiro scandal a year ago, Yahoo! Sports investigative reporter Charles Robinson is reporting that former equipment manager - and right hand man of the convicted Ponzi schemer - Sean "Pee Wee" Allen was used by Golden's staff "to circumvent NCAA rules in the recruiting of multiple Miami-area players."


The latest issues involving Allen are twofold – his having provided improper benefits to players dating back to early in his career at Miami; and his continued improper contact with Miami recruits, which allegedly lasted through his final days working for the Hurricanes in the summer of 2011.

One former Hurricanes staffer told Yahoo! Sports that Allen was used specifically by members of Golden's staff as an "off-the-books" recruiter. As part of those duties, the staffer said Allen kept tabs on Miami-area kids, including making calls about their recruitment, and on some occasions, supplying improper transportation to and from campus that aided Miami in its efforts to gain a commitment from some prospects.

Allen "was directed to call those kids and would have never done it without the coaches pushing it," the former Hurricanes staffer said.

Citing the ongoing NCAA investigation, Miami spokesperson Chris Freet did not have a comment immediately for Robinson.  However, Golden released an official statement Friday evening.

"I have been a college football coach for more than 18 years and I am proud of -- and I stand by -- my record of compliance over that span," Golden said in the statement.  "As my colleagues and players on all of my teams can attest, I believe strongly in doing things the right way with the best of intentions.

"The inferences and suggestions in the Yahoo! Sports story that my conduct was anything but ethical are simply false. I, like all of us at UM, have cooperated fully with the joint NCAA-UM inquiry and will continue to do so, so that our program and our University can move forward." 

On Friday, two people with knowledge of the situation told The Associated Press that NCAA investigators visited Miami for several days earlier this month, just the latest round of the lengthy inquiry into the Hurricanes' athletic department. 

In a December 2011 deposition for Shapiro's bankruptcy case, Allen turned over phone records and admitted to witnessing or providing multiple Miami players with improper benefits. The report includes Allen's phone records, which showed phone calls to high school recruits from Dec. 17, 2010 to July 2011.

Allen's employment ended after being named in the initial Yahoo! Sports report in August 2011. According to Robinson's recent report, Allen coordinated with former assistant coach Aubrey Hill and current assistant coach Michael Barrow.

One of the many revelations from the phone records include Allen's alleged assistance in helping Barrow convince Florida State running back Devonta Freeman to withdraw from school to play at Miami. The records show contact with Freeman the day before he was scheduled to begin classes at Florida State as an early enrollee.

Among the recent impermissible benefits provided by Allen are allegations that the former equipment manager arranged for defensive end Olivier Vernon and then-recruit Anthony Chickillo to get into BT's Gentlemen's Club in Coral Gables.

Chickillo was one of the highest rated signees in Golden's 2011 recruiting class.

The records show contact with several other Miami-area recruits, some of which signed with the Hurricanes and others that committed elsewhere. You can check out the all the phone records over at Yahoo! Sports.

Last month, a high-level Miami official told the Miami Herald that the school has not been given a timetable for the conclusion of the NCAA investigation and would be surprised if a punishment was issued before the 2013 recruiting class was signed.  

In an e-mail obtained by the AP, university President Donna Shalala told trustees Thursday that "someone who had a low level position at one time" was expected to allege that Miami assistant coach and former NFL player Micheal Barrow committed recruiting violations. Shalala said it has already been investigated.

Information from the Associated Press was used in this report

Keep up with the latest college football news from around the country. From the opening kick of the year all the way through the offseason, CBSSports.com has you covered with thisdaily newsletter. View apreview.

Get CBSSports.com College Football updates on Facebook
Cristobal's first game at Oregon ended the same way Chip Kelly's did

Conner Manning and the Panthers dominated the Hilltoppers in the Cure Bowl

You can only go to the well so often before it dries up
The Trojans beat LSU earlier in the year and now have their first 11-win season as a FBS t...

Saban has never been a fan of the early signing period and made it clear that hasn't chang...

Paul Tyson is a three-star quarterback prospect for the 2019 recruiting class