Report: Gus Malzahn seeks to trademark 'Hurry-Up No-Huddle'
The phrase 'Hurry-Up No Huddle' is the subject of a trademark application by Auburn coach Gus Malzahn's LLC, al.com reported.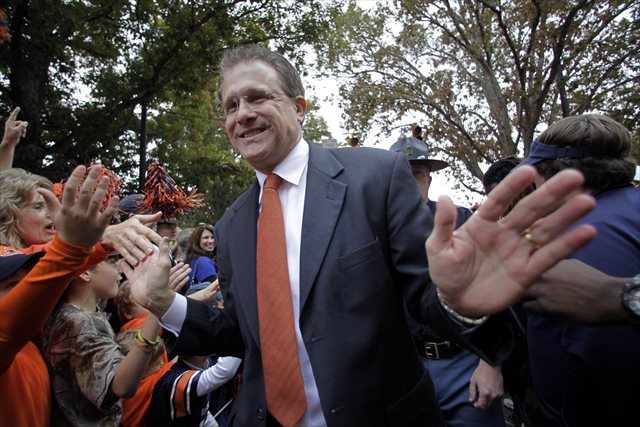 Gus Malzhn's admirers (and thanks to Auburn 's stunning 2013 turnaround, there's no shortage of those these days) would say that he wrote the book on the hurry-up no-huddle offense. And they'd mean it literally: in 2003, at the height of his Arkansas high school coaching success, Malzahn published "The Hurry-Up, No-Huddle: An Offensive Philosophy."
Though the phrase "hurry-up, no-huddle" has become increasingly widespread in the 10 years between then and now, it's no accident that Malzahn's own LLC, incorporated in Arkansas in 2012, is named "HUNH, LLC." And so maybe it's no surprise that al.com's Jon Solomon reported Friday that Malzahn's LLC has applied for a trademark of the phrase "hurry-up no-huddle."
Per Solomon, the application was filed Nov. 13 with the U.S. Patent and Trademark Office and seeks to apply the trademark for "glassware and clothing."
The report notes that prominent Auburn bookstore J&M has been selling t-shirts with "HUNH (Hurry-up no-huddle)" across the front and "QUIT YOUR WHINING (You get 3 time-outs)" across the back -- an apparent barb at Arkansas's Bret Bielema, Alabama's Nick Saban, and any other coach who might support rules changes to slow down Malzahn's preferred offensive tempo.
Malzahn is of course far from the first high-profile college football figure to apply for a trademark; Johnny Manziel aimed to do so with "Johnny Football," the MAC has done so for "#MACtion," and plenty of other coaches have filed similar applications. The question is whether the application is approved -- and hey, having followed-up on that same 2003 "philosophy" to the tune of the second-highest number of plays in the SEC can't hurt.
The movie will zero in on former Penn State coach Joe Paterno during the Jerry Sandusky sc...

Bidding for Salaam's trophy, which the auction house says was obtained legally, ends Satur...

Locksley has been the offensive coordinator at Illinois and Maryland during his coaching c...
Many NFL-eligible juniors ignore advice provided by the league and risk going undrafted each...

Snyder died in Manhattan, Kansas, on Wednesday

Locksley joined Alabama's staff in 2016