Report: Jameis Winston DNA matches accuser's sample in test
ESPN reported late Wednesday that DNA in a sample provided by the accuser in the James Winston sexual assault investigation matches Winston's.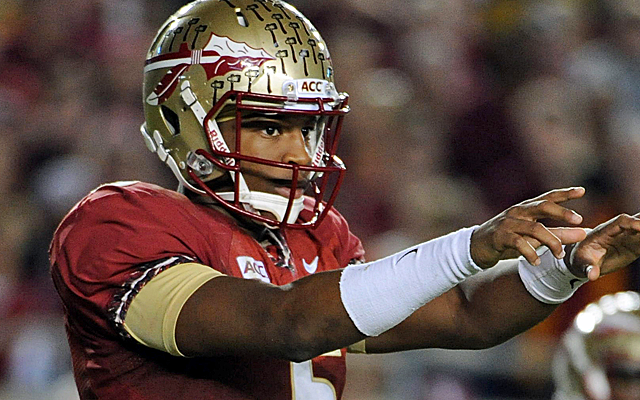 A DNA sample provided by Jameis Winston to law enforcement matches DNA found in the underwear of the accuser in Winston's sexual assault investigation, ESPN reported late Wednesday.
Florida Law Enforcement performed an analysis of the DNA provided to police as part of a sexual assault kit Dec. 7, 2012, by the woman who has accused the Florida State quarterback of assaulting her. The results, confirmed Tuesday according to ESPN's report, show a one-in-2.2 trillion chance that the DNA obtained from the kit belongs to someone other than Winston.
The DNA finding is not proof of Winston's guilt in the case. But it will indicate that Winston and his accuser were in close contact on the night of the alleged incident.
Winston is not expected to speak with the state attorney investigating the case. He has not been arrested and has been charged with no crime. His attorney has denied any wrongdoing on Winston's part.
An assistant state attorney told CBSSports.com on Wednesday she has been in touch with the complainant and is making plans to interview her as the investigation continues. 
Earlier Wednesday, the family of the accuser issued a statement through their attorney criticizing the Tallahassee Police Department's handling of the case, saying that a police detective had warned their attorney the complainant should "think long and hard" over the potential repercussions of pursuing the case in "a big football town."
After being declared "inactive" in February 2013 after Tallahassee police say the accuser ceased communication with their department, the case was reopened last week in the wake of media inquiries and potential new information in the case.
Josh Adams and Derrius Guice helped their teams to big wins in Week 8

The Eagles have started winless in Summers' second season and were 5-13 overall under him

The Fighting Irish are up to No. 9 in the latest edition of these college football ranking...
The Fighting Irish are getting more attention after throttling USC 49-14 Saturday night

Jerry Palm is back to look at where the bowl games stand after the midway point of 2017

The sophomore leads the SEC in total offense and passing