Report: Jim Grobe to interview with UAB Friday
al.com reported that former Wake Forest head coach Jim Grobe is interviewing for the UAB job Friday in Atlanta.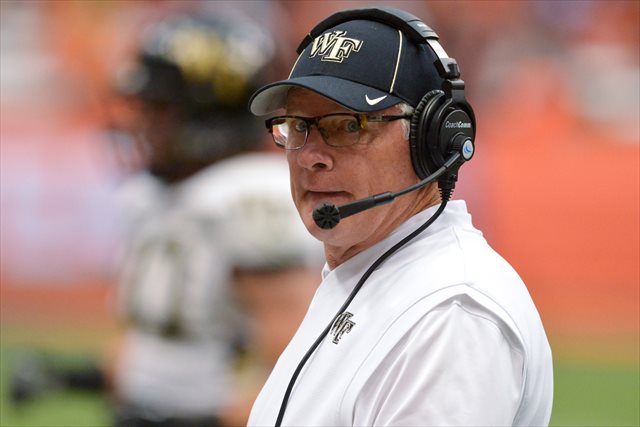 More Coaching Changes: Mason to Vandy? | Changes scorecard
When Jim Grobe retired at Wake Forest , it was a surprise. If he returns to coaching in 2014 at a troubled program that hasn't won more than five games since 2004, it would qualify as a total shock.
But it's a shock college football observers might want to steel themselves for all the same. al.com reported Thursday that Grobe would interview with UAB in Atlanta Friday for the vacant Blazers head coaching job, vacated by Garrick McGee earlier this month when he was named Louisville's new offensive coordinator.
Other candidates in the mix for UAB , according to al.com, are Cincinnati offensive coordinator Eddie Gran, Bethune-Cookman head coach Brian Jenkins, Atlanta Falcons tight ends coach Chris Scelfo, and FCS Jackonsville State head coach Bill Clark. 
Though Gran, in particular, is a widely respected veteran assistant who may be due a shot at a Group of Five head coaching gig, Grobe would easily qualify as the biggest name in the Blazers' reported pool. Though Grobe went just 77-82 overall in his 13 seasons with the Demon Deacons (and 4-8 in 2013), he also performed a borderline miracle in taking Wake Forest -- one of the smallest schools in the FBS -- to the 2006 Orange Bowl and winning 28 games in a three-season span from '06 to '08.
Grobe is also 61, however, and in UAB would be taking on a challenge where coaching energy must make up for a number of program weaknesses: an outdated home venue in Legion Field, lackluster student and administrative support, recruiting in the wake of nine consecutive losing seasons. At this stage of his career, is Grobe up for a rebuilding project on this scale? 
Looking at the other names on their list, if Grobe is truly ready to head to Birmingham only a month after leaving Wake, it's hard to think it wouldn't be in the Blazers' best interests to find out.
Florida State and Alabama will face off in a highly touted game in Atlanta in Week 1

Five NC State freshman were punished team rules and code of conduct violations

Browne was benched in favor of Darnold early into last season
There are new names to learn every season, and here are 14 to keep an eye on from the SEC

Taking a close, detailed and opinionated look at the SEC a week before the start of the 2017...

Rosier will start for the Hurricanes in their opener against Bethune-Cookman