Report: Johnny Manziel shoves graduate assistant at scrimmage
Tempers run hot at Texas A&M's spring scrimmage, but no punches are thrown.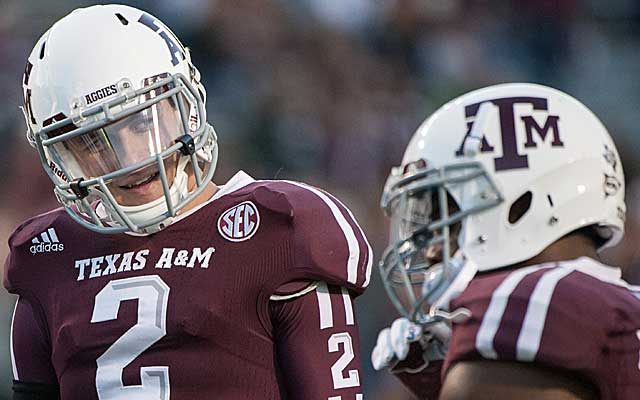 First things first: NJo, this isn't a story if it's any other quarterback in college football.
But Johnny isn't any other quarterback in college football, which is why a brief altercation between the reigning Heisman winner and a Texas A&M graduate assistant has raised eyebrows across the SEC. Despite rumors that things got much more serious, the Houston Chronicle reported that the incident wasn't a major one.
From reporter Brent Zwerneman's account of the Aggies' Saturday scrimmage:
Following his last [Manziel's] three interceptions, on a short pass into the end zone as he ran into the right sidelines, an exuberant graduate assistant jumped up and down within what appeared to be inches of an irate Manziel. So Manziel shoved him. Players and coaches, who were all gathered along the sidelines, quickly separated the giddy GA and Manziel before anything escalated.
Does Manziel's reaction tell us anything we didn't already know? Is there any reason for worry if you're an A&M fan? The answer has to be no on both accounts; Manziel has never worn his emotions anywhere other than his sleeve whether in practice, during a game or (ahem) away from football altogether.
Yes, that could lead to trouble at some point, either in the form of an unsportsmanlike flag or another off-field issue. But like so many other headlines generated by Manziel this offseason, ultimately this is a small price -- a downright insignificant price -- to pay for the right to field college football's most explosive playmaker under center. 
So might the bigger news actually be that Manziel threw three interceptions during the scrimmage? His ability to take care of the ball will have far more to do with Texas A&M's chances of winning an SEC title than how hot his temper runs during spring drills.
Gyree Durante of Albright College was dismissed after he kneeled during the national anthe...

Penn State's star rusher loves to argue, just not about whether he's the nation's best pla...

The Fornelli 50 ranks teams based on nothing but their performance in 2017
Find out which of your favorite team's players are among the nation's best midway through...

Anybody can rank the best college football teams, only we rank the worst each week

The Badgers never get talked about, but that might change if they keep up their hot streak