Report: LSU DB Jalen Mills charged with second-degree battery
LSU junior defensive back Jalen Mills was arrested early Wednesday on charges stemming from a May incident in which he allegedly punched a female victim.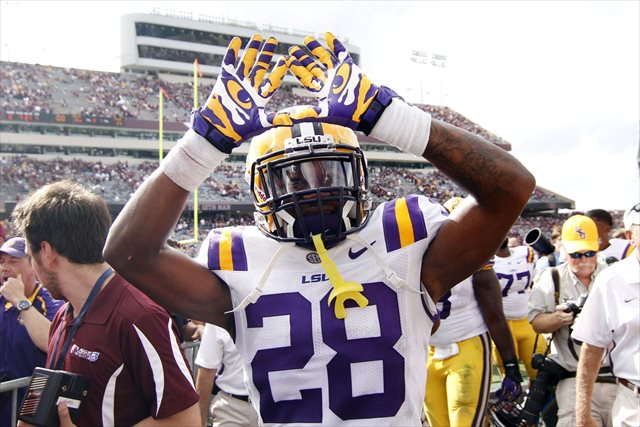 More college football: Jon Solomon | Dennis Dodd | Jeremy Fowler | Latest news
LSU rising junior defensive back Jalen Mills was arrested early Wednesday morning and charged with second-degree battery, multiple outlets reported.
According to the Baton Rouge police's probable cause report cited by CBS affiliate WAFB, Mills stands accused of punching a female victim in the mouth in a May incident at his local apartment complex. He was released late Wednesday on a $10,000 bond.
LSU sports information official Michael Bonnette told WAFB that Mills has been indefinitely suspended from the team.
Per the probable cause report, the victim knocked on Mills' door while looking for a friend, exchanged words with him, and had the door closed in her face. She was allegedly walking away when she heard someone address her, turned, and was punched in the face by a man she would later reportedly identify in a six-person police lineup as Mills.
The report claims the victim briefly lost consciousness and received four stitches to close a cut on her lip.
Police contacted Mills by phone May 29 but were told he would not be back in Baton Rouge. An appointment to meet with police was made for Tuesday, June 10, and when Mills neither showed nor responded to further calls, the arrest warrant was issued.
Mills is a two-year starter who earned freshman All-American honors as a cornerback in 2012 before moving to safety late in the 2013 season. He was the Tigers' third-leading tackler in 2013 with 67 stops.
The 21-year-old quarterback was expected to start for the Cougars in 2018

The Fighting Irish will be without some playmakers in 2018

It may have been impossible for Sumlin to meet the expectations set for him in College Sta...
Some players are more easily replaced than others

The 2017 season is in the books, and several big-name stars are jumping early to the NFL

Love was second in the nation in rushing with 2,118 yards in 2017