Report: LSU RB Jeremy Hill arrested on battery charge
LSU's leading returning rusher, Jeremy Hill, was arrested Saturday morning on a charge of simple battery, according to New Orleans' Times-Picayune.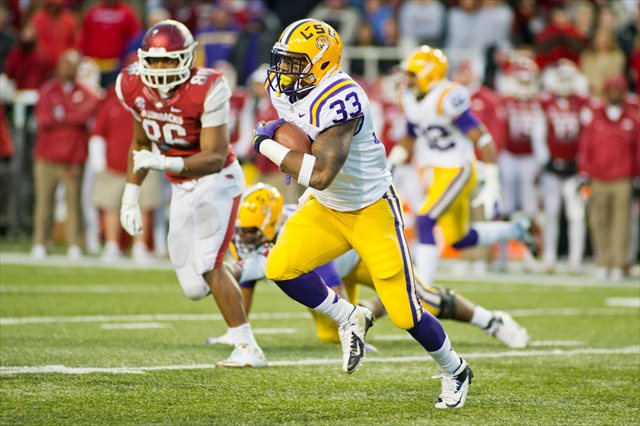 LSU's leading returning rusher is facing further legal trouble after an arrest early Saturday morning.
Rising sophomore tailback Jeremy Hill, 20, was arrested and charged with simple battery, New Orleans' Times-Picayune reported, after an incident at Reggie's, an off-campus Baton Rouge bar. Hill was booked into the East Baton Rouge Parish prison and released at 11 a.m. after posting a $500 bond.
According to a Baton Rouge City Police probable-cause document obtained by the Baton Rouge Advocate, Hill allegedly "struck the male victim so many times the man lost consciousness." The Advocate further reported the same affadavit cites an officer who had been shown video "which clearly shows the defendant [Hill] striking the victim."
An LSU athletic department official told the media that coach Les Miles was unavailable for comment while in New York for the NFL Network's draft coverage and would not speak on the incident until he had a chance to speak to Hill.
Hill is serving a two-year supervised probation sentence after pleading guilty in January 2012 to misdemeanor carnal knowledge of a juvenile. Hill and a second student were arrested in 2010 on charges of oral sexual battery following an incident with a 14-year-old girl at Baton Rouge's Redemptorist High School, forcing him to delay his enrollment at LSU from 2011 to 2012.
The Advocate reported that the terms of Hill's probation require him to "refrain from criminal conduct." Local district attorney Hillar Moore III told the paper it was too soon to determine if the arrest constituted a violation of the probation, but that "if there is a new criminal violation that he is found guilty of ... it could have an impact on his sentence."
Despite the delay in his enrollment, Hill enjoyed a highly successful freshman season for LSU, leading the team with 755 rushing yards and 12 rushing touchdowns.
Hill is the second member of the 2012 Tigers to have been arrested within 72 hours. Former cornerback Tharold Simon was arrested Thursday night -- on the eve of "Tharold Simon Day" in his hometown of Eunice, La. -- and charged with public intimidation and resisting an officer. Simon was drafted in the fifth round by the Seattle Seahwaks on Saturday.
Cristobal's first game at Oregon ended the same way Chip Kelly's did

Conner Manning and the Panthers dominated the Hilltoppers in the Cure Bowl

You can only go to the well so often before it dries up
The Trojans beat LSU earlier in the year and now have their first 11-win season as a FBS t...

Saban has never been a fan of the early signing period and made it clear that hasn't chang...

Paul Tyson is a three-star quarterback prospect for the 2019 recruiting class