Report: Mike Slive to announce SEC Network Tuesday
Mike Slive is set to announce the creation of the SEC Network on Tuesday, the 'Sports Business Journal' reported.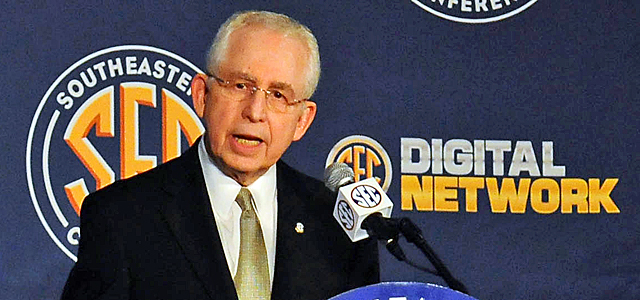 The wait before the wait is all but over: Mike Slive will officially announce the formation of the SEC's own branded TV network at an event in Atlanta on Tuesday, the Sports Business Journal reported.
The SEC Network, a.k.a. "Project X," has been the worst-kept "secret" in college football for months, with Slive dropping hints throughout the fall and spring and finally admitting in March that he would be ready for an official announcement this month. As previously reported, Slive will set a target launch date for the network of August 2014.
Also as previously reported, the network will be a joint project between the conference and ESPN, which paved the way for Tuesday's announcement by finalizing a buyback of the league's third-tier television rights from multiple companies. Those rights include one football game per team per season.
Like the Big Ten and Pac-12 networks, per the SBJ, the SEC's channel "will be a national channel, with broad distribution within the SEC's territory and sports-tier carriage elsewhere." Expect another round of distribution battles similar to those that have prevented the Pac-12 Network from appearing on DirecTV, though the SBJ speculates that ESPN's total ownership of football rights aside from CBS's national broadcasts (not to mention the SEC's higher ratings) could smooth the SEC's path towards quicker distribution.
The league's partnership with ESPN means it will also cut ties with digital properites manager XOS Digital, which created the SEC Digital Network in 2009. ESPN will take over those rights as well, "enabling ESPN to have TV, digital and sponsorship rights for the conference under one umbrella," per the SBJ. 
Ever since the SEC confirmed that its expansion with Texas A&M and Missouri gave it the opportunity to establish a new set of TV contracts, the question regarding the SEC Network hasn't been "if" but "when" and "how." And now SEC fans are mere days away from having those questions answered.
The 21-year-old quarterback was expected to start for the Cougars in 2018

The Fighting Irish will be without some playmakers in 2018

It may have been impossible for Sumlin to meet the expectations set for him in College Sta...
Some players are more easily replaced than others

The 2017 season is in the books, and several big-name stars are jumping early to the NFL

Love was second in the nation in rushing with 2,118 yards in 2017