Report: Nashville laying plans for own 'Kickoff Classic'-style game
Nashville's LP Field could play host to another early-season showdown between an SEC team and a high-profile nonconference opponent as soon as 2016.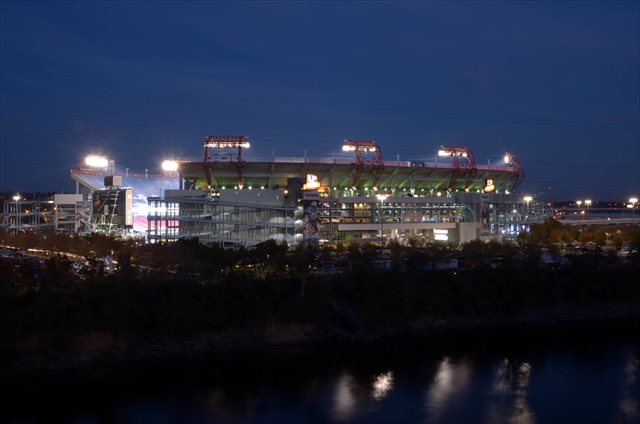 It's obviously working for Atlanta. With LSU and Wisconsin in place for this year and Texas A&M and Arizona State in 2015, it seems to be working for Houston. So why wouldn't a "Kickoff Classic"-style game work for Nashville?
That's the question being asked by various "city executives and sports officials," who the Tennesseean reported Wednesday are working to bring an early-season high-profile matchup between an SEC team and a quality nonconference team to the Tennessee Titans' LP Field. The game could begin as soon as 2016.
"Music City Sports and Entertainment Group has been working on a significant college football event for Nashville, and we are about 60 to 90 days from making an announcement," Tammy Genovese, the CEO of MCSEG, told the Tennesseean.
Genovese said, however, that the group's current "business model" involves an amendment to the state of Tennessee's occupational privilege tax on professional athletes, an amendment that would help cover the cost of the game. But a bill is currently in the state legislature which would repeal the tax altogether.
It's worth asking if the market for a blockbuster SEC-vs.-Name-Brand-Opponent-X games has already been saturated; just because Atlanta's and Houston's games and the Cowboys Stadium game (which usually involves an SEC team as well) have been successes doesn't automatically mean Nashville's will be, too, particularly if the SEC moves to a nine-game schedule and cuts back on aggressive nonconference scheduling.
Then again, Ole Miss and Boise State will play the Chick-Fil-A undercard this season, a game they would likely prefer get the spotlight treatment in Nashville if it had been possible. Tennessee has rarely been afraid to schedule big-name teams out of conference and would might approve of playing a team like Oregon once in Nashville over a home-and-home that involves a trip to Eugene.
So there's reasons to think Nashville's plan will work, too. And in any case, at this "60 to 90 days" stage, it seems highly likely SEC fans are going to find out if it will or not regardless.
Everything you need to know to watch and pick the Las Vegas Bowl on Saturday

Everything you need to know to watch and pick the Camellia Bowl on Dec. 16

Everything you need to know to watch and pick the New Mexico Bowl on Dec. 16
Everything you need to know to watch and pick the Cure Bowl on Saturday

Everything you need to know to watch and pick the New Orleans Bowl on Dec. 16

Bowl games are unpredictable, which means teams need to be on upset alert