Report: Ohio State to wear 2012 Rivalry uniforms vs. Wisconsin
Who cares if Braxton Miller plays? The public need to know what the Buckeyes will be wearing in their showdown with Wisconsin.
OK, so Braxton Miller has been cleared to play and sounds highly likely to start when Ohio State hosts Wisconsin Saturday in what's currently shaping up as the Big Ten's game of the year. But does anyone really care about that when there's a truly important question to ask: what uniform will Miller be wearing when he takes the field?
Per Rivals.com Ohio State affiliate BuckeyeGrove.com, the Buckeyes will take advantage of their nationally televised primetime opportunity to break out -- or break out again -- some fancier duds:
According to a source, Ohio State will be wearing its chrome uniform, worn vs Michigan last season, this Saturday vs. Wisconsin. #Buckeyes.

— Andrew Holleran (@andrewjholleran) September 25, 2013
If you've forgotten what those "Rivalry" uniforms looked like, here's a promotional shot:
And as modeled by Bradley Roby, here's what they looked like on the field: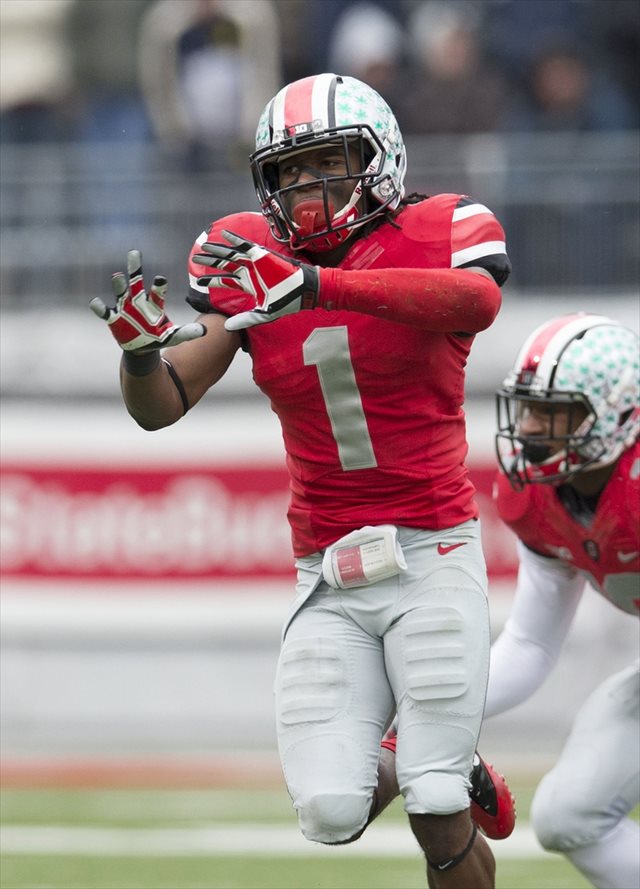 A Buckeye spokesperson told BuckeyeGrove.com he wasn't aware of any plans to wear the alternates. But as noted by Land-Grant Holy Land, replica editions of the Rivalry uniforms just so happened to appear for sale at local clothier The Buckeye Room Tuesday afternoon.
Assuming the Buckeyes do go through with the plan to wear the alternates, we'll offer a thumbs-up -- not because the uniforms are any huge improvement on their regular look (though as alternates from Nike go, they could be so much worse), but just because it'll be nice to see a special uniform get used more than once. 
Find out which of your favorite team's players are among the nation's best entering the 2017...

Texas A&M has to be better defensively to stand a chance in the SEC West

A letter indicated that there is a growing awareness of the persistent problem in college...
The series will follow the Navy football program throughout the 2017 season

Should college football players still be tested and punished for using marijuana?

Lane Kiffin got two big commitments Tuesday afternoon