Report: Ole Miss OL Austin Golson to transfer
A four-star recruit in the class of 2013, Rebel offensive lineman Austin Golson will reportedly transfer to be closer to his Alabama home.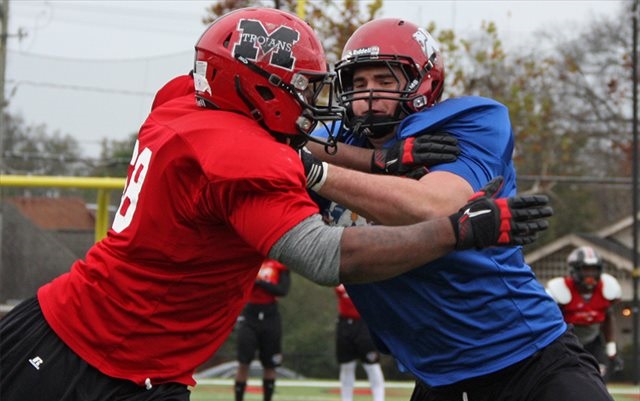 More Transfers: Joeckel to TCU | Harvey-Clemons to Louisville
A shaky situation on Ole Miss's offensive line has only gotten shakier with the news that likely starting right tackle Austin Golson will reportedly transfer out.
Rivals.com first reported the story, with the Clarion-Ledger reporting that Golson would look to transfer closer to his Prattville, Ala., home. Golson later told the paper that he had not made any final decision, but that "my family comes before football."
The Clarion-Ledger's Hugh Kellenberger reported that both of Golson's grandfathers are dealing with health issues, and that "seems to be playing a large part in Golson's decision." 
Though the Rebels might typically restrict Golson from a transfer to one of Alabama's two SEC West schools -- Auburn is less than 70 miles from Prattville -- the Clarion-Ledger also reported that Ole Miss "is not expected to block such a move" due to Golson's famnily situation, and that Hugh Freeze has OK'd Golson's exploration of transfer options.
Golson appeared in 12 games for the Rebels as a true freshman in 2013. A four-star recruit rated among the nation's top 100 overall prospects by the 247Sports composite rankings, Golson was widely expected to become the Rebels' starting right tackle this fall after spending his freshman season at right guard.
Golson's departure will leave the Rebels frighteningly thin along the offensive line, where only two starters return and the team is down to only two scholarship tackles who completed spring practice. Fahn Cooper, a three-star JUCO signee, may now be expected to step in at right tackle.
Freeze has had offensive success in the face of roster issues before. But given the ever-increasing difficulty of making headway in the SEC West, there's no doubt that losing an offensive lineman -- particularly a tackle, and double-particularly one of Golson's potential and experience -- is an issue Freeze really, really would have preferred not to deal with in the first place.
Schiano would have made $4.4 million in Year 1 with annual raises as part of a six-year de...

Dykes spent this season as an offensive analyst at TCU

The 'Wyoming Wild Man' notched six tackles for loss as a junior in 2017
Zaycoven Henderson was charged with aggravated assault with a deadly weapon

Patterson is a former No. 1 recruit in the country

Baker Mayfield and two Sooner teammates made the first team