Report: Pac-12 records more revenue than SEC, Big Ten in 2012-13
A USA Today report of federal tax returns show that the Pac-12 recorded $334 million in revenue.
• 1 min read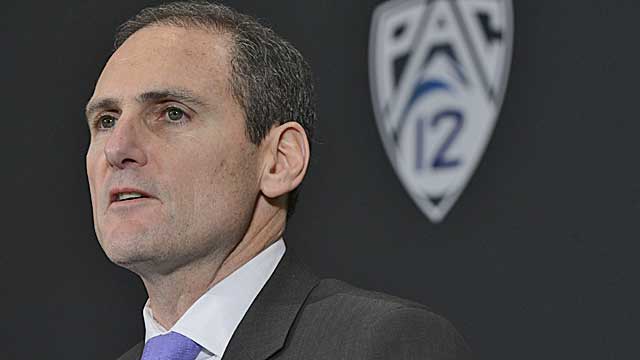 Pac-12 expansion and the launch of a new cable network has reportedly paid off, as the league reported $334 million in revenue for the 2012-13 fiscal year. 
USA Today, using federal tax returns from the major conferences, reports that the Pac-12 recorded more revenue than the Big Ten ($318.4 million in total revenue for a fiscal year ending June 30, 2013) and the SEC ($314.5 million reported for a fiscal year that ended Aug. 31, 2013). 
The 2012-13 fiscal year was the first that included the revenues from the Pac-12 Network, along with the new 12-year media rights deal the league signed with ESPN and Fox. According to USA Today, the Pac-12 saw a $158.1-million increase in revenue from 2011-12, more than triple what the league reported for 2010-11. 
The report also detailed the latest pay increase for Pac-12 commissioner Larry Scott, the nation's top-paid conference CEO. 
Scott's base compensation was reported at just over $2.2 million on the new return, which also showed him with $900,000 in bonus compensation. Tax records from other conferences covering calendar 2012 compensation showed Big Ten commissoner Jim Delany with $1.255 million in base pay and the SEC's Mike Slive with $1.173 million. Big 12 commissioner Bob Bowlsby's base pay for his first 6½ months on the job was reported at $970,000 — an amount that, based on his monthly pay, projects to an annual amount of about $1.8 million.
Larry Scott addressed the projections of the TV money and the realities of the finances in March, as noted here by colleague Dennis Dodd. Because the deal attracted national attention, Scott said there is a "managing of expectations" in the league. 
McElwain will coach receivers and help coordinate the offense for the Wolverines

Nathaniel Watson Jr. was involved in a car accident that injured a passenger in early Febr...

The honorable Tom Fornelli presides over the ASU vs. UM case
Arkansas State is seeking $650,000 for a canceled home game last September due to Hurricane...

Friday Five is tackling the big questions this week

Two unnamed players are being investigated for an incident at an off-campus apartment