Report: Pair of Texas A&M freshmen facing misdemeanor charges
Isaiah Golden and Darian Claiborne were each arrested on separate misdemeanor charges in the same Sunday incident, Golden on a marijuana possession charge.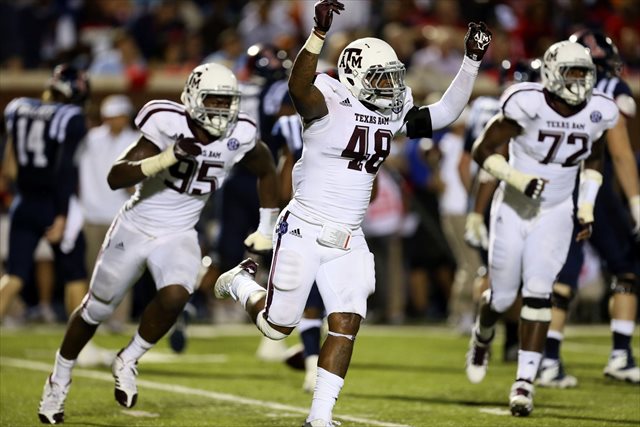 Two Texas A&M freshmen were arrested Sunday and charged with misdemeanors after an incident in a Bryan, Texas parking lot, the Eagle reported Monday.
Defensive lineman Isaiah Golden was booked and charged with possession of marijuana, a Class B misdemeanor, and released after posting a $2,000 bond. Linebacker Darian Claiborne was charged with an excessive noise violation, a Class C misdemeanor.
Per a police report reviewed by the Eagle, officers approached a car parked in the handicapped spot of a Bryan apartment complex after hearing yelling from inside the vehicle loud enough to violate the city's noise statute. Officers reported that the smell of marijuana was easily detected once they approached the car, and after a search, Golden admitted that a small amount of pot located belonged to him.
A Texas A&M official told the paper that he was not yet aware of the situation, but that any arrested Aggie athlete faced suspension pending further investigation. Even if that happens, a source told CBSSports.com's Jeremy Fowler that Claiborne is out for the spring anyway after having shoulder surgery.
Five-star A&M early-enrollee Speedy Noil was also inside the car along with a fourth passenger, but neither man was arrested.
Both Golden and Claiborne were important members of the Aggies' 2012 defense, with Golden starting six games, appearing in 11, and recording three tackles-for-loss to go with 30 tackles total. Claiborne's role was even larger as the Port Allen, La. native started the final nine games of the regular season and finished with 89 tackles, tops among all SEC freshmen. He also led the Aggies with seven tackles-for-loss.
The arrest is the second for Claiborne in a span of three months after he was also charged with marijuana possession in December. He missed the Aggies' Chick-Fil-A Bowl victory against Duke through suspension as a result.
Here are the early lines for big Week 5 games from Vegas

Georgia jumped four spots to No. 8, while Florida State dropped 14 spots to No. 25

Louisville and TCU get big-time bumps after conference rivals fell on Saturday
The Bulldogs jumped up to No. 7 after an emphatic win over Mississippi State

The Penn State running back made a case that he's a legit Heisman Trophy contender

The Nittany Lions came up huge when they needed to against Iowa