Report: Paterno family to announce lawsuit against NCAA
An attorney and a spokesman representing the family of former Penn State football coach Joe Paterno will announce on 'Costas Tonight' on Wednesday that the family is suing the NCAA.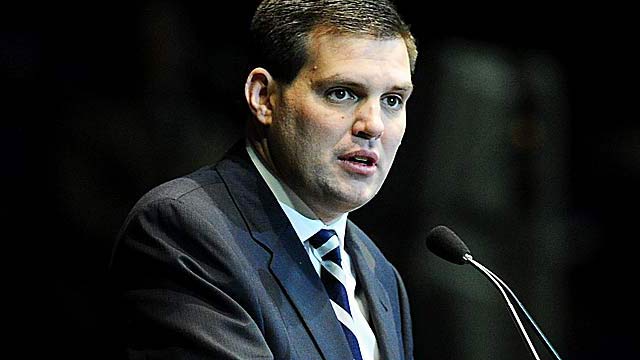 The family of former Penn State football coach Joe Paterno isn't done having their say against the Freeh Report and the NCAA sanctions that it generated -- and will attempt to have that say in court.
An NBC Sports Network spokesman told PennLive.com that Wednesday's episode of Costas Tonight will feature appearances by Paterno family attorney Wick Sollers, Paterno family spokesman Dan McGinn and former Pennsylvania Gov. Dick Thornburgh. The three men will use their appearance to announce a new lawsuit filed on behalf of the Paterno family against the NCAA.
Though the spokesman indicated that the suit would also be filed on the behalf of Penn State, the school has since announced that it will not be party to "any lawsuit" filed by the Paternos against the NCAA.
Per PennLive, the Paternos have "long been rumored to file a suit of [their] own" in the wake of the Freeh Report and NCAA response. The family's own commissioned report criticized Freeh's version as a "profound failure" and, last August, the Paternos attempted to appeal the NCAA's sanctions, which included the vacating of 111 wins earned by Joe Paterno during his legendary career.
The NCAA ruled that the unusual nature of the Penn State case -- which did not include a traditional NCAA investigation and existed largely outside its usual enforcement bylaws -- meant that NCAA president Mark Emmert's sanctions could not be appealed. Penn State president Rodney Erickson accepted the sanctions and signed a consent decree upon Emmert's announcement of the penalties, though university trustees later announced their intent to appeal.
Though specifics of the Paterno family suit will only become public during the announcement on Wednesday night, it seems likely it will be aimed at establishing an appeal that could restore the 111 vacated wins from his career total of 409 during more than 45 seasons and ease the football program's scholarship reduction burden.
The suit is not the first directed at the NCAA in the wake of its handling of the Jerry Sandusky scandal. Current Pennsylvania Gov. Tom Corbett filed a pending antitrust suit in January, arguing the sanctions violated federal law, and a state senator has filed a suit aiming to keep the $60 million the NCAA has levied in fines invested in programs within Pennsylvania. 
Expectations are high for Charlie Strong at South Florida, and Houston looks to take the next...

There are new names to learn every season, and here are five to keep an eye on from the AA...

Taking a close, detailed and opinionated look at the AAC a week before the start of the 2017...
These Jayhawks got a tremendous surprise they weren't expecting

Jovon Durante announced on Twitter he's headed to FAU

From Week 1 through the title game, everything runs through Atlanta this season