Report: Penn St OL Dieffenbach suffers serious knee injury
Penn State could be without senior guard Miles Dieffenbach, a multi-year starter, for an extended period of time after a reported knee injury.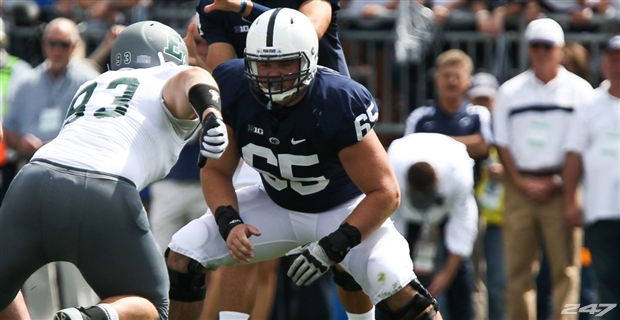 With only two players on its roster who started a game on the offensive line last season, there might not be an area of the team where James Franklin can less afford a major injury.
But Lions 247 is reporting that that's just what's happened all the same. Per reporter Sean Fitz, fifth-year senior guard Miles Dieffenbach has suffered a "serious knee injury" that will cost him "significant time." Dieffenbach is one of only two returning starters on the Penn State line, having started 23 games the past two seasons.
Blue White Illustrated reported Saturday that Dieffenbach's injury was a torn ACL.
In any case, it appears Dieffenbach's 2014 season is in jeopardy. If he is lost for the year, a medical hardship waiver would be necessary to earn him a sixth year of eligiblity in 2015.
A 2013 Academic All-Big Ten selection and the team's Frank Patrick Total Commitment award winner in spring camp 2013, Dieffenbach has been projected as the Nittany Lions' starter at right guard after playing on the left last season.
Franklin signed four offensive linemen in his class of 2014. Whether as starters or merely on the two-deep, it looks increasingly likely those freshmen will have a role to play this fall.
Locksley joined Alabama's staff in 2016

Saban reportedly wants to hire Freeze, but there may be things keeping that from happening

Florida State-Miami will be on Oct. 6, and the Seminoles will play Clemson on Oct. 27
Weis Jr. was an offensive assistant for the Atlanta Falcons in 2017

Lott is joined by three current athletic directors and will serve a three-year term

These are the top guys every school is still chasing