Report: Strong bringing Louisville DC Vance Bedford to Texas
Former Longhorn star Vance Bedford will reportedly reprise his Louisville role as Charlie Strong's defensive coordinator at Texas.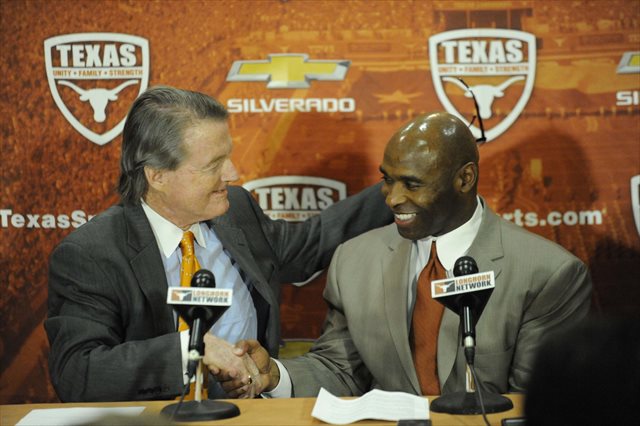 More Strong: Megabooster calls hire 'kick in the face' | Officially introduced
There's no arguing that Charlie Strong's Louisville defense -- which finished 2013 ranked No. 1 in the FBS in yards allowed -- was in any way broken. So it's no surprise Strong's not looking to fix things at Texas.
The Austin-American Statesman's Kirk Bohls reported Tuesday that Strong will hire Louisville defensive coordinator Vance Bedford to the same position on his Longhorns staff. The Statesman's follow-up report stated that Bedford would be on campus Wednesday, but that a Texas spokesperson said no agreement had been reached yet. 
Bedford reportedly interviewed for the Cardinals' vacant head coaching position, but the job appeared set to go to either Bobby Petrino or Michigan State defensive coordinator Pat Narduzzi.
Bedford threw some serious doubts on those reports on his Twitter feed Wednesday, however, first tweeting that he was still in Louisville and then that he remained "in it to win it" where the head coaching position was concerned. Earlier Wednesday he also tweeted that Louisville athletic director Tom Jurich had not yet made a decision on the next Cardinals head coach. 
Under the Strong-Bedford tag team, the Cardinals defense finished 14th, 23rd, 23rd and 1st in FBS total defense, and second in 2013 in scoring defense. The pair have worked together since both served on Urban Meyer's staff at Florida
But Bedford will be welcomed by Longhorn fans for reasons that go beyond his resume and successful working relationship with Strong. Bedford is a Texas native who played for the Longhorns under Fred Akers in the early '80s and earned all-SWC honors as a cornerback.
Bohl's original report claimed Bedford would also serve as the Longhorns' defensive backs coach, a move that would likely signal the departure of current secondary coach Duane Akina, one of the more popular members of Mack Brown's staff among Longhorn fans.
But even if that move comes about, Bedford's track record and Texas ties make his appointment all but a no-brainer. Strong has some difficult decisions ahead where the rest of his staff is concerned, but this one very likely didn't qualify.
Weinke was injured when Florida State lost to Tennessee in the 1999 BCS title game

It was one of the busiest offseasons for the assistant coaching ranks

Oliver's star has already been born, but 2018 is when it will truly be recognized
Craig Kuligowski is reportedly leaving Miami to take the same job with Alabama

BT Potter is about to be very popular in the Clemson locker room

McElwain will coach receivers and help coordinate the offense for the Wolverines