Report: Tanner McEvoy expected to start at QB for Wisconsin
Gary Andersen has reportedly made his choice at quarterback, and in a mild surprise, junior Tanner McEvoy will get the starting nod.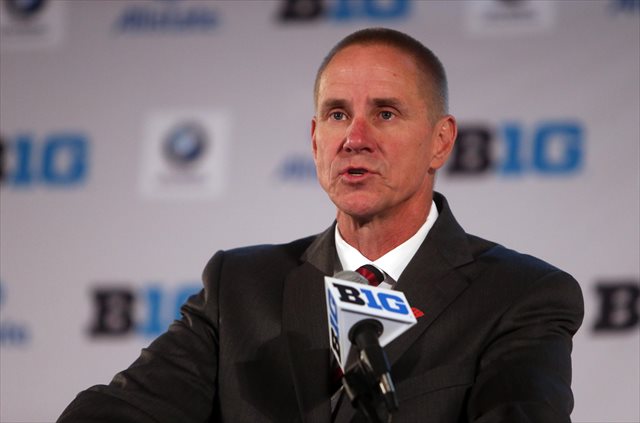 When we checked in on the battle to be Wisconsin's starting quarterback Wednesday, Gary Andersen had said he'd be making a decision shortly between juniors Joel Stave and Tanner McEvoy, but that that decision would not be made public.
The cat is reportedly out of the bag, though, and it's a surprising cat at that.
Citing sources, the Milwaukee Journal-Sentinel reported Friday that Andersen has chosen McEvoy to get the starting nod when the Badgers take on LSU in Houston a week from Saturday. Stave had been expected to retain the starting job he'd earned and kept throughout the 2013 season, throwing for 7.4 yards an attempt (sixth-best in the Big Ten) and posting a 22-to-13 touchdown-to-interception ratio.  
A 2013 JUCO transfer from Arizona Western, McEvoy spent most of 2013 as a safety, in fact, after being moved from quarterback in fall camp. (He even made three starts at the position). But Andersen had been impressed by his mobility in his return to quarterback during spring camp, and per the Journal-Sentinel recently said that both he and Stave deserved to see time on the field.
Even following the report, though, don't expect Andersen to make any confirmation publicly before the Badgers take the field at Reliant Stadium vs. LSU -- who itself is dealing with its own uncertain quarterback situation -- in eight days' time.
"There's no big announcement," Andersen said earlier this week, per the Associated Press. "We don't make a big announcement for the right tackle, don't make a big announcement for the starting nose guard and we're not going to do that for the quarterback, either."
Some players are more easily replaced than others

The 2017 season is in the books, and several big-name stars are jumping early to the NFL

Love was second in the nation in rushing with 2,118 yards in 2017
It looks like Jennings is slowly making his way back to the Vols after being dismissed last...

Offensive coordinator Brian Daboll's departure to the NFL has left a void at Alabama

Wilkins was considered a potential first-round pick in the NFL Draft