Report: Texas WR Cayleb Jones charged with felony assault
Sophomore WR Cayleb Jones is alleged to have broken Longhorn tennis player's jaw over relationship with volleyball player.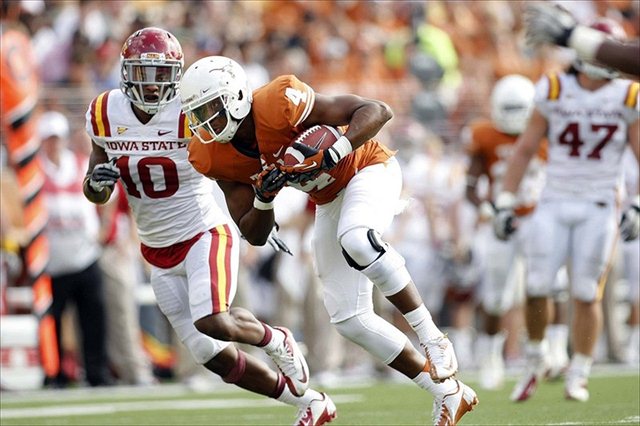 Texas sophomore wide receiver Cayleb Jones could be in serious legal trouble after reports that he faces felony assault charges.
Orangebloods.com and Horns Nation each reported Tuesday that Jones has been charged with aggravated assault after allegedly punching and fracturing the jaw of Texas tennis player Joseph Swaysland. Mack Brown announced Tuesday afternoon that Jones "has been suspended from all team activities pending the completion of the legal process."
Horns Nation reported the incident occurred Feb. 22 outside a bar in Austin and came in response to Swaysland's relationship with volleyball player Katherine Bell. Horns Nation reported court documents say Jones had threatened Swaysland on previous occasions. 
The aggravated assault charge is a second-degree felony in the state of Texas, according to multiple reports. 
A four-star recruit and prep All-American from nearby Austin High School, Jones played sparingly as a true freshman, recording two receptions for 35 yards. But the departure of Marquise Goodwin meant that Jones was expected to challenge for a starting spot in 2013.
Brown's full statement, from the Austin American-Statesman:
We are aware of Cayleb's situation and disappointed any time one of our players is accused of wrongdoing. We have talked with Cayleb and his family, and he has been suspended from all team activities pending the completion of the legal process. Any further action will be handled at the conclusion of the legal process.
An early-season Big 12 game already has major conference and national implications

Top-ranked Alabama hits the road to take on upstart Vanderbilt in Nashville on Saturday

The battle of the Bulldogs will take place Saturday night between the hedges
Penn State hits the road to take on Iowa under the lights in both teams' Big Ten opener.

Penalties include a two-year probation and a show-cause for former coach Kyle Flood

Dig below the surface and you'll find a lot of intriguing matchups on the slate this Satur...