Report: Tide RB Altee Tenpenny charged with pot possession
Sophomore running back Altee Tenpenny was reportedly arrested near his North Little Rock home March 24 and charged with possession of marijuana.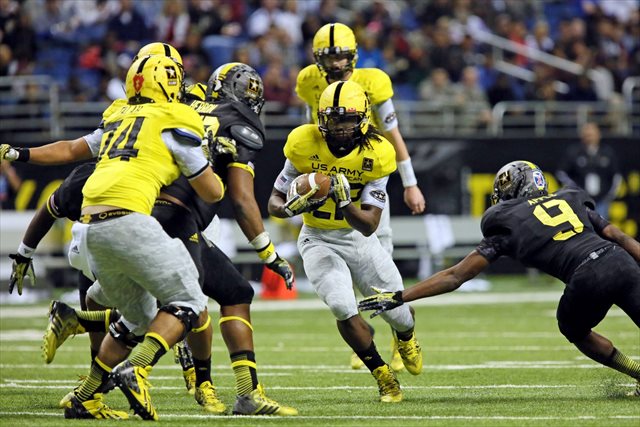 Alabama sophomore running back and North Little Rock, Ark. native Altee Tenpenny was arrested and charged with marijuana possession March 24, Little Rock, radio station "The Buzz" reported Wednesday.
The station reproduced the North Little Rock police report, in which the arresting officer writes that he pulled Tenpenny's vehicle over for an "inoperational license plate light" and smelled burned marijuana when he approached the vehicle. Per the report, a search of the vehicle produced a plastic bag containing 2.1 grams of marijuana, which Tenpenny admitted belonged to him.
Tenpenny was arrested, taken to the police station, and released after receiving a citation. 
Per "Buzz" reporter Justin Acri, Tenpenny is due in court April 10. Per a corroborating report from the Arkansas Democrat-Gazette, Tenpenny stands charged with "possession of a controlled substance."
"I'm aware of the situation with Altee and this is obviously not the kind of behavior we expect from our players," Nick Saban said in a statement published by al.com. "In addition to any punishment he may receive from a legal standpoint, we will have some internal discipline as well as education that he will be responsible for working through."
Tenpenny is the second Alabama tailback (or former tailback) to be cited on drug charges in 2014, following Dee Hart's arrest in February on a possession charge. Alabama said Hart had not been a part of the team since the team's Sugar Bowl loss to Oklahoma.
The four-star Tenpenny was one of the nation's top running back recruits in the class of 2013, ranked as the No. 52 overall prospect in the 247 Composite Top 247, and the No. 7 running back. He rushed 22 times for 82 yards in his true freshman season for the Tide, finishing fifth on the team.
But his total trailed well behind T.J. Yeldon, Kenyan Drake, and fellow true freshman Derrick Henry -- all three of whom return to the Tide backfield in 2014. Tenpenny needed a big spring and quiet offseason if he was going to expand his role in the Tide's tailback rotation ... and it's safe to assume that this arrest isn't going to do him any favors in that regard.
Cristobal's first game at Oregon ended the same way Chip Kelly's did

Conner Manning and the Panthers dominated the Hilltoppers in the Cure Bowl

You can only go to the well so often before it dries up
The Trojans beat LSU earlier in the year and now have their first 11-win season as a FBS t...

Saban has never been a fan of the early signing period and made it clear that hasn't chang...

Paul Tyson is a three-star quarterback prospect for the 2019 recruiting class