Report: USC's Max Wittek won't graduate until December
USC transfer Max Wittek reportedly will not graduate until December, meaning he wouldn't be eligible to play at another school this season.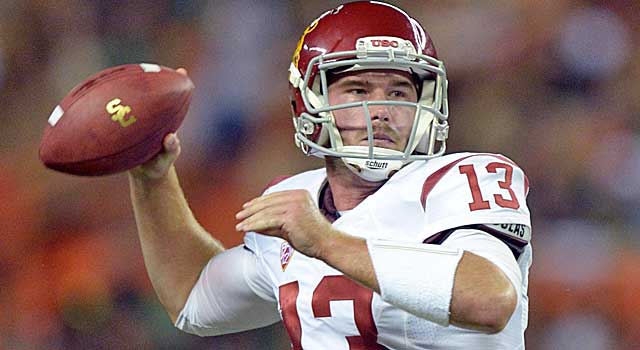 Earlier this week it was reported that Texas was "backing away" from USC transfer quarterback Max Wittek after both Wittek and the school seemed mutually interested. Well, now we may know why Texas has decided to move on.
According to a report in the Honolulu Star-Advertiser, Max Wittek will not graduate from USC this spring as previously expected. Instead he'll graduate in December. This is important because had Wittek graduated this spring he'd have been able to transfer to any other FBS school without sitting out a year.
That's not the case if he isn't graduating until the end of the Fall 2014 semester.
That means if Wittek were to transfer to Texas or Hawaii -- the report lists Hawaii as Wittek's other favorite alongside Texas -- he'd sit out the 2014 season and have one year of eligibility remaining in 2015.
The report also says Hawaii had been holding a scholarship for Wittek, but it's unclear whether or not the school is still interested if it has to wait another year. Pittsburgh and Louisville are two other schools Wittek has been connected to since announcing his intent to transfer.
It's also possible that Wittek could choose to transfer to an FCS school, as he'd be eligible to play in 2014 if he dropped down a level.
Oliver's star has already been born, but 2018 is when it will truly be recognized

Craig Kuligowski is reportedly leaving Miami to take the same job with Alabama

BT Potter is about to be very popular in the Clemson locker room
McElwain will coach receivers and help coordinate the offense for the Wolverines

Nathaniel Watson Jr. was involved in a car accident that injured a passenger in early Febr...

The honorable Tom Fornelli presides over the ASU vs. UM case