Report: Wisconsin to announce Rose Bowl coach on Thursday
The Badgers are left scrambling after Bret Bielema's decision on Tuesday to leave for Arkansas.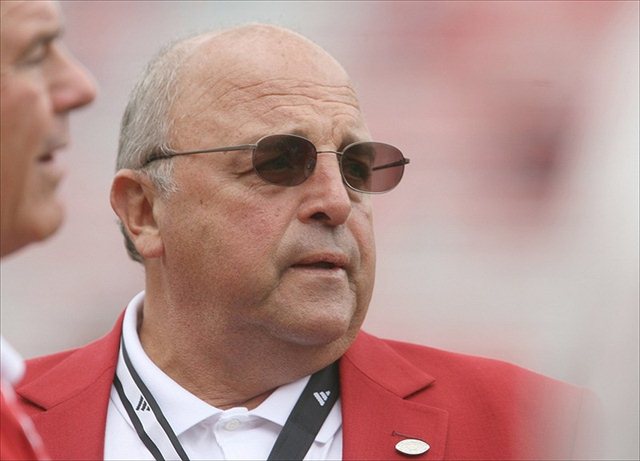 Badgers sideline for the first time since 2005. (US Presswire)
Could the person to lead Wisconsin out of the tunnel at the Rose Bowl after Bret Bielema's stunning decision to leave for Arkansas be the man who hand-picked Bielema to coach the Badgers in the first place?
It certainly looks that way, with Badgers athletic director and coaching legend Barry Alvarez not ruling out the possibility in an interview with the Wall Street Journal on Wednesday, saying he would make an official announcement Thursday on who will coach the team in its third consecutive Rose Bowl.
The Wisconsin State Journal reported on Wednesday evening that Alvarez will coach the Badgers in their Rose Bowl appearance but an official announcement about who will coach the team will be made at a 10 a.m. press conference Thursday.
Bielema confirmed at his introductory press conference at Arkansas that he will not coach the Badgers at the Rose Bowl, and strongly suggested that Alvarez would handle those duties himself.
"They might finally win one," Bielema joked, saying he supported Alvarez's (likely) decision to coach the team himself.
Alvarez last coached in 2005, ending a 15-year tenure as the most successful coach in Wisconsin football history by a wide margin. He selected Badgers defensive coordinator Bielema as his successor and moved to the athletic director's chair, where he has remained since then.
The Big Ten Network reported Tuesday that Alvarez might return to the sideline for the Rose Bowl but as a "figurehead who wouldn't call plays."
Stanford produces apps and Super Bowl participants

The Alabama QB has a new look after the Tide claimed another national title

Young was injured during Miami's Orange Bowl loss to Wisconsin
The movie will zero in on former Penn State coach Joe Paterno during the Jerry Sandusky sc...

Bidding for Salaam's trophy, which the auction house says was obtained legally, ends Satur...

Locksley has been the offensive coordinator at Illinois and Maryland during his coaching c...