Reports: Jim Harbaugh to Michigan is done deal, introduction on Tuesday
Members of the 49ers organization, and the coach's friends, reportedly believe that Jim Harbaugh will accept Michigan's offer to be the Wolverines' next coach.
• 2 min read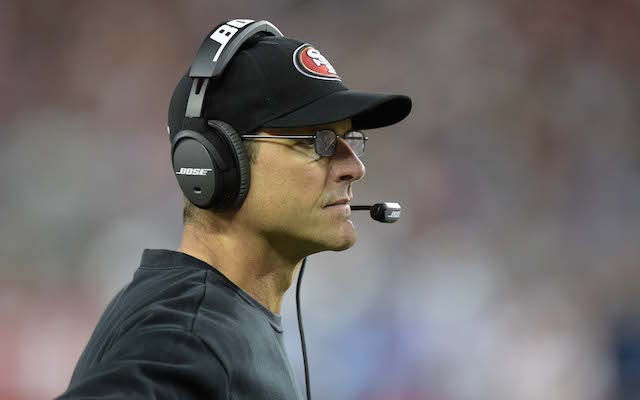 Michigan fans hoping for the return of Jim Harbaugh as the Wolverines' next coach may be getting their wish. According to CSN Bay Area's Dave Feldman, Harbaugh to Michigan is a done deal and an introductory press conference has been scheduled for Tuesday.
Harbaugh and Feldman actually have close ties as the two attended the same high school in California and Harbaugh said recently that he considers Feldman a 'lifelong friend.'
Feldman's report of a deal with Michigan being done meshes with Bleacher Report's Jason Cole, who reported early on Saturday that San Francisco 49ers staff members were expecting Harbaugh to leave the NFL and take the Michigan job.
Two members of the San Francisco 49ers staff and a third NFL source said Saturday they expect 49ers head coach Jim Harbaugh to accept a six-year, $48 million contract to become the head coach of the University of Michigan.      

"That's what everybody on staff believes is going to happen this week," one of the sources said. "Jim has figured out that his style is best-suited for the college game. His shtick works better with young guys who are gone after three or four years."
According to respected Ann Arbor-based author John U. Bacon, who spoke with friends of Harbaugh's on Saturday evening, the signing of Harbaugh by Michigan is a mere formality, which cannot occur until after San Francisco either fires him or releases him from his contract.
I just got off the phone with more sources tonight. It's done. Jim Harbaugh is coming to Michigan - and his friends are flying in Monday.

— John U. Bacon (@Johnubacon) December 28, 2014
Harbaugh will finish the 2014 season with the 49ers on Sunday against the Arizona Cardinals. After that game, an amicable breakup is expected, according to CSN Bay Area's Matt Maiocco. 
#49ers and Jim Harbaugh are believed to have reached an agreement in which he is let out of his contract. He's expected to coach tomorrow.

— Matt Maiocco (@MaioccoCSN) December 28, 2014
Though San Francisco was reportedly keen on receiving a compensation should Harbaugh leave the 49ers for another NFL franchise, there is a widespread belief that the team will happily void his contract if he decides to move back to the college ranks, taking him out of the NFL picture.
Michigan fans have been hanging on every word of every update about Harbaugh in hopes that the former Wolverines quarterback will come home to Ann Arbor. Those reports and rumors have continued to suggest a Harbaugh return.
According to Fox Sports' Bruce Feldman, Michigan's decision-makers are in the Bay Area this weekend, preparing to meet with Harbaugh immediately after he parts ways with San Francisco.
#Michigan brass & search firm will be up in the Bay Area this weekend as part of the Jim Harbaugh pursuit, per source.

— Bruce Feldman (@BruceFeldmanCFB) December 27, 2014
247Sports, citing a source close to the situation, wrote Saturday that "it would take something catastrophic for Jim Harbaugh to not be the next head coach at the University of Michigan." 
Everything you need to know about the week that was in college football

Dennis Dodd checks in after another wild week as two big-time programs fall from his top 2...

The Buckeyes are a touchdown favorite over the Nittany Lions in a huge Week 9 game
Josh Adams and Derrius Guice helped their teams to big wins in Week 8

The Eagles have started winless in Summers' second season and were 5-13 overall under him

The Fighting Irish are up to No. 9 in the latest edition of these college football ranking...