Reports: New AAC, Sun Belt bowl game coming to Orlando in 2015
The American Athletic Conference and the Sun Belt have reportedly agreed to meet in a new Orlando-based bowl game starting in 2015.
• 1 min read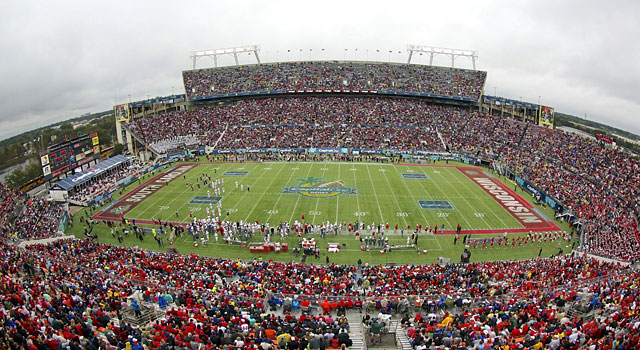 The American Athletic Conference and the Sun Belt will reportedly meet in a new bowl game starting in 2015, according to ESPN's Brett McMurphy and the Orlando Sentinel.
According to the Orlando Sentinel, new AAC-Sun Belt bowl game will be hosted in Orlando and managed by the Orlando Sports Foundation. Though it is the third bowl game in the area, it will not be under the umbrella of Florida Citrus Sports -- the group that manages the Capital One Bowl and the Russell Athletic Bowl.
The AAC has not confirmed the new bowl game but an announcement could come as soon as Wednesday. Sun Belt commissioner Karl Benson confirmed that the league was interested in adding another game to the league's slate, but did not offer details. 
"It hasn't been a secret that the Sun Belt has indicated a desire to be involved with a fourth guaranteed game," Benson told the Orlando Sentinel. "I don't think it's been a secret that there's been an organization in Orlando that has attempted to launch a game." 
As McMurphy noted on Twitter, the addition of the new game will give fans more than 40 bowl games to enjoy throughout December and January. 
W/new Orlando bowl, there will be 40 bowls in 2015 (including national title game), so 78 teams go bowling

— Brett McMurphy (@McMurphyESPN) April 15, 2014
Even with the slow expansion of the FBS, the new bowl slate will allow more than 60 percent of teams to play in a bowl game. Fans groan about "meaningless" bowl games, but instead look at each game as an opportunity for college football craziness.
With all the extraneous factors surrounding a bowl (travel, familiarity, lame duck coaching staffs, motivation) there is a much higher probability of seeing the unexpected. One minute you have the New Mexico Bowl on in the background and then all of the sudden Colorado State has put together an improbable comeback beat Washington State. 
Byron Murphy reportedly sustained a foot fracture in practice

GoDawgs247 previews big-time college football recruits headed to Athens

Dig below the surface and you'll find a lot of intriguing matchups on the slate this Satur...
SportsLine tapped into its Vegas sources and found out pro bettors are all over No. 8 Michigan...

An early-season Big 12 game already has major conference and national implications

Top-ranked Alabama hits the road to take on upstart Vanderbilt in Nashville on Saturday