Reports say Tyler Wilson is out, John L. Smith calls him 'game-time decision'
Arkansas head coach John L. Smith announced Friday that injured quarterback Tyler Wilson would be a "game time decision" for the Razorbacks against No. 1 Alabama.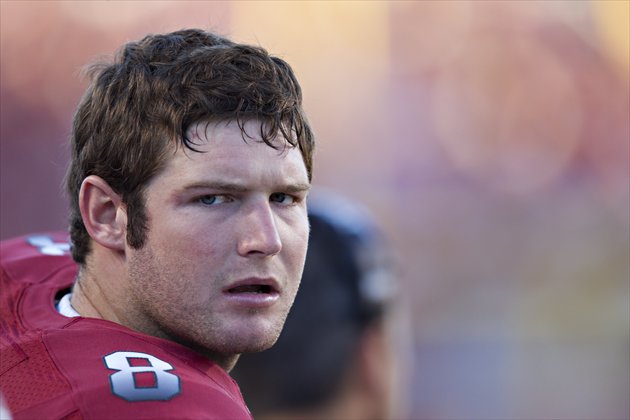 Multiple reports have said Tyler Wilson will not play against Alabama. (Getty Images)
Will he or won't he?
That's the question that surrounds Arkansas quarterback Tyler Wilson as his Razorbacks prepare to host No. 1 Alabama on Saturday. After missing the second half of his team's upset loss to ULM with a head injury, Wilson's status has officially been "day-to-day" and unofficially a matter of speculation throughout the week.
It's now going to stay that way through kickoff, as coach John L. Smith announced Friday that Wilson had not been ruled out, that he would be a "game time decision" and that the Razorbacks would issue no further updates on his condition before Saturday. 
That statement would seem to neither confirm nor deny an earlier report from veteran Fayetteville sports talk radio host Bo Mattingly, one stating that Wilson had not been cleared to play or practice and that he would not see the field against the Tide. (ESPN has since reported the same.)
Both Smith and Wilson's teammates were optimistic about Wilson's chances Wednesday, when the senior threw the ball well at practice, albeit in shorts and without taking any contact. But Wilson did not participate at all in Thursday's practice, with Smith declining to elaborate on why other than to say he was "busy." 
Any chance of the Razorbacks pulling off an upset that now seems nearly as unlikely as the Warhawks' win over the Hogs -- the Crimson Tide are now favored by 20 points -- almost certainly rest on Wilson's ability to play. Redshirt freshman backup Brandon Allen completed only 6-of-20 passes in relief of Wilson against ULM, with one interception, no touchdowns, and an average yards-per-attempt of just 4.3 yards.
Given Wilson's absence from Thursday practice and the Mattingly report, the odds seem to be against Wilson taking the field Saturday. But we also don't blame the Razorbacks a bit for continuing to hold out hope that Wilson can recover in time for kickoff -- or for keeping the Tide guessing about which quarterback they'll actually face.
Clemson needs a win to preserve its College Football Playoff profile

The Seminoles look to keep their bowl streak alive with a win at Florida

The Iron Bowl will decide the SEC West champion for just the second time ever.
The two rivals meet for the 113th time Saturday

The Bulldogs get one more tune-up before the SEC Championship Game

Oklahoma quarterback Baker Mayfield won't start for disciplinary reasons, but he'll still be...