Reports: Suspended Vol Da'Rick Rogers plans transfer to Tennessee Tech
The move will reunite Rogers with his old high school teammate, Tre Lamb, who is entering his third season as Tennessee Tech's starting quarterback.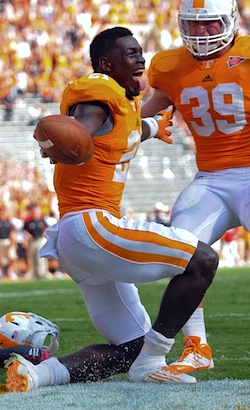 As it turns out, Da'Rick Rogers may be playing college football this fall in the Volunteer State, after all. Just not as a Volunteer: According to multiple in-state sources, the All-SEC wide receiver plans to transfer to Tennessee Tech after reportedly meeting with Golden Eagle coaches on Sunday, just 48 hours after he was suspended indefinitely by Tennessee coach Derek Dooley for an undisclosed "violation of team rules." The website VolQuest.com and a local television station, WDEF in Chattanooga, both reported Rogers' impending move on Sunday night.
Tennessee Tech is an FCS school in Cookeville, Tenn., about 100 miles west of Knoxville. Assuming he's academically eligible and otherwise kosher under NCAA rules (there's no indication he is not), Rogers will be eligible to play immediately with two years of eligibility remaining, although it might be a stretch to expect him in the lineup as soon as the Eagles' season opener against Hampton on Thursday night. The move will also reunite him with his old high school teammate, Tre Lamb, whose father was Rogers' head coach at Calhoun (Ga.) High, and who is entering his third season as Tennessee Tech's starting quarterback after leading the Eagles to the Ohio Valley Conference championship as a junior.
The announcement of Roger's suspension on Friday morning coincided with the release of Tennessee's first preseason depth chart, which projected starting nods for junior receivers Justin Hunter and Cordarrelle Patterson, a touted junior college transfer, but omitted Rogers' name altogether. Per the release: "Junior wide receiver Da'Rick Rogers does not appear on the depth chart for the N.C. State game, as he has been suspended indefinitely because of a violation of team rules. His status for the remainder of the season is yet to be determined." After the announcement, Dooley told reporters he didn't expect Rogers to play this season, but has not confirmed his dismissal or pending departure.
Rogers has been on the bubble almost from the moment he defected from his home-state school, Georgia, to sign with Tennessee in 2010, making him the late-breaking headliner of a recruiting class that nearly fell apart after coach Lane Kiffin's abrupt departure for USC a few weeks before. By the time he stepped on the field for the first time as a freshman, Rogers had already been arrested for his role in a brawl involving multiple UT players; from that point on, rumors of his pending dismissal, suspension or transfer were too numerous to count.
Last year, multiple sources told CBSSports.com colleague Bruce Feldman that there were several incidents in which Rogers crossed the line with Vol coaches and staff, including a "complete meltdown" during UT's season-ending loss at Kentucky and another episode in the team weight room. The incidents were so troubling to some staffers that they felt Dooley was risking the locker room dynamic by allowing Rogers to remain in the program. The specific incident(s) that led to his suspension, however, remain a mystery.
That reputation, along with the team's dismal record, may have obscured the fact that Rogers was one of the most productive deep threats in the SEC in 2011, hauling in a league-best 67 passes for 1,040 yards, nine touchdowns and a second-team all-conference nod from SEC coaches. Given his obvious pro potential at 6-foot-3, 215 pounds, he is almost certainly bound for the 2013 NFL Draft next spring, where a respectable effort on the field this fall could make him a middle to late-round pick. Regardless of his raw talent, though, whatever chance Rogers had at a big payday in the early rounds is likely long gone.
Schiano would have made $4.4 million in Year 1 with annual raises as part of a six-year de...

Dykes spent this season as an offensive analyst at TCU

The "Wyoming Wild Man" notched six tackles for loss as a junior in 2017
Zaycoven Henderson was charged with aggravated assault with a deadly weapon

Patterson is a former No. 1 recruit in the country

Baker Mayfield and two Sooner teammates made the first team