Reports: UAB AD out, football program could shut down this week
Reports have surfaced indicating that UAB will shut down its football program.
• 1 min read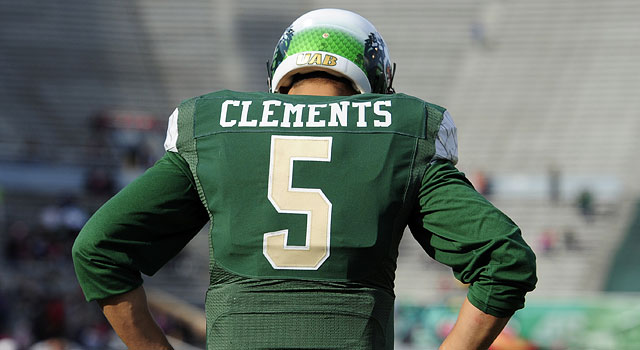 UAB athletic director Brian Mackin is reportedly out and the football program could be shut down as soon as this week, according to multiple media reports.
USA Today's Dan Wolken and Sports Illustrated are reporting that Mackin, the Blazers athletic director since 2007, will be fired as part of major changes to the athletic department that will include shutting down the football program. Sports Illustrated's Thayer Evans reports that the announcement could come on Thursday. UAB will become the first Football Bowl Subdivision/Division I-A school to drop football since Pacific in 1995.
According to ESPN.com, UAB head coach Bill Clark did not think the chances were good for the program's survival. "Unless something changes before the weekend ends, I think the odds are very high it ends this week," he told Joe Schad.
Clark, however, tried to put on a confident face with a tweet Sunday afternoon.
Contrary to news, We haven't heard any decision about our program. We are still fighting! #WTD #UABFootball

— Bill Clark (@CoachBillClark) November 30, 2014
Concern about the future of the program began when UAB's president and athletic director released noncommittal statements regarding a strategic study of the school's athletic department. UAB's football boosters are concerned, as Clark's contract does not extend beyond 2016 and the Blazers have no non-conference games scheduled beyond 2016, either.
CBSSports.com's Jon Solomon wrote extensively about the issues with UAB's facilities, Clark's plans for the future, and what could have been in store for the program should UAB commit to its future. Administrators have raised concerns given the money lost by the athletic department, but Solomon wrote last week that there are 26 athletic departments at public universities in the Group of Five conferences that reported a larger deficit than UAB in the 2012-13 year.
These five teams have the best chance of being the Group of Five darling this coming year

Drevno had been running the Michigan offense for three seasons

Aaron was reportedly shot while trying to protect his girlfriend when a fight broke out at...
An assistant-by-assistant look at changes Saban made to the Tide's staff ahead of 2018

Find out when Nick Saban, Kirby Smart and the rest of the coaches will speak ahead of the...

It wasn't only the massive $75 million contract that got Fisher to depart for College Stat...