Reuben Foster stars in talented Atlanta Nike Camp
The Atlanta Nike Camp is consistently one of the top camps on the recruiting circuit and the stop in 2012 certainly brought out the talent from across the South. The country's number three overall player Reuben Foster impressed at linebacker and several other highly recruited players turned out to add to a loaded field.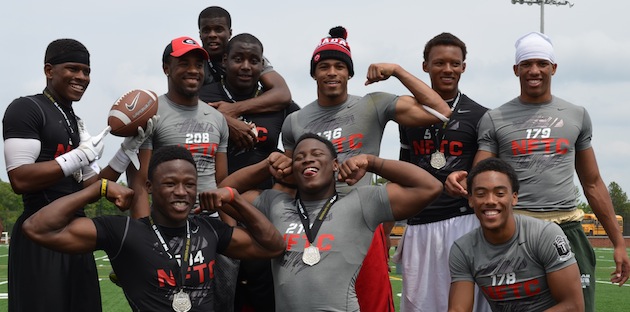 BUFORD, Ga. -- The Atlanta Nike Camp is consistently one of the top camps on the circuit and the stop in 2012 certainly brought out the talent from across the South and across the country. Last year the headliner was Loganville (Ga.) defensive end
Robert Nkemdiche
, who exploded onto the scene with a dominating performance that put everybody on notice and no doubt helped cement his status as the top prospect in the class of 2013. This year it was
Auburn
(Ala.) linebacker
Reuben Foster
, who is right behind his friend Nkemdiche in the rankings but looking to prove he was right there against a loaded group of players at Buford High school on Saturday.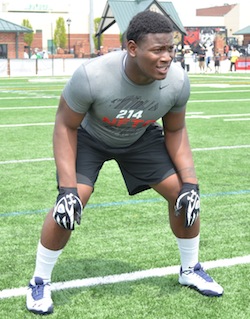 "It was hard, there were some talented people here" Foster said. "Everybody works hard and there were some big guys here. It was unbelievable."
Close to being the consensus number two player in 2013, the five-star linebacker is a terror with pads on coming downhill and didn't restrain himself too much while going through drills in only Nike gear and shorts. Foster wore the same shirt that everybody else did but there was no denying that every running back and fellow linebacker were gunning to beat one of the top recruits in the country.
"I had a lot of targets on my back," he said. "People were calling me out, they said they wanted to go with the best of the best."
Foster got banged up during pass coverage drills after knocking into somebody else and held himself out instead of risking further injury. Despite missing 30 minutes or so at the end of the four-hour camp, the talented linebacker still accomplished what he set out to do coming into the day.
"One, I wanted to get in shape. Two I wanted to get some work in," Foster said. "I wanted to show everybody even though I've got the number two spot (in the class of 2013) and I'm not going to give it up. I'm not going to lay back on my butt and say I have it made. You let up and somebody can take your spot but I'm not going to have that."
An Alabama commitment, Foster made waves by transferring from Troup County High School in LaGrange, Georgia to Auburn, Alabama. Naturally it is a bit weird wearing
Crimson Tide
gear around his new hometown but that's nowhere near as awkward as telling Nick Saban and the coaching staff of the move last month.
"They did not take it well," Foster said. "They thought I was trying to go to Auburn. I'm not trying to go to Auburn, I'm sticking with my commitment to Alabama - I'm still Rolling with the Tide."
Foster hears "War Eagle" just about every day and while he shakes it off constantly, it's just part of a transition that he is still trying to get used to.
"I'm comfortable but you have to make new friends," he said. "It's like a routine you have to learn. But it will be alright."
With his recruitment over for some time now, Foster has turned into one of Alabama's top recruiters because he is good friends with a number of top players in the South. Though he's no longer in Georgia, he keeps tabs on quite a few of the state's top prospects and is looking to draw them to Tuscaloosa with the promise of capturing a national championship.
"I'm recruiting everybody, I don't care," he said. "I'm recruiting (Georgia commit) Tray Matthews, Alvin Kamara… I'm recruiting everybody who is a D-1 material because I'm trying to get myself a ring."
The 6-foot-1, 245-pounder earned MVP honors based on his performance at the camp and will also take home an invite to 'The Opening.'
"It's an honor," Foster said. "I thought they'd just mail us a certificate or something on the internet."
Despite all the accolades he earned on Saturday, Foster was more excited to jet out of the camp because he was going to prom later that evening where he'll no doubt be competing for another award as best dressed linebacker in the country.
Kamara can do it all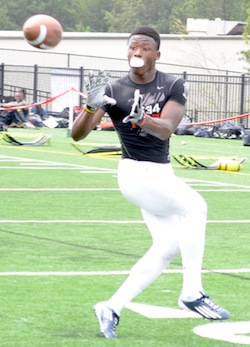 Nobody's stock has blown up over the past few months like Norcross (Ga.) running back Alvin Kamara and Saturday's showing at the Nike Camp did nothing to slow him down. A standout on the field thanks to white leggings and quality play, one of the area's top players took home just about every award you can grab and was extremely pleased with his performance.
"It feels good to get the MVP award because of all the good competition and all the good running backs so to come out on top is a great accomplishment," Kamara said. "You had Reuben (Foster) and Paul Davis and all those guys. It felt good. Every combine out in Georgia you see all these guys so we're all pretty close and know each other. To go out and talk a little junk and compete against those guys is fun."
The 5-foot-10, 200-pounder says he can bring a spark to any offense at the next level and already holds a double-digit number of offers from powerhouses such as Alabama,
Clemson
and Georgia. Kamara's been picking up more and more interest over the past few weeks and it appears that his recruiting is still shifting in a couple of different directions at the moment.
"I'm getting in contact with a few new schools," he said. "Miami,
Cincinnati
and
Oregon
- that is the newest. I'm going to go wherever I can.
"I'm pretty open because I've got new schools coming at me and I want to see what's going on. I don't know how it's going to pan out but if I feel (a commitment), then I'll shut down the recruiting process. We'll just have to wait and see."
Outside of going to "The Opening" this summer Kamara isn't too sure of his travel plans in the coming months outside of a big trip out West.
"I only have one visit planned, I'm going to go out to Southern Cal," he said. "So far that's the only one. It will probably be around the end of school, which I think it closes late May, early June."
Jenkins busts out with MVP performance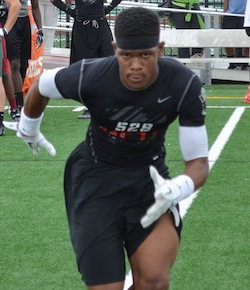 The Nike Camp is always a place where somebody can boost their stock and there's no doubt that Marietta (Ga.) wide receiver Ryan Jenkins was one player who might be seeing a huge increase in college coaches dropping by Lassiter High during the Evaluation Period and extending an offer after snagging receiver MVP honors.
"Today was an overall great experience. I've been working hard for this and thinking about this while training in the offseason," Jenkins said. "This has been a big goal of mine for a long time so today went real well."
In addition to going home as the top wide out at the camp, Jenkins grabbed an invite to 'The Opening' to compete with some of the best players in the country. The gold package with details on his trip to Oregon this summer was something he had his sights on well before walking onto the field at Buford High and was quite the accomplishment.
"It means a lot. About a year ago I messaged (the camp coordinator) and told him that I wanted to go real bad," Jenkins said. "This has been a year's long wait and it feels good."
The 5-foot-11, 180-pounder showed off great hands and was able to create separation from opposing defensive backs with his speed. Jenkins has already made a name for himself after a solid junior year and is knee-deep in the recruiting process at the moment.
"I'm up to five offers," he said. "I've been offered by Clemson,
UCLA
,
Missouri
,
Louisville
and
Wake Forest
.
"I'm really looking for a school that has a throwing offense. When I get to college I really want to put up big numbers and make big plays for the team."
With the Evaluation Period underway for the next few weeks there should be several schools increasing contact with Jenkins, who already is expecting a few new offers to roll in based on conversations with coaches.
"I think Southern Cal might be close to offering," he said. "I've been building a good relationship with the receivers coach Tee Martin."
Shaq attack in full force at camp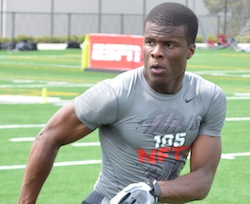 Nobody loves the type of environment that the Nike Camp provides more than Tyrone (Ga.) defensive back Shaquille Wiggins. The Georgia commit took home position group MVP honors after feasting on opposing wide receivers and quarterbacks during a stellar day of coverage.
"It was really fun out here, I haven't done one-on-ones in a while or been to a couple of camps," Wiggins said. "This really made my day. The environment was good, the coaches really got into it and the players, it's like we've known each other for years. There wasn't any animosity between us (defensive backs) and the receivers, we just came together and shut them down."
Wiggins was quite vocal throughout the day and was despite being a big time competitor he flashed one of the biggest grins all day. Although he is committed to Georgia, the 5-foot-10, 165-pounder was impressed with how talented and deep the group at the camp was and noted how good the players coming out of the state were in particular.
"This class has a ton of talent and people in Georgia are college-ready, period," Wiggins said. "They've got college-ready size and I wouldn't be surprised if we claim the number one state football class in the country."
Wiggins is one of the top recruiters for the
Bulldogs
after making his pledge and has been trying to woo some of that in-state talent out to Athens. Wearing a familiar pair of red shorts with a big Georgia logo on them, when he wasn't make a play on the ball he was on the sidelines talking about what the program had to offer to some very familiar names on the top of the recruiting board.
"I'm friendly with everybody so I talk with Rueben (Foster), Montravious (Adams), Von Bell, Brendan Langley, everybody," Wiggins said. "I just let them know what Georgia has to offer and that we should put on for our home state."
An 'Opening' invite was also in the cards for Wiggins, who might be as aggressive as they come on the field with his style of play. The impressive corner also mentioned that another commitment might be coming for Georgia in the next week or so and that it will likely be along the offensive line.
News and Notes
- MVPs by position were quarterback Josh Dobbs, Kamara at running back, Jenkins at receiver, offensive lineman Shamire Devine, defensive lineman Marcus Adams, Foster at linebacker and Wiggins at defensive back. That group, minus Dobbs and Adams, also earned 'The Opening' invites in addition to defensive backs Brendan Langley and Tray Matthews.
- Langley arrived late and came in halfway through drills thanks to bad directions courtesy of his GPS. He struggled at times during the one-on-one portion but did show flashes as to why he is so highly recruited. According to him he has a top five but acknowledges that it is a Alabama/Georgia battle right now.
- Devine had a monster day during one-on-ones and only lost one rep despite getting everybody's best shot. He is hearing from
Georgia Tech
the most which is big because it's a local school and because education is a priority to him. If Adams, the D-line MVP, were a few inches taller he'd be a big time prospect but based on his performance, it's doubtful he'll have just the one offer he does right now from Ole Miss.
- 2014 Hinesville (Ga.) linebacker Raekwon McMillian looked extremely good at his position and matched Foster as one of the most impressive looking players at the event. He said Georgia is really sticking out right now.
- With most of the quarterbacks returning the day after the Elite 11, it's safe to say Jacksonville (Fla.) dual-threat D.J. Gillins earned top billing at the position. A 2014 player, he's likely to see his stock take off after displaying a strong arm, great accuracy and quick motion that should have coaches scurrying through Eagle's View Academy to see him up close and get another look at his junior film.
McElwain will coach receivers and help coordinate the offense for the Wolverines

Nathaniel Watson Jr. was involved in a car accident that injured a passenger in early Febr...

The honorable Tom Fornelli presides over the ASU vs. UM case
Arkansas State is seeking $650,000 for a canceled home game last September due to Hurricane...

Friday Five is tackling the big questions this week

Two unnamed players are being investigated for an incident at an off-campus apartment