Reunited at Oklahoma, Bob and Mike Stoops are back and better than ever
Mike Stoops is back with brother Bob at Oklahoma and after spending eight years at Arizona, is fired up and ready to coach again.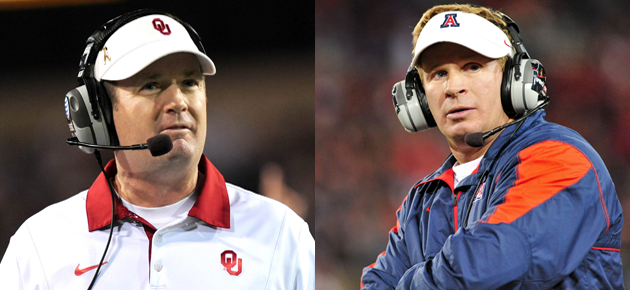 NORMAN, Okla. -- There is not a family reunion in the country like this. That much is certain.
There may be a few that are more boisterous, or have more people, or even have more fun but, in many respects, there's nothing quite like the get together held by the Stoops brothers early in March. The only talk about heritage, deep in the
Oklahoma
football offices, comes when discussing the basics of the 4-3 defense.
In the Barry Switzer Center, family members play second fiddle to the overhead projector. It is not the lumens on the wall that has everybody 'ahhing' about but 22 players moving in various directions and whose idiosyncrasies were looked at frame-by-frame. For hours upon hours, between Diet Cokes, coffee and unhealthy snacks, the Stoops brothers watched. And watched. And watched some more.
It was momentous because this was the first time that all four had ever sat down together and watched film during the offseason. Although there have been plenty of family get togethers and vacations over the years, this was a bit of an anomaly - albeit a good one for one of coaching's most prominent last name.
"We manage to have a good time," said Mark Stoops,
Florida State's
defensive coordinator and youngest of the bunch. "There's always several arguments. It's us, it's just football. There's a lot of ways to skin a cat and sometimes one may see it one way or another. We all have a tendency to be a little hard headed here and there too."
Fittingly, oldest brother Ron Jr. uses the same idiom when describing the session, which included a detailed but lighthearted breakdown of Bob's win over Mark last season.
A high school coach in Ohio for nearly 30 years, Ron has made the transition to the college game as a linebackers coach at his alma mater, Youngstown State. He's made the step up in competition with ease thanks in part to what he's learned from his younger brothers. While he was the first to follow in his father's footsteps and join the coaching ranks, he's the eager one as the discussion moved around from cover-3 to zone blitz techniques.
"We use similar systems and I've kept up with theirs throughout the way. After a couple of years theirs changes and it's just a constant evolution as we try to keep up," Ron said. "Somebody will say I like it this way or play it this way. It's the little things, the nuances, but I think we all sort of buy into the same concept. This has been really fun."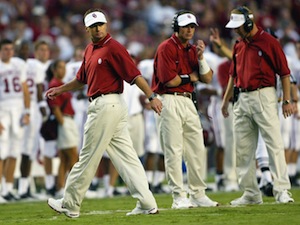 This year's "summit" came about largely because half the group is now in one place and on the same schedule. After eight years away as the head coach at
Arizona
, Mike Stoops has returned to Norman to run brother Bob's defense - a position he held from 1999 to 2003 when he coached several All-Americans and won a national championship. The Oklahoma board of regents had no qualms approving a nepotism waiver - they had to, obviously - in this case, signing off on Mike's three year contract and officially getting the brothers back together before Signing Day.
"It was a pretty easy recruiting job," Bob said. "I know his background, I know how detailed he is and I feel really good about the direction it's going. You always lose a step in transition but I believe we'll gain it back and more."
Mike didn't do too much after being let go last October following a 41-50 run over eight seasons in Tucson. Not looking to do much television or take a season off after getting his walking papers, he traveled a bit, watched football on the weekends and tried to stay connected to the game as much as he could in order to jump right back in for 2012.
"We may have got it as good as it can get. You have to be realistic with what your expectations are and you should have high expectations, I certainly did. But what you're capable of and what the circumstances that are dealt to you, it's hard to achieve those big goals of winning a championship there," Stoops said of his time at Arizona. "There's a reason they haven't won a championship at Arizona and it's not bad coaching or bad players. You can blame it on anything you want, football and championships are about commitments made university wide. It's a commitment made to winning, not at all costs but there is a cost.
"When you don't have a football facility and every Mountain West team has one and you don't, that's a problem. We were playing at a BCS level and I feel like I was fighting with a toothpick and they've got a bat."
Arizona is currently building a $72 million football facility but that's too little, too late for Stoops. There is still plenty to be proud of, the program had its first non-losing season in eight years early in his tenure and was in the Rose Bowl race late in the 2010 season before faltering down the stretch.
Leaning back in his cushy office down the hall from his brother, Stoops gushed about the players he had coached and the ones he is just getting to know as Oklahoma goes through spring practice. He is making adjustments to the Sooners defense to better deal with spread offenses after facing plenty of them out West, emphasizing speed on the field and minimizing the the opponent's ability to target a specific area or player on the field.
It is, in many respects, getting back to some of the basics he taught at Oklahoma once before but this time comes with the benefit of years of added seasoning.
"There were some great offensive minds in the
Pac-12
," Mike said. "I think it's the way football is going. You see it in high schools and college, it's spread out from sideline-to-sideline and people are making you defend the whole field. Before, football was condensed in some ways and now it you have to defend everything."   
"He's very much a technician, he's focused and intense,." Bob said of Mike on the field. "He's very aware of trying to put guys in good positions and steer them away from positions where they're not going to be successful."
Mike didn't harbor any hope that he would return to the Sooners when he came into town for a game late last season, figuring he'd wind up at a number of places that had already sent out feelers to gauge his interest. But when Bob decided to make staff changes after a disappointing close to the year, immediately talk of getting the band back together ramped up.
Though he came in as a co-coordinator with old friend Brent Venables (before his departure to
Clemson
), Mike has fully taken over the reigns of the defense. The transition from head coach back to assistant however, took a bit of getting used to.  
"The first day, I was walking around like I was the head coach. I was kind of like, 'Oh… I'm not the head coach and I need to go over here with my guys.' I was watching everything instead of concentrating," said Mike. "But it didn't take long, it's like riding a bike."
Team Stoops back together, only this time with slightly thinner hair.
"It's a harder dynamic, working with your brother. You take things a lot more personal," Mike said. "The losses are harder on you, a lot more so than if you were coaching for someone else because it's your family losing. But I don't plan on losing many games here.
"At the same time, there are the experiences of getting to do some of the things you get to do together is neat."
Just over a year apart, Mike followed Bob to play in the secondary at
Iowa
and backed older brother up for two seasons. If not for nerve damage suffered in a violent collision in the Hawkeyes Spring Game, the two would have played alongside each other as starting safeties when Bob was a senior and Mike a sophomore.
It was only later, when both were coaching at
Kansas State
, that the two ended up next to each on a daily basis. The middle brothers have, by age and by career, always been close in a tight-knit family who understands the pressures of the coaching profession.
"We've had some fun times, some rivalries, some older brother putting younger brother in his place. (Bob) didn't like that very much, he always went down swinging," Ron said. "(Bob and Mike) have always had a very close relationship. We're all pretty close and all a little different. Those two are pretty close and Mark, being the youngest, he has a good way of being close with all of us and our two sisters."
While the Stoops can run a pretty good defense and know a thing or two about managing a BCS program, the most common trait the two middle brothers share might be a fiery sideline demeanor.
Mike had his fair share of attention for turning bright red during his time at Arizona. Though Bob has mellowed over the years and is just as comfortable in a golf shirt as he is running out of the tunnel, the Sooners' head coach is known as the one most prone to an outburst inside the family.
"I think if you asked any of us, it would be pretty much unanimous that it was Bob. I'd be surprised if you got a different answer. Bob has darker hair than all of the rest of us so there were times when we weren't really sure he was our brother," Ron said with a chuckle.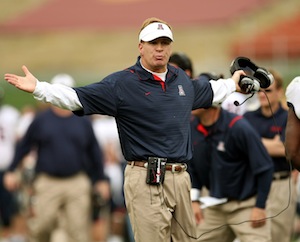 Eight years out West weathered the typically upbeat Stoops. Mike, 50, went through a difficult divorce nearly three years ago and never could turn the corner on the field, going 1-5 last season before being let go. After it ended, he interviewed at several schools, most notably flying to Columbus while being wooed by Urban Meyer and
Ohio State
. It seemed like a good fit, returning home to Ohio, and Bob even called Meyer to give his recommendation.
But ultimately, Mike says, he didn't really know enough people around the Buckeyes program and actually would have been further away from most of his friends and family, not closer. When Oklahoma became a realistic option, he jumped at it.
"I talked with Urban, there was an interesting dynamic there with Luke (Fickell) and how that was going to fit together," Mike said. "Some other opportunities came after that. For me, if Oklahoma was going to be an option, that was my first choice. OU is a team that can win every time they step out onto the field. I wanted to go to someplace where they're competing for championships. I wanted to go somewhere big and where you can make an impact."
From knowing how game day goes to the location of a good restaurant in Norman to ribbing his brother occasionally, Oklahoma appears to be the right place at the right time for Mike as he tries to bounce back from a rocky three years personally and professionally.
"For family reasons too, this became the best available option for me. It wasn't about money or anything like that - we didn't even really talk about it - I just wanted to go where I felt comfortable and I've always felt that way here," he said. "If I'm going to do it, might as well be with my brother. It doesn't feel any different to me. It's hard to believe it was eight years since I left. It feels very comfortable."
"It was a very tough time for him out there, there was a learning curve. He had a lot of challenges at Arizona and they didn't have all the resources that Oklahoma or other Pac-12 schools might have had," Ron said of Mike. "He worked tirelessly though and I'm proud of what he did there, but it took a toll on him. It's kind of like the weight of the world has been lifted off of him. Just seeing him out there and being in charge of the defense, it's like he's doing what he loves and is in his comfort zone."
While there's been a few growing pains and dealing with minutia that neither cares for, things have gone well so far by all accounts. Mike is staying in a spare bedroom in Bob's house while he looks for a place and has been cognizant about getting away at times so the two don't trip over each others feet. Though they don't carpool to the office, the pair has been in lockstep on and off the field the past few weeks.
"It's been very easy," Bob added. "Most of the guys have worked with him before and with (linebackers coach) Tim Kish coming with him, they speak the same language. It's going well in practice and really been pretty seamless in how it transpired."
If the right opportunity comes along to be a head coach again in the next few years, Mike says he would take it. For now however, it's all about being comfortable and doing what he was hired to do, taking his cues from the head coach and focusing on a handful of tasks instead of juggling an entire program.
"I like being a head coach, I like being a defensive coordinator. I thought I was good at it," Mike said. "I feel like (the jobs) will come to you. It's not a concern or goal of mine right now, my goal is to win a championship right here."
As you'd expect, Bob agrees.
"I've been here 14 years and since we won the national championship in 2000, we've been expecting to win it every year since," he said. "Last year wasn't much different from any other year here. People will expect the same this year."
The Stoops brothers are back together and, it appears, better than ever.
Saban isn't going to win Alabama's special election, but the Crimson Tide coach got some l...

The Sooners' quarterback and Badgers' rusher stood out among their peers this season

Clark led UAB to an 8-4 overall record, 6-2 in conference this season
SportsLine simulated every bowl game 10,000 times for pick'em leagues and confidence pools

The Tigers are going worldwide for their next punter

Led by Heisman Trophy winner Baker Mayfield, the Big 12 finished with seven first-team sel...