RIP WAC: Disintegrating league confirms 2012 football season will be its last
Interim commissioner Jeff Hurd confirmed Monday that the Western Athletic Conference will drop football after the upcoming season.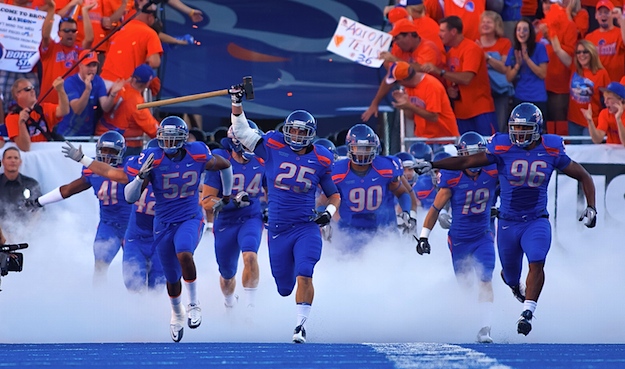 The WAC is not dead – not yet – but inevitably, WAC football is: After 50 years in business, interim commissioner Jeff Hurd confirmed Monday that the Western Athletic Conference will drop football after the upcoming season, officially pulling the plug after two years of steady attrition. With that, the WAC becomes the first Division I conference to call it quits in football since the Southwest Conference dissolved in 1995, and the first casualty of the most recent round of conference realignment.
Unlike the old SWC, which ceased to exist altogether, the WAC plans to continue as a non-football league, though there's some considerable doubt about its viability in other sports, too. As it stands, only three schools – current member New Mexico State Aggies and a pair of non-football-playing newcomers set to join the ranks next year, the University of Denver and Seattle University – are on board as full-fledged members for all sports. (There are also a small handful of "affiliate members" in niche sports like baseball, women's gymnastics and women's swimming and diving, which will not keep the lights on.) The University of Idaho Vandals announced last week that it plans to go independent in football and take its other sports to the Big Sky; former member Boise State Broncos , which was reportedly mulling the idea of moving its non-football teams back to the WAC, now appears bound for the Big West.
"I think that sometime in late July it became apparent that it was unlikely we could continue with football," Hurd told the Denver Post. "We looked at every option we could think of. With the geography we have in terms of schools, it presents a challenge. … If we can't get enough league members, we can't operate as a conference. We're going to do everything possible to avoid that. There aren't any obvious answers out there."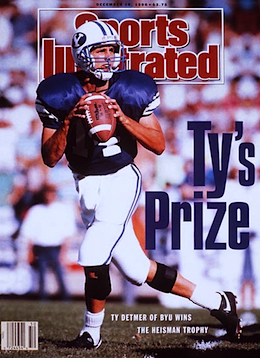 With apologies to Hurd, who agreed to take over a singing ship in March, the end was apparent long before late July. In fact, the writing was on the wall at least as early as June 2010, when football overlord Boise State – owner of eight conference championships in nine years in the league – enthusiastically jumped ship to the Mountain West. Three of the Broncos' old WAC-mates, Fresno State Bulldogs , Hawaii Rainbow Warriors and Nevada Wolf Pack , will be joining them in the MWC this fall, leaving just seven members for football: Holdovers Idaho, Louisiana Tech Bulldogs , New Mexico State Aggies , San Jose State Spartans and Utah State Aggies , and two newcomers, UTSA Roadrunners and Texas State Bobcats .
Of those seven, five have already arranged for landing spots in other leagues in 2013: San Jose State and Utah State Aggies will be joining the exodus to the Mountain West; Louisiana Tech and UTSA Roadrunners are bound for Conference USA; and Texas State is en route to the Sun Belt. With Idaho's reluctant commitment to independence, only New Mexico State has yet to set a course for its immediate future.
The WAC was formed in 1962 as a six-team league, with Arizona Wildcats , Arizona State Sun Devils , Brigham Young Cougars , New Mexico Lobos , Utah Utes and Wyoming Cowboys comprising the original membership. Colorado Buffaloes State and Texas-El Paso Miners signed on by the end of the decade, and would both stay for more than 30 years. The high point of the league's existence, by far, was BYU's improbable national championship in 1984, one of nine top-20 finished by the Cougars under head coach LaVell Edwards. (BYU quarterback Ty Detmer won the conference's only Heisman Trophy in 1990; San Diego State Aztecs running back Marshall Faulk was the runner-up in 1992.) During its brief stay, Boise State put together a pair of undefeated seasons in 2006 and 2009, punctuating both with wins in the Fiesta Bowl, and also delivered top-10 finishes in 2010 and 2011. The WAC's only other BCS appearance was by Hawaii in 2007, though the Warriors didn't fare nearly as wellin the Sugar Bowl.
The seeds of the conference's demise were sewn in its ill-fated decision to expand to 16 teams in the mid-nineties, an experiment that quickly divided the league between old members and new. The former faction – including BYU, Utah, Colorado State Rams , Air Force Falcons and San Diego State – left en masse to form the Mountain West in 1999, leaving the WAC with a grab-bag of second-tier schools that had little history together and little reason to stay once the dominoes began to fall a decade later. Of the 26 schools that played football or will play football in the WAC over the course of its existence, 24 of them left or will leave voluntarily. And the two that didn't, Idaho and New Mexico State, were only left in the end because no one else would rescue them.
The Bottom 25 ranks the 25 worst teams in college football every week

LSU at Florida has been picked as the SEC on CBS Game of the Week

The Michigan coach had quite a few things to say on Monday after their visit to West Lafay...
Injuries are ravaging an LSU team that is searching for an identity

Jones started answering an injury question and then went off about 'fake news'

The full ranking of all 130 college football teams includes TCU up and a major drop for Florida...