Robert Nkemdiche backs out of pledge to Clemson; Alabama, Ole Miss back in play
Nkemdiche is regarded by every major service as the No. 1 prospect in the 2013 recruiting class, and has remained the subject of intense speculation for most of his prep career.
Top DE Robert Nkemdiche is now expected to take his time in making a college decision. (Photo by Dennis Carter/MaxPreps)
In June, defensive end Robert Nkemdiche of Loganville, Ga., made a verbal commitment to spend his college career at Clemson, and the clock began ticking: Before his decision becomes official next February, how long would it take the most coveted recruit in America to change his mind? As of Thursday morning, that countdown has hit zero, and the next one -- to Nkemdiche's next pledge with signing day rapidly approaching -- is already under way.
Nkemdiche's coach at Grayson High, Mickey Conn, confirmed in an e-mail to MaxPreps today that his star player has backed out of his pledge to Clemson ("Yes, he has decommitted"), a sentiment he echoed in an interview with a local newspaper, the Gwinnett Daily Post:
"I think he's still very interested in Clemson, but he's got a brother (Denzel) who goes to Ole Miss and he's got other schools that he likes as well," Conn said. "He's going to clear his mind and take some other visits."
[…]
The coach said he expects Nkemdiche to take his time with this decision with a likely decision on National Signing Day, Feb. 6.
"At this point, I think it's a family decision," Conn said. "The family's going to get together and make the best decision for Robert."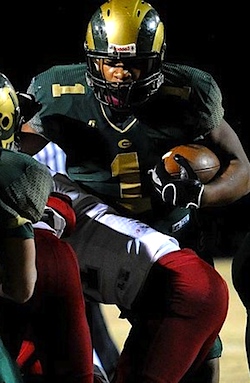 The news will come as no surprise to recruitkniks, especially after rumors of Nkemdiche's indecision began making the online rounds on Wednesday. Nkemdiche only fanned the flames Wednesday night when he responded to a question from the Atlanta Journal-Constitution with a text message, "Yes (still committed to Clemson). Just undecided."
At 6-foot-5, 270 pounds, Nkemdiche is regarded by every major service as the No. 1 prospect in the 2013 recruiting class, and has remained the subject of intense speculation for most of his prep career. Much of that has involved the question of whether Robert would follow his older brother, Denzel, to Ole Miss, where he's is currently tied for the team lead in tackles as a redshirt freshman. In recruiting circles, the two were widely considered to be a "package deal" for the school that won Denzel, and even Robert's commitment to Clemson never really took the Rebels out of the equation.
It's also no surprise that the change of heart has come since Nkemdiche's mother, a state legislator in Nigeria, has arrived in the U.S. to watch her son finish his high school career. Beverly Nkemdiche has told reporters in the past that she's "unhappy" with Clemson, and told the AJC last week that "the commitment they said he made [to Clemson] is nothing." In the same interview, she indicated that although she is impressed with Alabama ("My No. 1 team is Alabama. That's one school I truly love, Alabama"), her first priority is having her two sons play together:
"Every mother would want that. I don't want a case where they have games in two different states, and I will be running around like a rooster, or not go to one (game). Every parent would really want that. It's my wish for it to happen, but I'm not going to put pressure on anybody. If it happens, great. If it doesn't, OK. But I would really love for them to play together, as well as have the power of two — where two people come together and play as one. That is what I'm looking to see, where Denzel and Robert will come together and play a good game and good defense. But I'm not putting pressure on any one of them."
[…]
"When they played together at Grayson, each game they played together was magical when they won and when they came together and play. I want to capture that again. I want to see that happen again. I wouldn't want where one brother plays against another. I'm a mom. So regardless, I want to see both boys happy. If they play together, it would make more sense. … There's nothing so wrong in a mother wanting both boys to play together. So I explained all of that to Robert."
In Clemson's favor, it can also offer personal ties to Nkemdiche through verbal commitments from two of his Grayson teammates, David Kamara (a three-star cornerback) and Wayne Gallman (a three-star tailback). There's also former Grayson quarterback Nick Schuessler, who originally signed with Mississippi State in February after leading the Rams to last year's AAAAA state championship as a senior, but decided to transfer to Clemson over the summer and is currently redshirting as a preferred walk-on. (Nkemdiche has reportedly spent some time living with Schuessler's family.)
In July, Nkemdiche made headlines -- mostly negative -- for lobbying Clemson to offer a scholarship to another teammate, defensive back Ryan Carter, implying he might back out of his commitment if no offer materialized. It never has, though Nkemdiche subsequently downplayed the incident and there is no indication that it has anything to do with his getting cold feet months later.
All of which, in the murky, chaotic business of recruiting, is perfectly normal. Last year, Sports Illustrated's Andy Staples recorded every decommitment during the recruiting process by players ranked among Rivals.com's top 100 prospects over a five-year span, from 2007-2011. Of the 500 players in that sample -- all of them pursued by powerhouse programs and millionaire head coaches from every corner of the country -- 73 backed out of a verbal commitment at some point in the process and 62 eventually signed with a different school than the one they originally committed to.
Anecdotally, the list of defections included a handful of blockbuster names -- see Patrick Peterson, Blaine Gabbert, Bryce Brown, Vontaze Burfict, Alshon Jeffery, Keenan Allen, Cyrus Kouandijo and De'Anthony Thomas, among many, many others. (The 2012 class, which was not part of Staples' project, featured flip-flops from the touted likes of Notre Dame-bound quarterback Gunner Kiel, Alabama-bound tailback T.J. Yeldon and Florida-bound defensive lineman Dante Fowler Jr., for starters.) Taken as a whole, even among the caliber of recruits coaches work hardest to flip, initial verbal commitments have an overall "success rate" in the neighborhood of 88 percent. We still have three months to go before we find out if Nkemdiche is an exception.
College football bowl games were all announced on Sunday, and you can check out the entire...

SportsLine simulated every bowl game 10,000 times for pick'em leagues and confidence pools

Everything you need to know to watch and pick the Las Vegas Bowl on Saturday
Everything you need to know to watch and pick the Camellia Bowl on Dec. 16

Everything you need to know to watch and pick the New Mexico Bowl on Dec. 16

Everything you need to know to watch and pick the Cure Bowl on Saturday