Robert Nkemdiche to Clemson is 'a done deal,' if Clemson offers another friend
Nation's No. 1 recruit lobbies for Clemson to add another high school teammate... or else?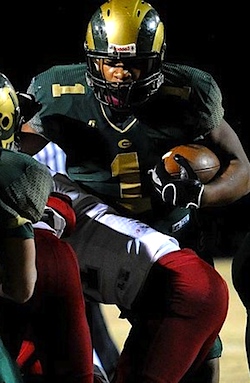 Like most subcultures, college football recruiting has its own vocabulary. There is the term "commitment," for example, which means exactly what it usually means in other contexts, except that in recruiting, the "commitment" is not formally recognized by any entity, is not binding in any way and may be abandoned at any point for any reason prior to a recruit's signature on a letter of intent to attend [insert school of choice] in February. The disconnect can lead to some minor cognitive dissonance, and major hurt feelings.
Take the most coveted player in the 2013 recruiting class, defensive end Robert Nkemdiche of Loganville, Ga. As of last month, Nkemdiche is "officially" committed to Clemson. But as he suggested to the Atlanta Journal Constitution, if Clemson really wants to be sure that the crown jewel of its next class is fully, 100-percent, extra committed to Clemson, it will offer a scholarship to his high school teammate:
The No. 1 college football prospect in the nation says his commitment to Clemson is a "done deal" if the Tigers offer one more of his Grayson High School teammates, safety Ryan Carter.

"I am waiting on Clemson to offer Ryan; when that happens, it's locked … it's a done deal … it's over," Robert Nkemdiche told the AJC.
[…]
"[Carter]'s so hard-nosed," Nkemdiche said. "He comes up and hits anybody. It doesn't matter how big you are. He will come and hit you. … Of course, I'm surprised he doesn't have more offers. I'm waiting on him to get that offer from Clemson so he can come join the family."

"Clemson said they like Ryan a lot and that he's at the top of their board. Yes, sir, if Clemson offers Ryan, it would seal the deal. There's no ifs, ands or buts about it. [Grayson teammate] David [Kamara] and Ryan, those guys are like family. They are like brothers to me. I'm close to them. We've had success playing football together and I don't want to change it."
Well, Clemson coaches say thanks for the suggestion, Robert, and I'm sure they'll be looking into it. It… was just a suggestion, right?
Nkemdiche won't make any declarations, other than to say [if Clemson doesn't offer Ryan Carter] it will make him look really hard at perhaps the only school left in the high-stakes race at this point, Ole Miss, where Nkemdiche's older brother plays college football.

Coincidentally, Ole Miss offered Ryan Carter a scholarship the day after Nkemdiche committed to Clemson. "If Clemson doesn't offer Ryan, it would make me look at Ole Miss a little more, it would," Nkemdiche said. "It's very important that I have my boys with me."
On that note, there's quite a caravan preparing to depart from Grayson High already: Besides Nkemdiche, the Tigers have verbal commitments from Kamara, a three-star cornerback, and three-star tailback Wayne Gallman, and recently convinced Grayson quarterback Nick Schuessler to pass on a scholarship offer from Mississippi State to follow his teammates to Clemson as a preferred walk-on. (Nkemdiche has reportedly spent some time living with Schuessler's family.) Two other Grayson prospects, defensive end Jack Banda and linebacker Zach Barnes, have verbally committed to Arizona and Tennessee, respectively; altogether, the Rams will defend their AAAAA state championship this fall with a dozen potential Division I recruits. At this rate, at least half of them could wind up in orange.
As long as one of them is Robert Nkemdiche, here's guessing most Clemson fans will take that deal. With limited scholarships at their disposal, Clemson coaches have to tread a little more carefully. Usually, the "package deal" in recruiting is considered equal parts master stroke and snake oil on part of the recruiter. In this case, who is manipulating whom?
Under no other circumstances, for example, would Clemson be likely to pursue Ryan Carter, a slightly undersized (5-foot-10, 175 pounds) defensive back whose current offer sheet is headlined by East Carolina, Southern Miss and Tulane. (Carter also reportedly has a scholarship offer from Ole Miss, the sincerity of which is difficult to ascertain because just about everyone has a scholarship offer from Ole Miss.) That's not a dig on Carter, or Nkemdiche for trying to help out a friend; it's just unlikely Clemson would be the one top-25-caliber program suddenly competing for Conference USA-caliber talent. In the same vein, it's extremely unlikely they would have made such early overtures toward Schuessler. And though Kamara and Gallman look like legitimate Clemson targets in their own right, it was undoubtedly their connection to the target that made them priorities they would not have been otherwise. To what extent are coaches willing to let a recruit serve as a kind of de facto recruiting coordinator?
If they eventually see fit to offer Carter, we may have our answer. If they don't, we may get to see how committed Nkemdiche really is.
Locksley joined Alabama's staff in 2016

Saban reportedly wants to hire Freeze, but there may be things keeping that from happening

Florida State-Miami will be on Oct. 6, and the Seminoles will play Clemson on Oct. 27
Weis Jr. was an offensive assistant for the Atlanta Falcons in 2017

Lott is joined by three current athletic directors and will serve a three-year term

These are the top guys every school is still chasing