'Roll Tide' love helped rapper T.I. save Creed singer Scott Stapp's life after suicide attempt
In the day's oddest "college football" story, Creed singer Scott Stapp said his shared respect for Alabama football with rapper T.I. saved his life after a suicide attempt.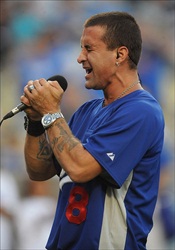 Scott Stapp casually singing the national anthem in 2009. (US Presswire)
Yes, this is the headline from this al.com post: "Creed singer Scott Stapp says mutual love for Alabama football helped rapper T.I. save him from suicide." 
A headline like that doesn't really need unpacking (or, alternatively, demands it), but here's the story from Stapp's interview with VH1 anyway: Stapp was enjoying/enduring a major drug binge in the penthouse of a Miami hotel when he became convinced he was trapped inside a mental asylum. In an effort to escape, Stapp jumped more than 40 feet off of his balcony, landing on a ledge.
The fall broke Stapp's hip and fractured his skull, rendering him immobile and in desperate need of help. That help arrived in the form of T.I.
"As I'm laying on the ledge, blood fell to [T.I.'s] feet and he looked up and he had an Alabama hat on," Stapp said. "I said, 'Roll Tide,' and then he looked at me and put two and two together and really saved my life."
Why was Stapp's "Roll Tide" -- which we desperately hope ESPN uses a dramatization of in its next iteration of this commercial -- enough for T.I. to "put two and two together"? Because the two musicians had previously bonded over their respect for Alabama's football program during the 2004 sessions for the Passion of the Christ: Songs Inspired By soundtrack project. (!)
"We had briefly interacted there and knew what each looked like," he revealed. "We'd talked about being fans of Alabama." 
So there you have it, folks: Alabama football, saving lives. And not just any normal life: the life of Scott Stapp, lead singer of multi-platinum rock band Creed. With any luck, the Crimson Tide will be repaid by Stapp with a muscial tribute similar to this stirring anthem Stapp recorded for his hometown Florida Marlins in 2010:
BT Potter is about to be very popular in the Clemson locker room

McElwain will coach receivers and help coordinate the offense for the Wolverines

Nathaniel Watson Jr. was involved in a car accident that injured a passenger in early Febr...
The honorable Tom Fornelli presides over the ASU vs. UM case

Arkansas State is seeking $650,000 for a canceled home game last September due to Hurricane...

Friday Five is tackling the big questions this week