Rose Bowl: Former walk-on Kyler Elsworth hero for Michigan State
Michigan State had an unlikely hero in its win over Stanford in the Rose Bowl. Former walk-on Kyler Elsworth, a guy whose stories epitomizes the Spartans rise.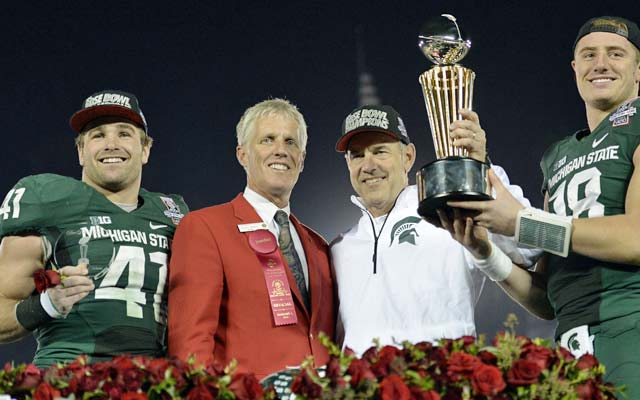 PASADENA, Calif. -- Kyler Elsworth, a wrestler since he was 4 years old, used to joke with his coaches that as soon as got cauliflower ears he was hanging up his singlet. Elsworth went 67-0 as a senior and earned wrestling scholarships to Michigan State, Michigan and Indiana, among others. But before the cauliflowers formed, Elsworth said he got "burned out" on wrestling and its grind. Instead, he opted to pursue a different passion: football. Only the former small town star from Goodrich, Mich., didn't have any scholarship offers in that sport from the Spartans.
No matter, Elsworth did what all good wrestlers do. He scrapped and battled and kept competing. He arrived in East Lansing weighing about 195 pounds and now, five years later, is about 230. His grit earned him a scholarship after two seasons, but it was Elsworth's performance Wednesday in the Rose Bowl that seemed to best epitomize the Big Ten's grittiest team, the Michigan State Spartans who beat No. 5 Stanford for their first Rose Bowl title in 27 years.
The Spartans have embraced the Next Man Up philosophy as much as any program in the country. The names change in East Lansing, but year in and year out, regardless of whether they're playing with "two-star" guys or a few "four-stars," head coach Mark Dantonio and Pat Narduzzi keep crafting some of the nation's top defenses.
Heading into the 100th Rose Bowl facing another sledge-hammer style program, the Spartans got the news that middle linebacker Max Bullough would miss the game due to a violation of team policy. Narduzzi inserted Elsworth into the lineup. The fifth-year senior, playing his last college game and making his first career start, responded with four tackles and 1.5 tackles for loss, but he was pivotal on the play of the game: Stanford's fourth-and-1 with under two minutes left in the game, trailing 24-20.
"This is what you live for -- to win the game on a fourth-and-one," Narduzzi said with a tinge of awe.
The Cardinal, the most physical team on the West Coast, were 8 for 12 on fourth downs entering the game. Stanford called one timeout and then MSU, after getting a look at the Cardinal's set-up, called its own timeout. Narduzzi had two defenses called depending on Stanford's personnel. The coach shifted Elsworth over to outside linebacker and inserted sophomore Darien Harris at middle linebacker. The "Jumbo" package was met with MSU's "Spartan" defense.

"Once I saw their offensive linemen's stance, I knew the way to make a play was for me to go over the top," Elsworth said, adding that the plan was to make sure there were no run-throughs and to take out knees. Elsworth vaulted into the air, over the pile into a collision with Stanford fullback Ryan Hewitt for no gain. (MSU stopped Stanford on both of its fourth-down tries.)
"Fourth-and-one is what we do -- what Stanford football is all about," Cardinal RB Tyler Gaffney said. "You have to give it to Michigan State for stuffing that because everybody in the building knew exactly what was coming, a run was coming up the middle, and it was a test of wills and they got the better of us."
It's hardly the first time the 13-1 Spartans got the best of someone. MSU, which led the nation in total defense (248 yards allowed per game), struggled some early with the Cardinal, yielding 91 rushing yards and five first downs and 146 total yards in the opening quarter.
Michigan State held Stanford to only six first downs, 71 rushing yards and 149 yards over the final three quarters. Narduzzi attributed the early problems due to some miscommunication and a busted assignment that led to a few Stanford big plays. His players, from DE Shilique Calhoun to CB Darqueze Dennard to Elsworth all took at as more a function of them not playing Spartan football--not being tough enough.
"They had about 100 yards in rushing in the first half. That's not what our brand is," Elsworth said. "We took it personal."
There is some irony that the biggest storyline leading up to the 100th Rose Bowl was the absence of Bullough, a member of the first family of Spartan football. And here was his understudy, some former walk-on winning the Rose Bowl MVP honors after the Spartans 28-year Rose Bowl drought. Bullough's grandfather, Hank Bullough, played every snap for the Spartans in their first Rose Bowl 60 years ago (a 28-20 win over UCLA). His father, Shane, a linebacker, played for MSU in the mid-1980s. Two of his uncles also played for the Spartans as does his kid brother Riley, a running back.
"Max is a great player," Elsworth said. "I don't try to be Max. I just tried to be myself out there."
Taiwan Jones, MSU's starting star linebacker, calls the 6-3, 245-pound senior a mentor. Jones said he and his teammates dedicated the game to Bullough.
Byron Murphy reportedly sustained a foot fracture in practice

GoDawgs247 previews big-time college football recruits headed to Athens

Dig below the surface and you'll find a lot of intriguing matchups on the slate this Satur...
SportsLine tapped into its Vegas sources and found out pro bettors are all over No. 8 Michigan...

An early-season Big 12 game already has major conference and national implications

Top-ranked Alabama hits the road to take on upstart Vanderbilt in Nashville on Saturday