Rose Bowl signs 12-year extension with ESPN
The Rose Bowl has signed a 12-year extension with partners ESPN as well as the Big Ten and Pac-12.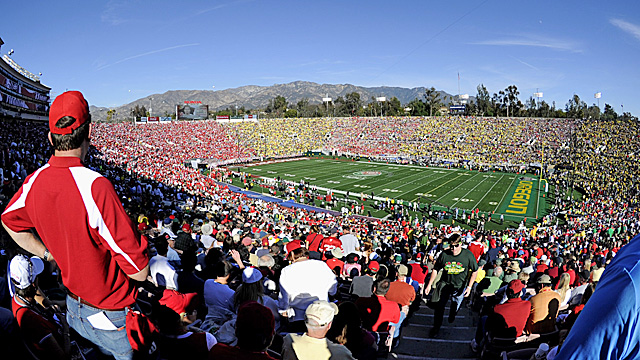 While a playoff changes the bowl structure, the Rose Bowl is holding onto its traditional partners. (US Presswire)
The Rose Bowl has signed a 12-year extension with partners ESPN as well as the Big Ten and Pac-12. 
Terms were not revealed but it is significant that the extension is the same length of the expected playoff deal. The FBC commissioners anticipate locking in a 12-year deal with their TV partner on the new four-team playoff format beginning in 2014. The agreement begins January 2015, the same time as the first major-college football playoff.
The Rose Bowl negotiates its own contract separate from the other major bowls. Ratings-wise, the game is one of the most valuable properties on television. The new deal suggests it will stay that way even though the traditional Rose Bowl game (Big Ten champ vs. Pac-12 champ) will not be played in years when the Rose Bowl venue hosts a national playoff.
Still to be determined, how often during that 12-year rotation the Rose Bowl actually hosts a semifinal. The average would be four considering six bowls are going to be involved. However, there is speculation that the Rose could host as few as two national semis during that period, thus preserving its preferred traditional matchup more often.
The press release confirmed the uncertainty of the rotation: "Whatever is determined to be the exact postseason bowl rotation as part of the future format, ESPN will have the rights to the Rose Bowl Game each year," ESPN said in its statement.
Key to the Rose Bowl: It will retain its 5 p.m. ET Jan. 1 time slot (or Jan. 2 when New Year's falls on a Sunday).
The Rose will host the final BCS national championship game in January 2014. Beginning with the 2014 season if the Big Ten and/or Pac-12 champion finish in the top four, those schools will participate in the four-team playoff. The Rose will then be able to select a second team from those leagues as a replacement. 
In the 14-year history of the BCS, at least one team from the two conferences has finished in the top four 10 times. Three different years the leagues have had to two teams in the top four -- 2006 (Ohio State, Michigan), 2007 (Ohio State), 2010 (Oregon, Stanford). 
Josh Adams and Derrius Guice helped their teams to big wins in Week 8

The Eagles have started winless in Summers' second season and were 5-13 overall under him

The Fighting Irish are up to No. 9 in the latest edition of these college football ranking...
The Fighting Irish are getting more attention after throttling USC 49-14 Saturday night

Jerry Palm is back to look at where the bowl games stand after the midway point of 2017

The sophomore leads the SEC in total offense and passing