Roundtable: Where were you when Appalachian State won in the Big House?
Still the single most jaw-dropping college football score of the past decade, "Appalachian State 34, Michigan 32" caused such a seismic ripple in the sport that nearly every college football writer and fan can remember where they were when they heard it.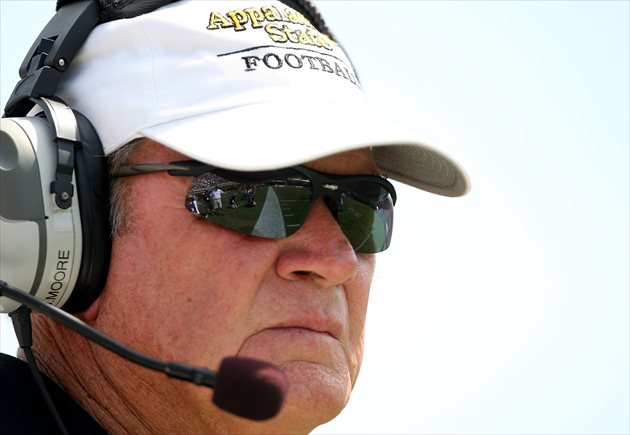 For Appalachian State's Jerry Moore, even his national titles aren't the biggest wins of his career. (Getty Images)
It's now been five years since Appalachian State defeated Michigan 34-32 in the famed Big House in the opening week of the 2007 season, becoming the first-ever FCS team to defeat a ranked FBS opponent.
But even after those five years, we know immediately that a description like that comes nowhere near doing justice to the seismic impact of the Mountaineers' victory, its enduring legacy as college football's closest answer to a March Madness shocker or the "Miracle on Ice," or its status as the single most jaw-dropping, most viscerally stunning result in recent college football memory. Remind any college football fan or writer of the score of that game, and the odds are overwhelming they'll be able to tell you where they were when they heard it -- moreso, we'd argue, than with any other game of at least the past decade.
The members of the Eye on College Football team are certainly no exceptions. So we decided to answer the question ourselves: Where were you, and what were you doing when Appalachian State upset Michigan?
Here's our memories; feel free to share yours in the comments.
Chip Patterson: I was tailgating for another season opener, and honestly had written off the Appalachian State game entirely.  I have several friends from home who attended the school, and love that football program.  So I knew opening the season in the Big House was a big deal for the Mountaineers, but I hadn't considered anything past that.  

Then someone in front of a TV nearby shouts out to no one in particular, "App State is up 14 on Michigan!"  A few other interested fans gather around to see a studio update that the Mountaineers had scored three straight touchdowns in the second quarter and taken a 28-14 lead.  The crowd dispersed at halftime to go back to socializing, but by the end of the third quarter there was a packed group around this one television.  The TV did not have the Big Ten Network -- or the regional coverage, I can't remember -- so we were watching ESPN -- just waiting for gamebreaks to get highlights and/or a glimpse at live coverage.

When the final Michigan field goal was blocked, the group erupted in celebration.  No one was pretending to be an App State diehard, but in that moment we were all Mountaineer fans. Even though I only saw the game through live look-ins, I still remember it better than many I've attended -- and even covered -- in person.
Tom Fornelli: I was where you can usually find me while watching college football: at home. Though what made this day special is that I watched the game with a friend of mine who happens to be a big Michigan fan.
So when the game ended and Appalachian State had won, there was a giant smile on my face. Not just because it was one of the most amazing upsets I'd ever seen, nor was it because I have anything against Michigan -- it was because I knew then that I'd be able to hang this one over his head for the rest of his life.
So thanks for that, Appalachian State.
J. Darin Darst, CBSSports.com college football producer: I was one of a handful of people working at the CBSSports.com office that day, so when Appalachian State had a 31-20 lead in the third quarter, the serious talk of 'Michigan is going to lose this game' really started to sink in--and forced us to decide how we would handle it from a work standpoint. You're taught not to root for teams when you work in sports, but it was so hard not too cheer for an FCS school to go on the road and pull off the win over the Wolverines.
After Henne threw that pass to Manningham to set up the potential game-winning field goal, I said 'Appalachian State played the game of its life and its going to lose.' Then came the block and we were all in shock and amazement.
Jerry Hinnen: I happened to be living in Ann Arbor in August 2007, but I also oddly happened to be out of town for the Appalachian State game -- my wife wanted a weekend away sometime between July and January, so why not take it in Week 1, when most of the college football slate was occupied by mismatches like, well, Michigan vs. Appalachian State? We spent all Saturday on a winery tour through the Mitten State's rural northwest Leelanau Peninsula, and in those days of pre-iPhone ubiquity, we had no clue what had happened when we walked into tiny Maple City's local (since-closed) sports bar for dinner that night.
We hadn't even sat down at our table when I noticed the highlights -- emblazoned with what I guessed was the logo of the brand-new, exotic-seeming BTN -- playing on one of the TVs. There was one long Appalachian State touchdown. Then another.
"Wow," I said out loud. "They must have taken the lead into the half. Crazy."
An older man at the table next to ours turned with a bewildered look on his face. "You didn't hear?!" he sputtered. 
And before the highlights were even over, before the final Mountaineer field goal or Michigan's last-gasp kick was blocked, I knew -- Michigan had lost. Lost, to Appalachian State. It probably wouldn't have even seemed real back in Ann Arbor, but hundreds of miles away, in a sports bar in the middle of nowhere, entirely removed from the sorrow of my new Michigan-supporting friends and having the game reduced to a 75-second highlight package, it felt like an elaborate BTN publicity prank than actual college football result. 
Despite seeing those same highlights half-a-dozen times that night, it didn't become real until the next day, when we pulled into the parking lot of a local bed-and-breakfast to borrow their WiFi and check our e-mail. I couldn't help but take a few seconds to check out the homepage of MGoBlog, a leading Michigan fan blog written by a recent acquaintance of mine, Brian Cook. Its usual maize-and-blue template had been replaced by a flood of hot pink, with flowery accents; comments had been turned off; and in the place of any actual analysis or response to the game was an entire series of cute kitten photographs. (If you've got some time to kill, MGoBlog's anguished "UFR" play-by-play analysis of the game -- "A I-AA TEAM IS TREATING US LIKE MICHIGAN TREATS MAC TEAMS. WE ARE TOO STUPID TO DO ANYTHING ABOUT IT" -- is well worth a look back.)
What kind of upset was Appalachian State over Michigan? The kind that could completely short-circuit the coping mechanism of even the most rational of fans. Hundreds of miles away or not, I knew what had happened at the Big House was the sort of thing that college football didn't see very often -- and might never see again.
Matt Hinton: Like almost everyone else, it didn't occur to me to tune in to an unfair, inevitable blowout when there were real games afoot, and in fact I would not have been able to locate the fledgling Big Ten Network even if it had. But I was one of the few people who had put any thought into the match-up before the fact, thanks to an assignment breaking down Michigan's upcoming opponents for a Wolverine-oriented magazine that summer. There, I cited the Mountaineers' back-to-back national championships and 23-game winning streak on the FCS level, and sagely warned the overconfident: "Michigan fans should understand that, within Division I's Championship Subdivision, nee Division I-AA, Appalachian State is something of a powerhouse."
Of course, from there I acknowledged the Appalachian State had never met an opponent of the caliber of the '07 Wolverines, predicted fans would yawn through an easy opener and forgot about it.
When the final score came across the screen a few months later, my first thought… well, based on what I wrote at the time, my first thought was to question the very concept of knowledge and reality:
"There is no order. The Earth is flat. We are alone in a universe of chaos and cruelty. There is no purpose to our actions, especially those concerning the predicting of the outcomes of football games. … A I-AA team beat Michigan. This shakes the foundation of my comprehension of the world to such a vastly greater extent than any upset, sighting, conspiracy theory, apparition, miracle or act of nature I could possibly cite. This is frogs raining from heaven. This is physically impossible."
I pretty much stand by that. Three weeks later, the Mountaineers' winning streak was snapped in a 42-31 loss at Wofford. More than any other season, 2007 was a reminder that anyone who insists two plus two always equals four has no business in this sport.
Craig Kuligowski is reportedly leaving Miami to take the same job with Alabama

BT Potter is about to be very popular in the Clemson locker room

McElwain will coach receivers and help coordinate the offense for the Wolverines
Nathaniel Watson Jr. was involved in a car accident that injured a passenger in early Febr...

The honorable Tom Fornelli presides over the ASU vs. UM case

Arkansas State is seeking $650,000 for a canceled home game last September due to Hurricane...