Russell Athletic Bowl Primer: Rutgers vs. Virginia Tech
There are 35 bowl games. Here's everything you need to know about one of them.
There are 35 bowl games. Here's everything you need to know about one of them.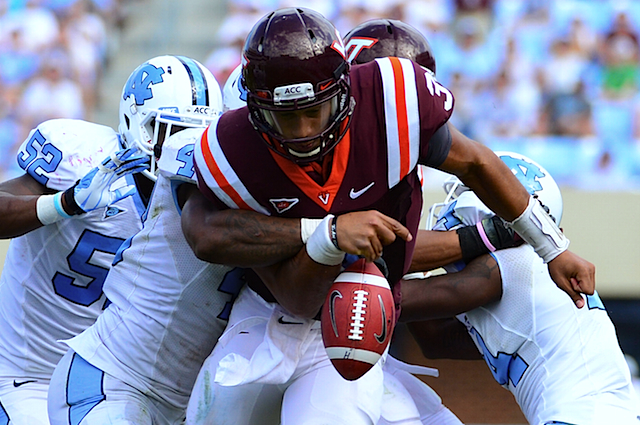 Hokies QB Logan Thomas has big talent and big numbers to prove it, but has struggled with turnovers. (US Presswire)
- - -
Rutgers Scarlet Knights (9-3 Overall; 5-2 Big East)

On the surface, Rutgers looked like a team in transition in 2012, from the head coach who brought the program out of the Dark Ages, Greg Schiano, to an heir apparent, Kyle Flood, who'd never even served as a college coordinator before Schiano's departure to the NFL cleared the path for his promotion. But Flood's first team was a mirror image of his predecessor's best, routinely overcoming a pedestrian offense with the stingiest defense in the Big East. Over Schiano's last four seasons (2008-11), the Scarlet Knights spent exactly one week in the national polls, in late 2009; this year, they spent seven weeks as a ranked team, and have a very good chance of finishing as one for only the third time in school history.
At Their Best. The defense was never better than in a 10-3 win over Cincinnati on Nov. 17, when it held the highest-scoring offense in the conference to a lone field goal. It was only the second time since the Bearcats joined the Big East in 2005 that they failed to find the end zone, the first coming in a 20-3 loss at -- you guessed it -- Rutgers in 2011.
At Their Worst. On the flip side, the Knights' offensive struggles were never more apparent than seven days later, in a random, 27-6 flop at Pittsburgh, where they were held to season lows for yards and points. With Louisville's loss to UConn on the same day, a win at Pitt would have clinched the Big East championship for Rutgers and a BCS bid. Instead, the title came down to the season finale against Louisville a week later, and slipped from the Knights' graspin the fourth quarter.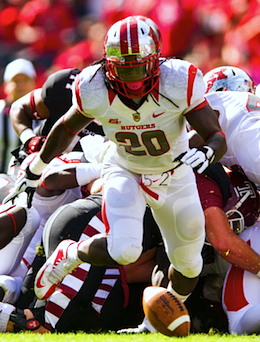 Greene led Tech's defense. (US Presswire)
Headliner. Linebacker Khaseem Greene is the quintessential Rutgers success story, an instate recruit from nearby Elizabeth, N.J., who began his career as an unheralded, undersized afterthought and grew into one of the best defensive players in school history. As a senior, Greene led the league in solo and total tackles for the second year in a row and picked up his second consecutive Defensive Player of the Year Award. Next up: One of the higher rounds of the NFL Draft.
- - -
Virginia Tech Hokies (6-6 Overall; 4-4 ACC)

There were more disappointing teams in 2012 than Virginia Tech, but there were none quite as unrecognizable. Coming into the season, Tech boasted at least 10 wins in in eight consecutive seasons, the longest streak in the nation, all of them built on the twin pillars of "Beamer Ball," defense and special teams. Coming into the bowl game, they're allowing more points per game (23.9) than in any season since joining the ACC in 2004, and failed to block a single kick or punt against an FBS opponent for the second year in a row.
Combined with a tepid ground game and an erratic quarterback (see below), the Hokies had nothing to hang their hats on from one week to the next. If not for last-second escapes against bottom dwellers Boston College and Virginia in the final two games – first in overtime, then on a game-winning field goal as time expired – a team that typically measures success by conference championships and BCS bowls wouldn't have survived into the postseason at all.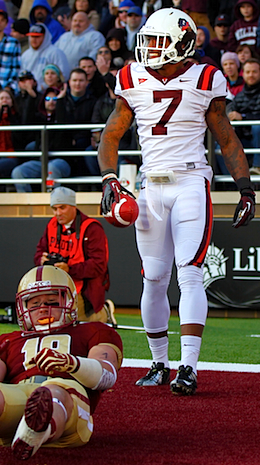 Marcus Davis was a VT threat. (US Presswire)
At Their Best. Most years, a blowout win over Duke would qualify as a footnote. This year, with Tech struggling and the Blue Devils ending one of the longest bowl droughts in the nation, the Hokies' 41-20 rout on Oct. 13 was a highlight: The offense turned in season highs for rushing yards, total yards and yards per play in what turned out to be Tech's only win in the midst of a dismal, eight-week swoon that consumed most of the season, and its only ACC win that didn't come down to the final snap.
At Their Worst. After a 2-0 start, the warning sirens hit full throttle in a jarring, 35-17 loss to Pittsburgh (yes, Pittsburgh again) that foreshadowed everything that would go wrong over the next two months. For the game, the Hokies committed four turnovers and yielded more yards (537) than any Tech defense has allowed in a single game since September 2007, against a dominant LSU outfit that went on to win the national championship. The 2012 Pitt Panthers went on to finish 6-6 and accept an invitation to their third consecutive BBVA Compass Bowl.
Headliner. The face of the team --for better or worse -- was colossal quarterback Logan Thomas, who is almost certain to break his own school record for total offense in a season despite regressing in almost every other capacity as a junior. Unlike last year, the distinction is a matter of quantity more than quality: With an rebuilt line in front of him and no established tailback behind him, Thomas personally accounted for more than 70 percent of the Hokies' yards from scrimmage, including a team-high 531 on the ground. He was also picked off 14 times in 390 attempts, the worst rate in the ACC. Even at 6-foot-6, 260 pounds, he can't carry the entire offense alone.
- - -
What: Russell Athletic Bowl.
When: Friday, Dec. 28 • 5:30 p.m. ET • ESPN.
Where: Citrus Bowl Stadium • Orlando, Fla.
Weird: Rutgers had a dozen shots at Virginia Tech from 1992-2003, when the schools were Big East rivals, but only made it count once, in a wild, dramatic comeback in 1992. The Hokies won the subsequent eleven meetings by an average margin of nearly 30 points per game.
Line: Rutgers (–2)
Prediction: It's pretty cut and dry: In a designed defensive slugfest, the team that wins is the team that takes better care of the ball. Between both teams, the Hokies and Scarlet Knights combined to go 12-0 when they finished with a positive turnover margin and 0-8 when they finished in the red. Considering Virginia Tech was about three times as likely to fall into the latter category, the tentative edge goes to the Knights.

Rutgers 19, Virginia Tech 14.
Keeping tabs on the biggest scores and highlights from Week 8 of the 2017 NCAA football se...

Two of the top teams in the American Athletic Conference battle on Saturday
The storied rivalry between the Trojans and Irish is a top 25 matchup in 2017

Penn State hosts Michigan in its toughest test and arguably the best Big Ten game to date

Expert picks for the top games during Week 8 of the 2017 NCAA football season