Saban to be tough on discipline? Hard to tell at SEC media days
Alabama's Nick Saban made a point to broadly discuss player discipline at SEC media days, but his exact plan for a growing number of arrests still unclear.
• 3 min read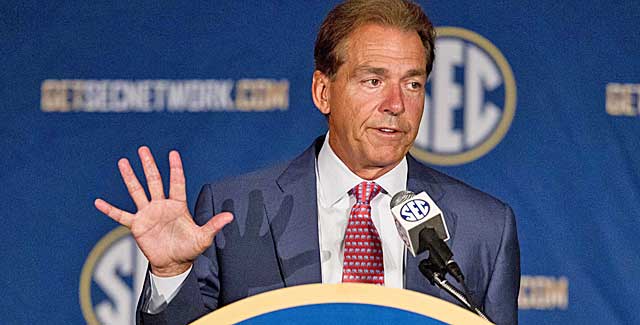 More CFB preseason: Bama favored in SEC | OU gets Big 12 nod | Latest news
HOOVER Ala. -- Clearly Alabama's Nick Saban had to vent, but what came out was a five-minute diatribe on player discipline that wasn't exactly clear on Saban's plan for the Tide's off-field problems.
Speaking broadly from the SEC media days podium about today's youth and college football, Saban was purposeful, thoughtful -- and then a bit showy.
One comment in particular made it sound like Saban's "Process" is necessary for human survival.
"I want you to know there's not one player -- not one player -- since I've been a head coach that I've kicked off the team that ever went anywhere and amounted to anything and accomplished anything, playing or academically," Saban said. "That's not always the answer. Discipline is not punishment. Punishment is only effective when it can help change someone's behavior."
Luckily for Saban he added that "playing or academically" phrase at the end of that first sentence. Suggesting people he coached wouldn't "amount to anything" doesn't pass sensitivity training.
Saban needed to address his players' legal troubles -- especially because Bama has endured at least five arrests or citations since January, along with a rash of suspended players during the season -- but it's still uncertain what his plan is.
Running back Kenyan Drake (obstructing governmental operations) and defensive end Jarran Reed (DUI), both arrested in July, are suspended but not kicked off the team. Seems reasonable enough. In fact, Saban's message seemed tailored directly for them.
But Saban said discipline isn't always the answer. He also said sometimes you've "got to get the wrong people off the bus." Translation: Some players have to go.
That's a bit confusing. When it comes to Alabama's winning football culture, which one will it be? Bama might throw out a few suspensions here or there, keep a few team discipline matters in house. But D.J. Pettway, part of a second-degree robbery and credit card arrest with teammates, has made his way back on the team after being kicked off in 2013.
Second chances can be good, but this example makes it difficult to decipher Saban's broader message Thursday.
"I just want you all to know we all have to be committed to help our young people from a culture standpoint and have a better chance to be successful in our life," Saban said. "And that's something we're very much committed to and really the reason that we coach. That's the part that I like the best and give me the most positive self gratification to see someone have a chance to be successful."
Look, off-field problems are not unique to Alabama. Perception is an equal opportunist in the SEC. Bama and Texas A&M are the latest to hit a bad stretch, just like Florida and Georgia and others in past years.
How Saban manages that in the next five months will tell a lot about a team that clearly had cohesion problems a year ago. While AJ McCarron once ripped the young players for not buying in, now those same young players claim "we would have won more" if the leadership up top was better," rising junior Amari Cooper said Thursday.
Maybe Saban will take a cue from the SEC coach once excoriated for disciplinary problems -- Georgia's Mark Richt.
Richt actually seems harder on crime than ever. The Bulldogs dismissed safeties Tray Matthews and Josh Harvey-Clemons this offseason.
"Just because we've got guys suspended isn't evidence we have a discipline problem," Richt said. "It's evidence that we discipline our players. It's evidence there's accountability. ... Sometimes when you make part of your discipline playing time, it becomes a very public thing. Some of your dirty laundry gets out there in public. I'm willing to take that risk if the process will help these guys grow into men. If we ignore stuff they do and act like it didn't happen and sweep it under the rug, let them get away with it or whatever, what are we teaching? We are setting them up for failure down the road."
I think Saban's message, at its core, was similar, and maybe he has a well-defined plan. He just didn't deliver that clearly at SEC media days.
The 21-year-old quarterback was expected to start for the Cougars in 2018

The Fighting Irish will be without some playmakers in 2018

It may have been impossible for Sumlin to meet the expectations set for him in College Sta...
Some players are more easily replaced than others

The 2017 season is in the books, and several big-name stars are jumping early to the NFL

Love was second in the nation in rushing with 2,118 yards in 2017