Safety guidelines bring college football into a new age
There was a day when water breaks were for the meek. But the changing culture in college football makes safety of athletes paramount.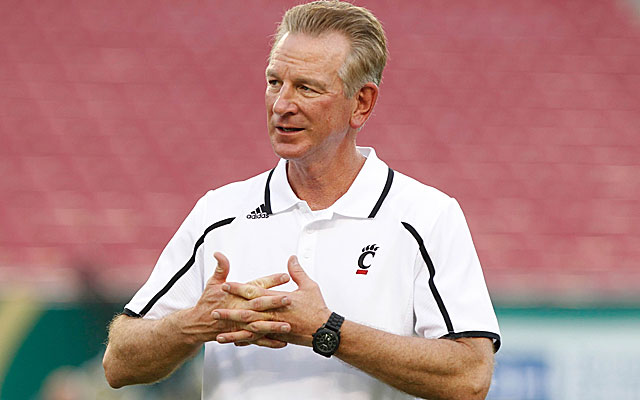 More college football: Jon Solomon | Dennis Dodd | Jeremy Fowler | Latest news
Bear Bryant would have been fired.
Simply apply modern sensibilities to those Junction Boys ol' Bear whipped into "shape" 60 years ago.
Don't you remember? A hundred or so forlorn Texas A&M players were taken into the outback to separate the real men from the boys. Only 30 or so made it out. Books were written, a film was made.
A slice of prideful football lore was served from the American pie.
But, today, Bryant would have been canned for such a stunt. Forget revulsion, in 2014, we might go straight to criminal charges.
Sadly, in the day, Bryant wasn't alone.
"We're in the modern age," Cincinnati coach Tommy Tuberville said. "They can't do that anymore."
No, they can't, thank goodness. What used to be romantic football history is this age's common sense. While the suits have wrung their hands lately over student-athlete welfare, the NCAA collaborated on meaningful player-safety change this week. Somewhat quietly, the association announced practice guidelines that ended a 109-year tradition.
Since the beginning of football time -- the NCAA began in 1905 -- there basically weren't in-season practice limitations on padded practices. In essence, coaches could run their players into the ground in the name of football tradition.
"There was silence in regard to the amount of contact allowed," said Brian Hainline, the NCAA's chief medical officer.
As of this week, that full-pad practice limit is two per week during the season. It's only a guideline -- a best practice, largely unenforceable -- but it's progress from a dark, ugly past.
"The only water you [got] was sucking the sweat out of your jersey," Duke coach David Cutcliffe said recalling a different age. "We really didn't know how to practice football without full pads on."
Houston coach Tony Levine vividly recalls preseason three-a-days as a walk-on receiver at Minnesota in the early 1990s.
"I remember practicing for two hours, coming in, taking my shoulder pads off, sitting in a meeting for an hour, then I go back out," Levine said, "having a meal, then go back out ..."
Yes, they can't do that anymore. This week year-round practice guidelines were addressed. NCAA research showed that in full-padded practices concussive impacts increase "14 fold."
It was only last year the Pac-12 implemented the two-a-week limits on its own. That came two years after the Ivy League became the first league to do it.
The most glorious side to this week's announcement: It was largely non-controversial. Everyone cheerily bought in -- coaches, scientists, doctors, administrators.
Eighteen months ago Hainline's position didn't exist. In January, he rallied all of those professions together at a health summit. A landmark partnership was formed with the Defense Department to form a concussion database.
"[That's] light speed," said Robin Harris, Ivy League executive director.
It's also a sad reminder that the NCAA didn't feel compelled to have a chief medical officer until January 2013.
But as of this month, the nation's No. 2 sport is safer and less violent without losing any of its attraction.
You might have guessed the guidelines, are essentially reaction to the head trauma issue. It's simple math. If you hit less, there's less chance of injury. Any injury.
Except less hitting goes against traditional football tenets. The game is built on physical contact, sacrifice, toughness.
"There was an era," said Doug Rhodes, ACC coordinator of officials, "where it was like you had a water boy, but don't go near him."
"In the 80s and early 90s, you didn't ask 'why' much," Levine said. "Whether it was being naïve or what but at 18 or 19, it was 'Here's the schedule. Here's what you do.' "
In this age, the game is more accommodating to the player. It has to be. The athletes are more self-aware. There are legal considerations. Think of the state of college athletics that those Northwestern players even considered a unionization vote.
"At a societal level there's more urgency that we have to change sport," Hainline said. "That's a concept that is just now being realized."
In this evolution, coaches are smarter. They've created training routines that seem half Dr. Oz/half Dr. Phil.
Nick Saban employs a new-age institute.  Jimbo Fisher swears a biofeedback vest worn by his players helped him win the national championship.
Strength coaches have been renamed "directors of performance" who incorporate pilates and yoga into their training. Every program has a nutritionist, a dietician, a sports psychologist.
"Suck it up" has come to mean finishing the dregs of that kale shake at the training table.
There are exceptions. Big ones, tragic ones.
But this week an age-old Neanderthal culture continued changing before our eyes.
"I get sick of hearing the word 'culture', " Rhodes said. "The truth is not culture. This is right-thinking people understanding the problem and moving forward."
All this changed about 10 years ago when coaches realized they had to protect their labor force more than punish it. Because of scholarship limits, there was no use getting so physical. Natural attrition during the season collapsed roster numbers during the season. Zone read offenses made it a more finesse game.
NFL players had a union to negotiate practice limitations. The college version has been sort of a free-for-all evolution.
Lawsuits have applied pressure. Helmet companies have been litigated to their knees. The NCAA simply has to limit its liability when it comes to concussions.
Bear's mentality slowly, justly, thankfully, faded. Modern coaches are reforming the game themselves. The overwhelming majority of them don't hit more than twice a week anyway.
Much credit goes to the ACC and American Football Coaches Association, both of which took leadership positions in forging the guidelines.
"Football's not going to get worse, it's going to get better ...," said Tuberville, an AFCA board member. "More contact does not make your team better. You can [teach] a lot of football without hitting."
How anti-Lombardian. Enter the willful Cutcliffe, another AFCA board member, chairman of ACC coaches and a national coach of the year.
"I'm not interested in somebody bashing football," he said. "We don't have a concussion epidemic. ... No one needs to panic. No one needs to overreact."
Enter Rhodes who worked closely with ACC coaches and Hainline on the core principles. He knows the guidelines are unenforceable, but ...
"I've spent 37 years in law enforcement, you can't enforce [eliminating] homicide either," the former FBI agent said. "But after it happens, you go investigate the hell out of them."
For now, this little corner of the game will be regulating itself. There is nothing to prevent a coach from hitting more than twice a week. But that's all we have at this moment -- self-regulation. Concussion research is largely primitive, preliminary and inconclusive. Engaging in the plodding NCAA legislative process to establish hard-and-fast rules is probably unwise.
"When we don't legislate enough we get in trouble, when we legislate too much we get in trouble," Hainline said. "If the culture shifts in the way we hope it shifts, legislation [on this issue] becomes less important."
That would be further affirmation of what coaches, college football, NCAA and the medical profession already have accomplished: a level-headed collaboration to do the right thing.
That would be Junction Boys lore reshaped into reform.
Taking a close, detailed and opinionated look at the ACC a week before the start of the 2017...

There are new names to learn every season, and here are five to keep an eye on from the AC...

The champs defend without Watson, and Florida State's hopes are sky high
Kevin Sumlin addressed Texas A&M's decision to cancel a rally scheduled for Sept. 11

Expectations are high for Charlie Strong at South Florida, and Houston looks to take the next...

There are new names to learn every season, and here are five to keep an eye on from the AA...