Sam's standout season means future has already arrived in CFB
The issue raised in college football circles last spring now has a face on it -- SEC star Michael Sam's announcement should help the subject of a gay player in college football become less of a taboo.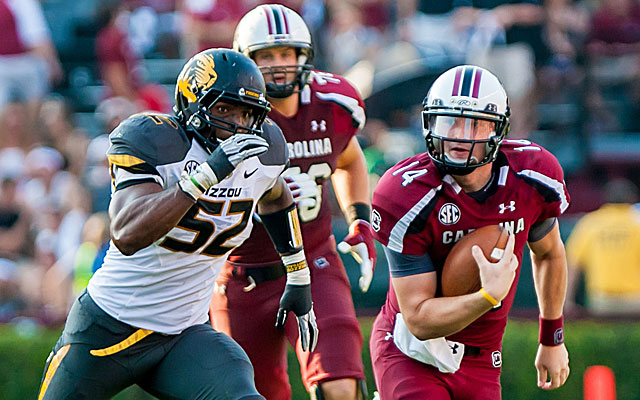 More: Sam says he's gay | Fowler: Mizzou's silence tells tale | Prisco: NFL life?
We were milling around a Phoenix hotel last April, sort of tip-toeing around the subject. Jason Collins, an NBA player out of work at the time, had just come out. 

The next move for the media was obvious with almost 40 percent of FBS coaches in town for various spring meetings: Turn the Collins story into a college football story.
In other words, how would an openly gay player in our sport be greeted and treated? We were tip-toeing not because it was a taboo subject but because it had not been a front-burner issue.
Until then.
"It's gonna happen," Cal coach Sonny Dykes said. "This will be the first step in people being more comfortable in talking about these types of things."
"We're trying to get ahead of this," then-Washington coach Steve Sarkisian said. "How do we educate our players? How do we educate our fans? How does it pertain to the recruiting process?"
It wasn't a real issue until now. For those who wondered how an openly gay player in college football would be greeted/treated we have our answer.
Bravo, Michael Sam. Bravo, Missouri.
Turns out Sam -- a Mizzou defensive end, a Texas native, the SEC Defensive Player of the Year -- is that person we wondered about last April. Sam the player figured it would best to reveal his secret prior to the NFL Draft to eliminate as many distractions as possible. Sam the man who came out handled it with grace and bravery.
" … I was Michael Sam, who's a Mizzou football player who happens to be gay," Sam told the New York Times.
That is how it should be portrayed.
We have crossed some great barrier with the announcement itself.
Sam came out in the preseason. The news stayed within the team since the 2013 preseason. Not only did the Tigers accept a teammate whose play and character were the only things that mattered, they mostly kept it among themselves.
Let's hope that in this age, it wasn't necessary to make anything more of it.
At least that is how it should be portrayed.
There are plenty more barriers to cross. How will the macho NFL accept a gay man in its midst? Truth is, those pro players have had gay teammates for years. The only difference is, this time they will know one.
Many of the issues I brought up in Phoenix last April have been answered…
Try explaining your sexuality to 100 other college teammates and coaches. Try to walk across campus where everybody knows. Try playing in front of 100,000 fans, any number of which who might have hostile intent and different ways to express it.
There is another layer to consider: College athletes are playing for scholarships, their educations, their futures. Any issue that impacts that scholarship has to be considered. No, they can't cut you because you're gay but any college coach -- or teammates -- can make your life damn uncomfortable.
Michael Sam endured all those things as a player first, who happened to be gay.
No more milling around. No more tip-toeing. Perhaps the biggest news from Sam's announcement is that for the next player to follow his footsteps, it won't be news.
The Alabama QB has a new look after the Tide claimed another national title

Young was injured during Miami's Orange Bowl loss to Wisconsin

The movie will zero in on former Penn State coach Joe Paterno during the Jerry Sandusky sc...
Bidding for Salaam's trophy, which the auction house says was obtained legally, ends Satur...

Locksley has been the offensive coordinator at Illinois and Maryland during his coaching c...

Many NFL-eligible juniors ignore advice provided by the league and risk going undrafted each...