San Diego State AD: Aztecs 'full steam ahead' to Big East
Athletic director Jim Sterk debunked local reports suggesting that San Diego State was considering the possibility of staying in the Mountain West Conference.
• 1 min read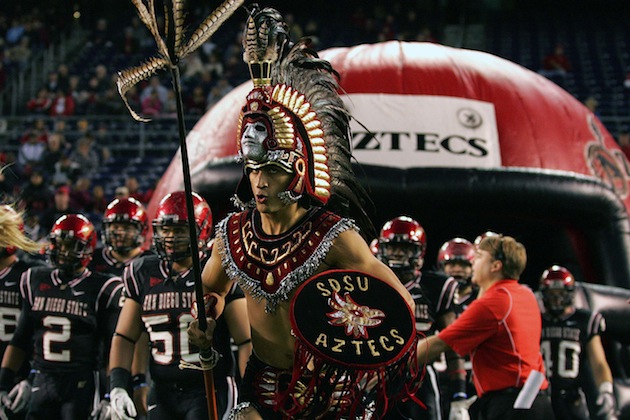 One big piece in the survival of the Big East during this period of dramatic conference realignment is the arrival of
Boise State
,
Houston
, SMU,
UCF
, and San Diego State in 2013. Which is why there was some concern when the
San Jose Mercury News' Jon Wilner reported Monday
that the
Aztecs
are still in discussions with the Mountain West Conference.
Citing a source, Wilner tweeted that San Diego State is talking to the MWC about reserving a spot in the "revamped league" just in the case the Big East "doesn't work out."
On Monday, athletic director
Jim Sterk told the San Diego Union-Tribune
those reports are simply "not true."
"We're full steam ahead," Sterk said. "We're excited about the upcoming 2013 season when we move into the Big East [in football] and Big West [in all other sports]."
[
READ MORE
: 
Brett McMurphy reports MWC - C-USA merger "unlikely"
]
If San Diego State decides not to join the Big East in 2013 they must pay a $5 million fee, per their contract. The Mountain West Conference is currently facing questions about their own future as a conference, and some have speculated they are hoping that the Aztecs will change their mind.
That $5 million exit fee does go down to $1 million if the Big East loses its status as an automatic qualifier for the Bowl Championship Series prior to July 2013. However, if all automatic qualifiers are eliminated - a possibility that has been discussed - the fee does not change.
Keep up with the latest college football news from around the country. From the opening kick of the year all the way through the offseason, CBSSports.com has you covered with thisdaily newsletter. View apreview.
Get CBSSports.com College Football updates on Facebook
The movie will zero in on former Penn State coach Joe Paterno during the Jerry Sandusky sc...

Bidding for Salaam's trophy, which the auction house says was obtained legally, ends Satur...

Locksley has been the offensive coordinator at Illinois and Maryland during his coaching c...
Many NFL-eligible juniors ignore advice provided by the league and risk going undrafted each...

Snyder died in Manhattan, Kansas, on Wednesday

Locksley joined Alabama's staff in 2016