Sarkisian: 'campus authorities' investigating Josh Shaw story
Steve Sarkisian told reporters Wednesday that USC authorities are looking into the 'conflicting stories' surrounding the ankle injuries suffered by Josh Shaw.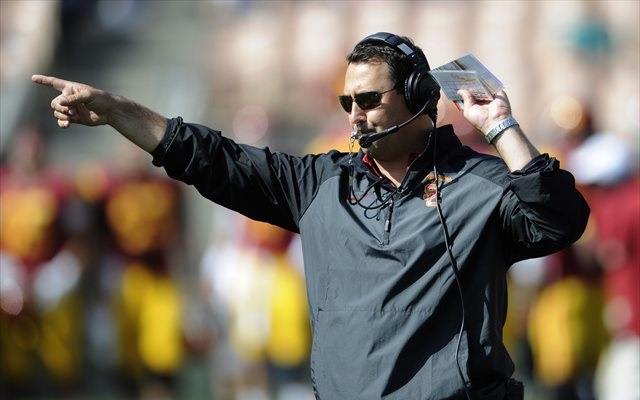 Steve Sarkisian said that Trojans cornerback Josh Shaw missed his second consecutive day of workouts Wednesday while USC authorities attempt to verify his account of how he suffered sprains in both ankles Saturday night.
USC announced Monday that Shaw had injured himself leaping from a second-story balcony to rescue a nephew drowning in a pool, only for Sarkisian to stunningly announce Tuesday that the program had received calls contradicting Shaw's story and that the school would be vetting the account.
Sarksisian's statement sparked a whirlwind of rumor and reports attempting to explain Shaw's injury, with the Los Angeles Police Department later denying that Shaw was a burglary suspect or involved in any other police incident, and Shaw's sister vouching for his story to USA Today. 
"It's pretty clear there's quite a few conflicting stories out there," Sarkisian said at Wednesday's practice, per the Associated Press. "Any information that we've been provided up to this point, we've pushed along to campus authorities. We're really going to let it play out in their hands at this point, and quite honestly, we're in somewhat of a holding pattern."
USA Today reported Wednesday that USC officials had spent "hours talking to Shaw and others in an attempt to vet the story" after hearing Shaw's account, but that despite internal skepticism, the program elected to go public with the story after being unable to disprove it.
"Maybe we were duped. Maybe not. We'll see," an anonymous USC official told the paper.
A team captain and senior, Shaw is one of the Trojans' starting cornerbacks and an All-Pac-12 candidate. The school has said he is out indefinitely with a high ankle sprain in both ankles.
USC opens its season Saturday against Fresno State, and Sarkisian said the team won't have any problem focusing despite the off-field hubbub.
"We haven't spent much time on it at all," Sarkisian said, per the AP. "We've put in too much work in over the last nine months to let a few hours or two of social media or Internet reports distract us from being a great football team."
The movie will zero in on former Penn State coach Joe Paterno during the Jerry Sandusky sc...

Bidding for Salaam's trophy, which the auction house says was obtained legally, ends Satur...

Locksley has been the offensive coordinator at Illinois and Maryland during his coaching c...
Many NFL-eligible juniors ignore advice provided by the league and risk going undrafted each...

Snyder died in Manhattan, Kansas, on Wednesday

Locksley joined Alabama's staff in 2016