Saturday Meal Plan: Your Week 1 TV Viewer's Guide
The Saturday Meal Plan fills you in on what to watch, when to watch and where to watch every Saturday during the college football season.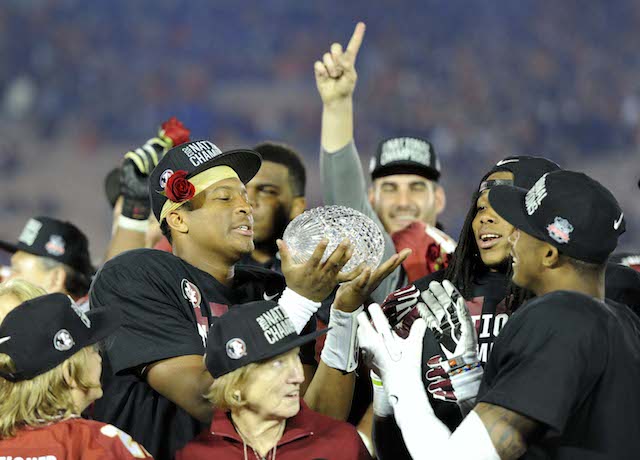 The Saturday Meal Plan fills you in on what to watch, when to watch and where to watch every Saturday during the college football season.
I cannot tell you how good it feels to be writing this post. The first Saturday of the college football season is just about here, and I swear each offseason I go through seems longer than the last. You can't help but grow tired of players being suspended, or transferring or OOH LOOK AT THESE NEW HELMETS after dealing with it for eight months, but when schools across the country all finally kick off on that first Saturday of the season it just...it makes it all worth it.
To know that I'm going to plant my butt down in a chair Saturday morning and spend the next 12 or 13 hours doing nothing but watching football is a hell of a feeling. But enough of about how happy I am, let's get to the games that are only going to make me even happier.
IRISH BREAKFAST
Penn State vs. UCF in Ireland -- ESPN2, 8:30 a.m. (All times Eastern)
There are a couple of reasons why I don't like having a college football game played in Ireland. The first is that I'm just not a fan of neutral site games to begin with, let alone games played on the other side of an ocean, but they aren't going anywhere and I'm just going to have to deal with it. Then there's the fact that I'm going to have to get up so early just to watch it. I can wake up this early on a Saturday to watch soccer, because it's soccer. You can sleep-watch it for an hour and not really miss anything. But this is football, damn it. I need to have all my senses about me. So I'd appreciate it if these two teams didn't do anything for the first half until my brain is fully-functioning. Oh, and I think both teams would appreciate it if those volcanoes in Iceland just chilled out for a few more days.
BREAKFAST
No. 5 Ohio State at Navy in Baltimore, MD -- CBS Sports Network, Noon
The beginning of the J.T. Barrett Era! Ohio State already had to replace Carlos Hyde on offense, and now losing Braxton Miller will provide another challenge. This game will give us all a chance to gauge how big a loss Miller will actually be, but if we're being honest with ourselves, I don't think it's going to be that big of a deal. At least not in this game. Braxton Miller is great and everything, but it's not like he's the only talented player on this Ohio State roster. As for Navy, I don't have high hopes for them against the Buckeyes, but at least it's going to look good.
No. 7 UCLA at Virginia -- ESPN, Noon
When you initially look at this game you would expect UCLA to blow out the Cavaliers, but I wouldn't go assuming anything. First of all, it's the first week of the season and weird things tend to happen on opening weekend, and second of all, while this game starts at noon it's only 9 a.m. in the minds and bodies of UCLA's players. So things could get strange.
Appalachian State at Michigan -- ESPN2, Noon
Speaking of weird things that happen during the opening week of a season, it's Appalachian State's return to the Big House, everybody! Yes, we all remember what happened last time the Appies (you don't call them that?) came to Ann Arbor in 2007, and Michigan fans still suffer from the PTSD of that loss. I really don't expect it to happen again, but nobody expected it to happen the first time either.
Youngstown State at Illinois -- BTN, Noon
I don't know how good Illinois is going to be this season, but the odds say "not very." But this will be the debut of transfer quarterback Wes Lunt who transferred to Champaign from Oklahoma State, and he's a great fit for the offense the Illini run. He's probably going to put up some video game numbers for Illinois this season, and if you're an Illinois fan this is an important game for you to watch because it's one of the few you can expect to win.
North Dakota State at Iowa State - Fox Sports 1, Noon
Looking for a possible FCS upset to start your college football season? Well, there's a reason Iowa State is only a three-point favorite at home in this game.
Northern Iowa at Iowa - BTN, Noon
I'm not even sure Iowa fans want to watch this game.
Western Michigan at Purdue - ESPNU, Noon
In the final edition of my Best Worst Ten last season Western Michigan finished as the eighth-worst team in the FBS, and Purdue was ninth-worst. So, as you can see, this is a huge game.
Tennessee-Martin at Kentucky -- SEC Network, Noon
Tennessee-Martin is actually just a Vols fan named Martin. He started his own school just so he could get a check from Kentucky to let the Wildcats football team beat him up for a few hours. We all do what we can to get buy, right?
LUNCH
West Virginia vs. No. 2 Alabama in Atlanta -- ABC/ESPN2, 3:30 p.m.
Our first look at Alabama without AJ McCarron in a while could prove to be interesting, but at the same time Alabama is still going to be Alabama. The real question here is whether West Virginia is going to stop its slide of recent seasons after a good start under Dana Holgorsen. Nick Saban said earlier this week that West Virginia's offense is a lot like Texas A&M's, and I guess for the sake of keeping this one interesting we should hope he's right.
Cal at Northwestern -- ABC/ESPN2, 3:30 p.m.
When these two teams played last season Sonny Dykes was upset with Pat Fitzgerald and Northwestern because he believed the Wildcats were faking injuries to slow the Bears down. As the season went on we learned that Cal didn't need anybody's help in that department. Both teams are looking to have bounce-back seasons, and winning your opener is a good way to accomplish that.
Florida Atlantic at No. 22 Nebraska -- BTN, 3:30 p.m.
When this game was scheduled the plan was to have Bo Pelini against Carl Pelini in a 21st century version of the Civil War. Well, Carl Pelini resigned at FAU under some strange circumstances, and now I guess Bo Pelini will use this as an opportunity to avenge his brother.
South Dakota State at No. 24 Missouri -- ESPNU, 3:30 p.m.
Missouri proved all its doubters wrong last year and because of that it now finds itself in a position where everybody is doubting it again. Something tells me that no matter what happens in this game those doubts will remain.
Arkansas at No. 6 Auburn -- SEC Network, 3:30 p.m.
This game should be really fun to watch for no other reason than the sniping that's gone back-and-forth between Bret Bielema and Gus Malzahn. Bielema thinks Malzahn's style of offense is dangerous, and Malzahn thinks Bielema doesn't know what he's talking about. Maybe they should cancel the actual game and just have these two wrestle at midfield.
Rice at No. 17 Notre Dame -- NBC, 3:30 p.m.
Will Notre Dame have any players still available to play by kickoff? Tune in Saturday afternoon to find out! Okay, seriously, they'll have enough guys to play a game. And one of those guys will be Everett Golson, and it'll be interesting to see how he looks after a year away from the team.
UC-Davis at No. 11 Stanford -- Pac-12 Network, 4 p.m.
Not that I would watch this game anyway, but I only get Pac-12 Network in standard definition and I ain't trying to live that life. C'mon, Pac-12, with all your newfangled technology and money you can't get me an HD feed here in Chicago?
Portland State at Oregon State -- Pac-12 Network, 4 p.m.
See previous game.
William & Mary at Virginia Tech -- ESPNNews, 4 p.m.
This is a game that will be shown on ESPNNews. You can watch it if that sounds like something that would appeal to your sensibilities.
No. 16 Clemson at No. 12 Georgia -- ESPN, 5:30 p.m.
Now you're talking. Do you remember how awesome this game was that first weekend of last season? Yeah, a lot of the featured players in that contest have moved on, but both of these teams find themselves with a lot of the same questions this year. If this game can prove to be half as entertaining as last year, it'll be well worth your attention.
DINNER
Northern Arizona at San Diego State -- CBS Sports Network, 7 p.m.
Because I guess Clemson and Georgia have to go to halftime at some point.
Idaho at Florida -- ESPNU, 7 p.m.
Surely the 2014 season can't be as big a disaster for the Gators as the 2013 season was, right? Well, I guess there's only one sure way to find out.
Fresno State at No. 15 USC -- Fox, 7:30 p.m.
A rematch of last year's Las Vegas Bowl, which USC won 45-20. It will try to repeat that feat, but this time it will try to do so under Steve Sarkisian. Meanwhile Steve Sarkisian will just be happy to be doing anything other than answering questions about his players jumping from balconies or calling him a racist on social media.
Southern Miss at Mississippi State -- SEC Network, 7:30 p.m.
Southern Miss just about had The Best Worst 10 title wrapped up last season before it threw everything away by kicking UAB's butt to finish the season. Hopefully it'll be able to keep its eye on the prize against Mississippi State, but hey, we've already seen one expected SEC bottom feeder shock the world by losing at home this week.
No. 1 Florida State vs. Oklahoma State in Arlington -- ABC, 8 p.m.
I really want this game to stay competitive for four quarters because that would be a lot of fun for all involved, but I'm not sure that's going to happen. I'm still going to tune in to see the defending national champs and Jameis Winston, though, and you probably should too. 
N.C. Central at East Carolina -- ESPNNews, 8 p.m.
East Carolina's offense is fun to watch, but that doesn't mean this game will be.
No. 14 Wisconsin vs. No. 13 LSU in Houston -- ESPN, 9 p.m.
The good news is if Florida State and Oklahoma State turns into a blowout we're all going to have this game to watch instead. But like I said about neutral site games earlier in this post, this game would be so much better were it being played in Baton Rouge instead of Houston, and the return game would be a lot better in Madison rather than Green Bay. I hate you, money.
LATE NIGHT SNACKS
South Dakota at No. 3 Oregon -- Pac-12 Network, 10:30 p.m.
Oregon's offense is normally a blur on my television screen as it is, but in standard definition? Oh man, can't wait.
No. 25 Washington at Hawaii -- CBS Sports Network, 10:30 p.m.
We can all say aloha to the Chris Petersen Era at Washington. It must be nice to start your new job with an all-expenses paid trip to Hawaii, huh?
The Alabama QB has a new look after the Tide claimed another national title

Young was injured during Miami's Orange Bowl loss to Wisconsin

The movie will zero in on former Penn State coach Joe Paterno during the Jerry Sandusky sc...
Bidding for Salaam's trophy, which the auction house says was obtained legally, ends Satur...

Locksley has been the offensive coordinator at Illinois and Maryland during his coaching c...

Many NFL-eligible juniors ignore advice provided by the league and risk going undrafted each...