Scrimmage shows Manziel continues to blossom, even under NCAA cloud
Texas A&M QB Johnny Manziel continues to develop as a quarterback despite all of the drama surrounding the sophomore.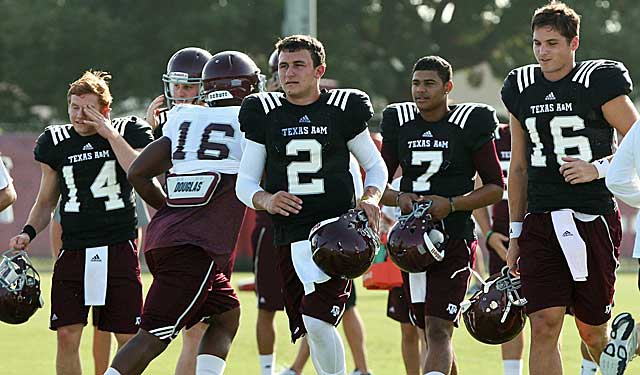 COLLEGE STATION, Texas -- Some 10,000 Aggies fans turned up Saturday night at Kyle Field to watch their team in a 90-minute scrimmage. Many, perhaps, came hoping that this wouldn't be the last chance they'd ever had to witness Johnny Football in a Texas A&M uniform.
To their delight, Johnny Manziel, the Aggies' mercurial Heisman Trophy winner, flashed some of the dazzling skills that made him -- and Texas A&M -- must-see TV last season.
There were also a few moments where the sophomore was clearly frustrated by his team's defense, which just emptied the box pre-snap, dropped eight men deep into pass coverage, knowing his dynamic running game was rendered largely moot in a pre-season scrimmage "tag" setting.
In truth, the A&M coaches didn't need to find anything out about Manziel on Saturday night. His performance, both on the field and in the meeting rooms in the previous two weeks of camp already has told them a lot about just how much improvement the record-setting QB has made from Year One to Year Two. It's a subplot now to all of the drama surrounding the quarterback and his school in the wake of the allegations that his eligibility is in question after an ESPN report two weeks ago, on the eve of A&M starting fall camp.
After the scrimmage Saturday night, coach Kevin Sumlin was asked if the school was any closer to making any determination on whether Manziel would be able to play season in light of the school's -- and the NCAA's -- investigation into the QB:
"It's probably no different than it was the first time we talked about it," Sumlin said.
For now, everyone around College Station, including the head coach and his star QB, await word.
Around A&M, folks are cautiously optimistic that Manziel will be able to play.
That Manziel could be much better than how he performed in his debut season where he sparked the Aggies to an 11-2 season by amassing an SEC record 5,116 yards of total offense is a mouthful. And scary for opponents.
Then again, an improved Manziel in 2013 also would be in line with the norm for QBs in their second season running versions of the "Air-Raid" attack. New A&M QB coach Jake Spavital's two previous proteges, West Virginia's Geno Smith and Oklahoma State's Brandon Weeden, both in the NFL, showed significant jumps in their command of the system. Smith increased his completion percentage from less than 66 percent to more than 71 percent while going from a 31-7 TD-INT ratio to an eye-popping 42-6. Weeden went from less than 67 percent in his first season to more than 72 percent.
Manziel's command of the offense is evident, to A&M coaches, by the things that happen in the frenetic moments right before the ball is snapped when he sizes up the defense's look and knows when to shift to a better play to attack rather than try and make something out of the one initially signaled in, says Spavital.
"He's got a lot more control of the offense now," adds Spavital, noting how well the young QB made seemingly bad plays work in 2012.
Manziel's evolution also comes from a newfound understanding that he and Spavital have sorted out his footwork for specific plays. So, for instance, the QB is throwing a 10-yard out from the far hash, Manziel now knows he must chop his footwork down shorter so the play times out better than if he's throwing it from the near hash-mark (and the pass play requires less air-time).
But it's not only the mental portion of the game where Manziel has made such a sizable leap. It's physically too for the 6-foot, 205-pound 20-year-old.
"His arm really is getting stronger and he's gotten a lot better fundamentally," Spavital says. "He's so much better throwing the deep ball."
Aggies defensive coordinator Mark Snyder was asked about a play Manziel made about a week ago in a closed scrimmage: The quarterback was chased by would-be-tacklers, reversed field, ran around for about 15 seconds and then fired a strike, flat-footed 40 yards downfield for a touchdown into the back of the endzone.
"Man, that's every day," the veteran coach replied.
If Manziel is sidelined this fall, whoever runs the A&M offense will get to work behind a big, athletic offensive line and have a gifted group of young wideouts and backs to lean on. Two rising stars from camp have been running backs Trey Williams and Oregon transfer Tra Carson. The shifty Williams has learned to become a more complete back, while the 233-pound Carson adds more punch to the ground attack. Another guy who has generated buzz inside the A&M program has been true freshman QB Kenny Hill, a savvy dual-threat talent already well-versed in the hurry-up offense. It's no stretch to think Hill would emerge as the starter if the Aggies get bad news on Manziel.
On Friday, the San Antonio Express-News reported that A&M AD Eric Hyman sent an email to members of the 12th Man Foundation, the school's booster organization, trying to show his support of Manziel, while also maintaining the school's interests as the NCAA and the school investigate allegations that the star player was paid by memorabilia dealers to sign his autograph:
"Everyone wants to know the status of our quarterback, Johnny Manziel. As we have stated previously, our practice is to not discuss such matters publicly. Our foremost priority, regardless of the circumstances, is to protect and support our student-athletes while also upholding the integrity of the University and complying with NCAA rules and regulations," Hyman wrote.
"There simply is no blueprint for handling what Johnny and his family have gone through since December," the email continues. "What we have done is surround Johnny with a support network of dedicated staff from the areas of administration, academics, scheduling, compliance, media relations, and even security to assist him during these unprecedented times. Texas A&M also has retained the services of one of the most respected legal firms in the country, Lightfoot, Franklin & White, to assist us. Any decisions we make regarding this situation will be based on an analysis of available facts. Be assured that we would like to reach a resolution as quickly as possible, but at this stage, we are not in a position to speculate on a specific timeline."
Texas A&M starts in less than two weeks when the Aggies host Rice on Aug. 31.
The Penn State running back was unstoppable in a win over Iowa

The Bottom 25 ranks the 25 worst teams in college football every week

LSU at Florida has been picked as the SEC on CBS Game of the Week
The Michigan coach had quite a few things to say on Monday after their visit to West Lafay...

Injuries are ravaging an LSU team that is searching for an identity

Jones started answering an injury question and then went off about 'fake news'