Searching NCAA online shop connects player names to jerseys
The search engine ShopNCAASports.com will recognize a student-athlete's name and connect it with the appropriate replica jersey.
• 1 min read
The discussion of player likeness in NCAA revenue sports took an interesting turn on Tuesday when it was discovered that the search engine for an online shop connects current player names with their uniforms.
The search function on ShopNCAASports.com will recognize a query for a student-athlete, then deliver search results for customers to purchase a replica uniform that has said student-athlete's number.
ESPN's Jay Bilas pointed out the search function on Twitter, and fans began tearing through the database. Over and over again, searching a player's name turned up the option to buy a jersey with his number from the online shop. 
Names are absent from merchandise approved by the NCAA, which claims not to profit off player-likeness. The revelation of this back-end connection between name and jersey suggests otherwise. The shop is even bold enough to offer a Texas A&M No. 2 jersey with "Football" in the spot of "Manziel." 
According to the site description, "ShopNCAASports.com keeps you in the most up-to-date College Sports Clothing and NCAA Merchandise."
We have included screen shots below from searches for prominent college football players. Feel free to test the shop yourself by clicking HERE. 
Searching for Ohio State quarterback Braxton Miller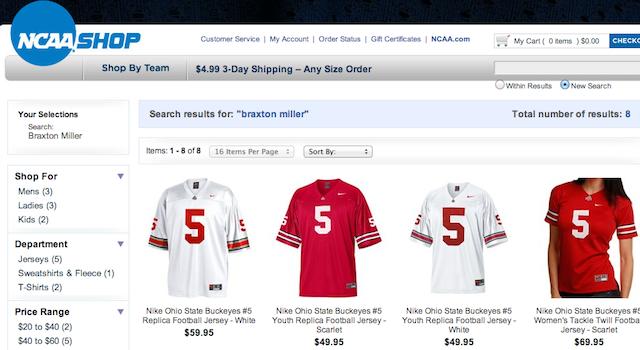 South Carolina defensive end Jadeveon Clowney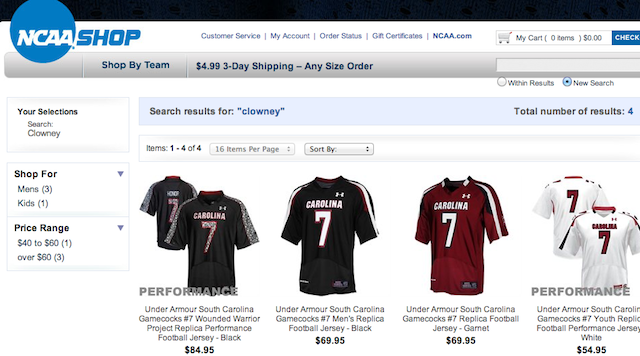 Clemson quarterback Tajh Boyd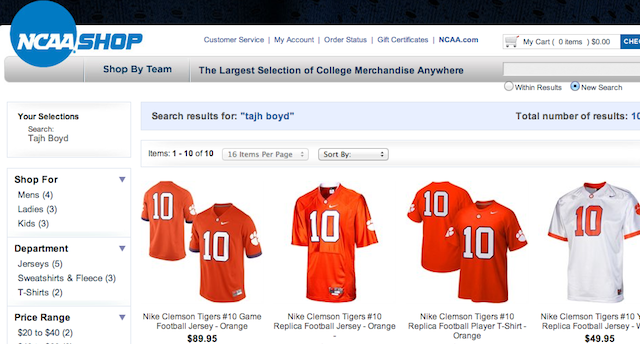 The Alabama QB has a new look after the Tide claimed another national title

Young was injured during Miami's Orange Bowl loss to Wisconsin

The movie will zero in on former Penn State coach Joe Paterno during the Jerry Sandusky sc...
Bidding for Salaam's trophy, which the auction house says was obtained legally, ends Satur...

Locksley has been the offensive coordinator at Illinois and Maryland during his coaching c...

Many NFL-eligible juniors ignore advice provided by the league and risk going undrafted each...