SEC announces $289.4 million in revenue, $20.7M per team
Mike Slive announced a record $289.4 million in 2012-2013 SEC revenues, enough for the league to distribute nearly $21 million per team.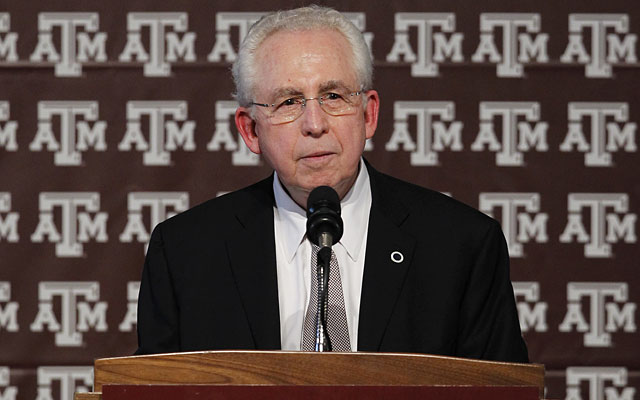 Mike Slive wrapped up the SEC's spring meetings in the best possible fashion for a college conference commissioner: by announcing exactly how many millions his cash cow of a league is raking in.
Slive set the SEC's revenues for the 2012-2013 fiscal year at a record $289.4 million, enough to distribute $20.7 million to each of the league's 14 teams. The payout represents the first shares distributed to Texas A&M and Missouri, which officially joined the league from the Big 12 in the summer of 2012. 
The $20.7 million represents an increase of about $600,000 per team over the SEC's $20.1 million 2011 2012 distribution -- no mean feat considering that Slive and Co. had 14 mouths to feed rather than the previous 12. And, of course, those numbers stand to balloon substantially once the SEC Network debuts in the 2014-2015 fiscal year.
But a look at the numbers for the SEC's rivals at the Big Ten show why there's such a thing as an SEC Network in the first place. In 2012, Jim Delany's league already distributed nearly $4.5 million more per school than the SEC did; if a May report that the 2013 Big Ten figure is up to $25.7 million is accurate, the per-team gap between the two leagues has now swelled to a full $5 million.
(SEC partisans will often point out that their league's distribution revenues don't include money generated by school-owned third-tier TV rights, while those of the Big Ten -- which owns those rights itself as part of the Big Ten Network -- do. But the recent sale of those rights back to the SEC as part of the SEC Network preparations established their value, reportedly, at only a little more than $1 million per year per school. Third-tier rights may represent a major source of revenue for the likes of Florida, but there's little doubt the SEC's rank-and-file are earning less money from their TV deals than the Big Ten's are.)
The Big 12 also announced Friday that it will distribute $19.8 million per team for 2012-2013, a number that like the SEC's does not include third-tier rights -- including those created by Texas' Longhorn Network. 
In the long run, the SEC Network's arrival means that whatever financial advantages the Big Ten might gain in the college athletics arms race this year, or last, or next, will likely be erased in short order. But for all of the SEC's success, for now the title of "most lucrative college athletics conference" still belongs to Jim Delany's. 
Schiano would have made $4.4 million in Year 1 with annual raises as part of a six-year de...

Dykes spent this season as an offensive analyst at TCU

The 'Wyoming Wild Man' notched six tackles for loss as a junior in 2017
Zaycoven Henderson was charged with aggravated assault with a deadly weapon

Patterson is a former No. 1 recruit in the country

Baker Mayfield and two Sooner teammates made the first team